Mom Pens Chalk Letter on the Ground to Neighbor Who Complained About Her Tot's Drawings
Drawing on the sidewalk in chalk is often a fond memory from many childhoods, from creating the classic hopscotch game to doodling racetracks.
But it seems one resident was displeased with a child's artwork in a shared courtyard, and made a complaint about the little boy's mom, Ashley Woodfolk, to the board who manage the space.
In response, Woodfolk penned a letter back to her disgruntled neighbor on the sidewalk, in chalk.
Woodfolk shared a snap of her message and a transcript to her Twitter page, @ashwrites, on Wednesday, where she received an outpouring of support as the post racked up 244,000 likes.
The mom, whose account indicates she lives in New York, told Newsweek: "My son is 2 years old and we've been writing in the courtyard most of the summer. I don't think anyone else was doing it as the courtyard is largely unused (my apartment faces it and it's usually empty), although I did have another neighbor come up to me after I wrote the letter to say him and his son were using sidewalk chalk at there at the start of the pandemic and someone complained then too.
"We're unsure if it was the same resident but it probably was. We just did letter and numbers, and sometimes drew the moon and stars and clouds (because my kid is very into the sky) but that was it. The resident who complained had actually yelled out of her window at me once and approached me once and I ignored her both times, or civilly tried to explain that what we were doing was harmless.
"I don't think the position will be reversed, unfortunately, but the weather is cooling down anyway and we'll be spending less time outside. I'll let him use the chalk at the park going forward, so he'll still have a chance to practice his alphabet before he starts preschool."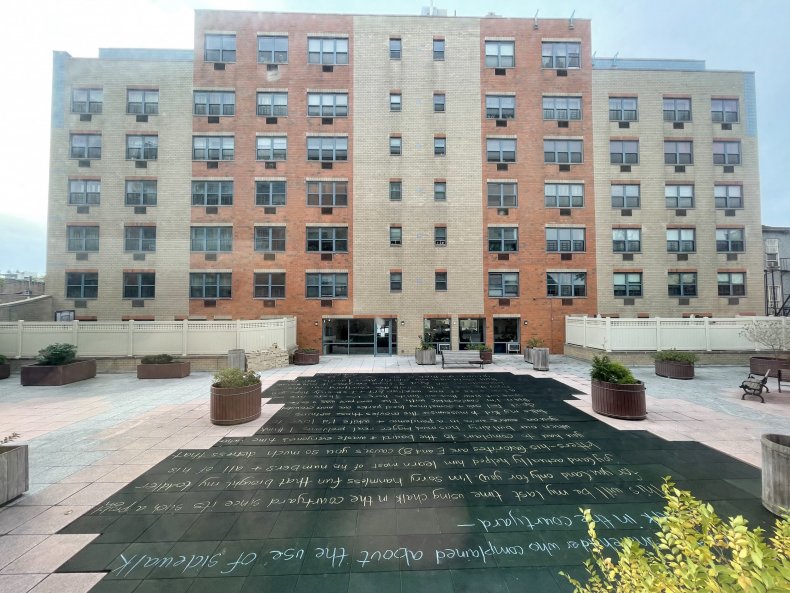 The now-viral post said: "GOOD EVENING TO EVERYONE EXCEPT the woman at my co-op who complained to the board about me and my toddler using sidewalk chalk in the courtyard.
"So I wrote her a little letter. In sidewalk chalk. In the courtyard."
The snap shows big writing on the ground in front of the building, for all the residents to see.
Woodfolk shared a transcript of her letter, which says: "This will be my last time using sidewalk chalk in the courtyard since it seems to be such a problem for you (and only you).
"I'm sorry harmless fun that brought my toddler joy (and has actually helped him learn all of his letters and most of his numbers—his favorites are E and 8) causes you so much distress that you had to complain to the board and waste everyone's time when our building has much bigger real problems.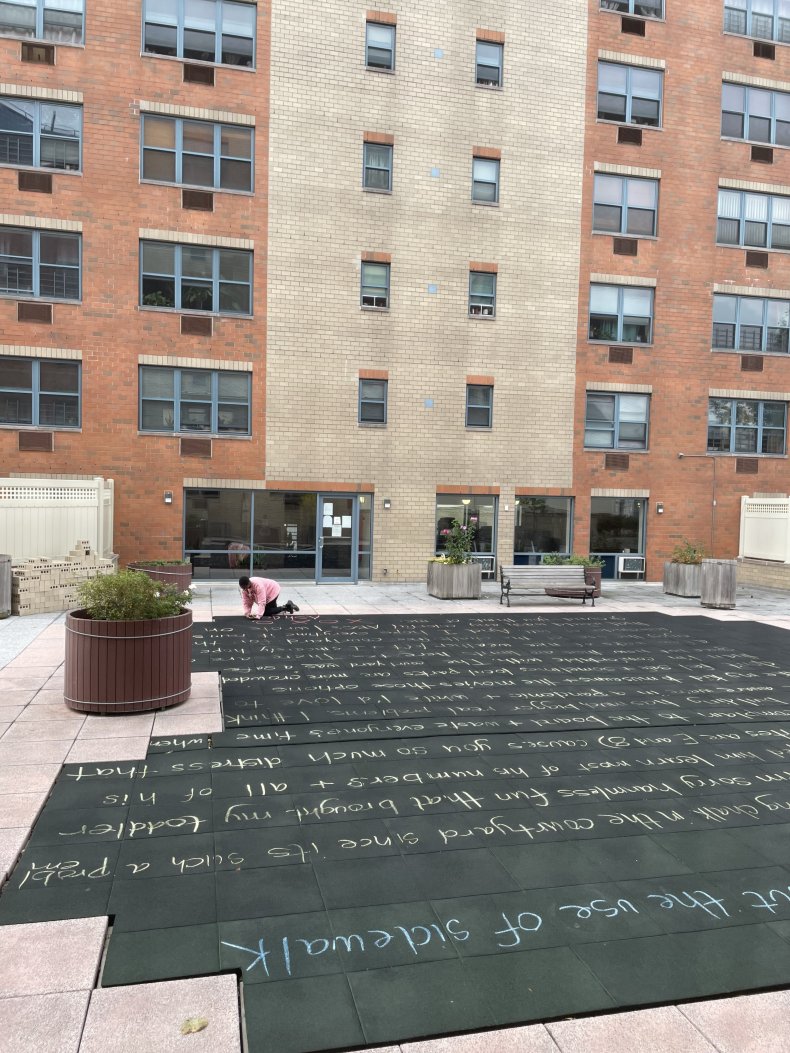 "I think you're aware that we're in a pandemic and while I'd love to take my kid to museums and the movies I don't feel safe doing that, and sometimes local parks are more crowded than I'm comfortable with."
She continued: "The courtyard was a safe space but now there are limits on that too. There are only a few weeks of nice weather left, and I sincerely hope you enjoy the use of the sidewalk-chalk-free courtyard for the remainder of the fall.
"And I hope that every time it rains, rain that would have washed away any colorful ABCs I wrote on the ground, you think of me."
Woodfolk, a writer, seemingly signed off the note with "all my love, Ashley."
In the comments, she explained more about the situation, saying: "I don't blame the board. They were super apologetic and on my side but I don't want to make their lives harder, you know? I wish my pettiness could only affect her but the trickle effect isn't worth it.
"The board ignored it for as long as possible and even when they called me they were super apologetic. That's how I knew she'd been pestering them for a while. I don't blame them. I blame her for being a squeaky wheel about something so harmless."
The woman's complaint has attracted waves of criticism online, as @pattidigh wrote: "What I want is for every person who lives there to go out to the courtyard with sidewalk chalk tomorrow and every day until the end of time."
Amanda revealed: "An elderly lady in our neighborhood bought chalk for all the kids during the pandemic because she said she felt less lonely taking walks and seeing all their art. I'm sorry someone would take that joy away from you and your son."
Lacy commented: "Early in the pandemic my neighbors drew in sidewalk chalk all over the neighborhood. It brought me so much joy. I'm sorry your neighbor hates happiness. You were way nicer and classier than I would have been."
After receiving so much support online, Woodfolk followed up her post to say: "But honestly, you guys have calmed me down so much with all your affirming messages. Thank you."
And she revealed some kind-hearted people who read her post decided to send her son some "cute chalk."
Update 3/11/21, 7:05 a.m. ET: This article was updated with comment and photos from Woodfolk.