Mom Explains Why She Would Save Herself Over Her Baby During Labor
A woman has been blasted online for saying that if a medical emergency were to happen while she was in labor, she would ask the nurses to save her rather than her baby, leading to a lot of criticism for the mom of four.
Shelbie Martin, who goes by the name Shelbie Lenora online, posted a video on her TikTok account @shelbielenora on January 11 with text layered over the clip which reads: "If during birth you have to choose to save me or the baby save me. I have babies at home that need me".
Since she posted the video, a great deal of outrage has been aimed at Lenora, who only wanted to share her own viewpoint on the divisive matter. Lenora told Newsweek: "I absolutely got backlash. I've been told I don't deserve my children, my children are better off without me, and a few things harsher than that.
"I knew I would get different points of view from people, I'll just never understand the need to be so nasty when you disagree about a topic. It truly does seem that if you look through the comments, many people agree with me and are glad I spoke up about it, as it made them feel that their feelings about it were valid."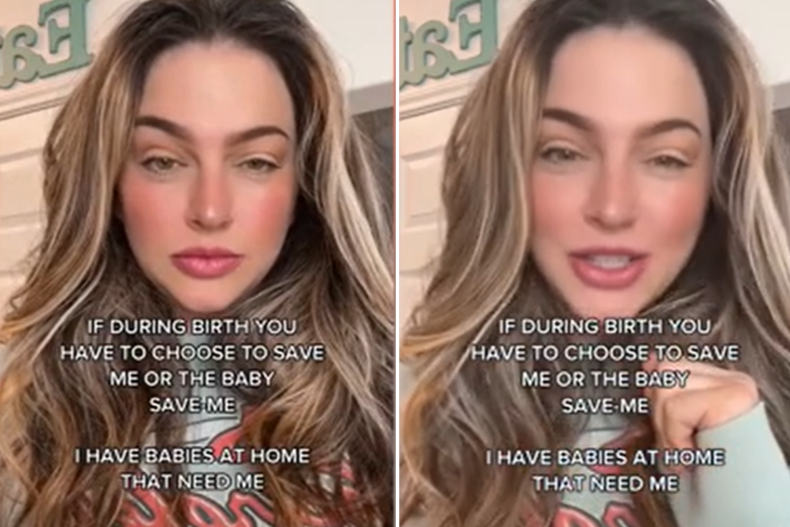 Lenora said she went public with her view in response to another video she had seen on TikTok posted by a woman who said she would prefer nurses to save the baby rather than her own life in a critical situation.
While many women look back at their pregnancy and delivery with fond memories, others struggle to reflect on this time. Up to 45 percent of mothers reported some kind of birth trauma, according to a 2018 article published in The Journal of Perinatal Education.
The journal goes on to explain that whether a woman feels her trauma went on for a few minutes or several hours, the effect of the trauma is no less and they liken it to "ripples spreading out in the water".
Some women find it very difficult to speak of their trauma, while others feel more encouraged to openly talk about it to find allies with shared experiences.
After posting her now viral TikTok video, which has over 2 million views and 140,000 likes, Lenora acknowledged that although the ferocity of the backlash was wrong, she understands why people feel so irate about the topic of pregnancy and traumatic births.
Speaking to Newsweek, she said: "Anything to do with the topic of children is difficult for people to discuss, and mothers feel fiercely about their children. So it's always going to get mixed reactions.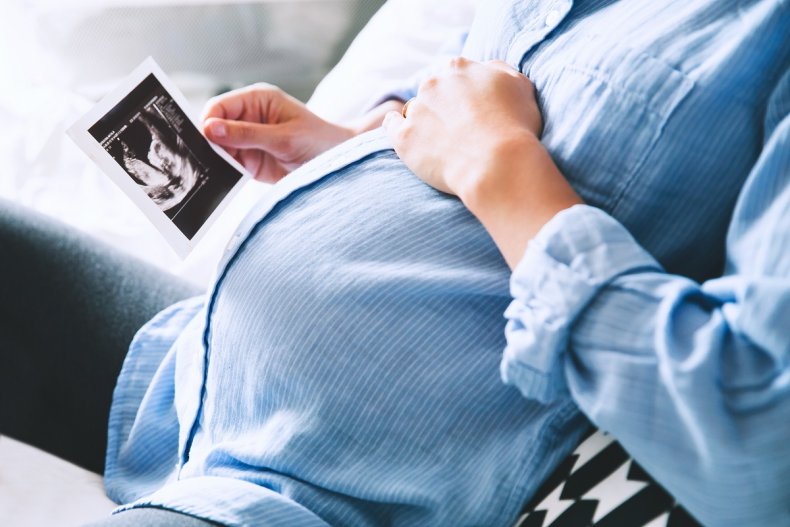 "When I had my first child my answer would have been to save my baby, but now as a mother of four I have to make it home to my children."
As someone who lost her own mother at the age of 18, Lenora doesn't want her children to go through life without her. "I think a lot of people assumed I was speaking on a topic I had no personal experience with, and that's simply not the case. I stand by what I said and I'm glad it's put other mothers' minds at ease when they thought they were being selfish."
Newsweek also spoke to Dr. Danielle Kelvas, a medical doctor and former emergency room physician about the usual approach during a medical emergency. "I can attest that the standard of care is to of course try to save both the mother and baby. If not possible, then we do our best to preserve the mother first and resuscitate the baby simultaneously," Kelvas said.
Speaking about Lenora's viral video, Kelvas told Newsweek: "Her request is neither taboo nor dangerous. I can understand why she would receive backlash though, because in this culture and time, parents are endowed with the responsibility of protecting their children at all costs."
Despite the furore that Lenora received over her video, many other TikTok users were in support of her stance. One user commented: "Unpopular opinion: I agree!", while another user wrote: "People need to respect personal opinions and choices".
Is there a health issue that's worrying you? Let us know via health@newsweek.com. We can ask experts for advice, and your story could be featured on Newsweek.