'Mom' Season 8: What Anna Faris' Co-Stars Have Said About Her Leaving
Mom Season 8 sees Christy (played by Anna Faris) leaving to go to law school after the actor who plays her suddenly announced her departure earlier this year. Anna Faris may be out of the show, but Mom continues with its remaining cast members, which include Oscar-winning actor Allison Janney.
Janney, as well as other Mom co-stars like Mimi Kennedy and Jamie Pressly, have spoken about Farris' departure from the CBS comedy.
Most of these comments come courtesy of an interview with Entertainment Tonight. In this, Janney led the tributes to Farris, saying: "It's a huge loss for the show to not have Anna...we will miss her so much.
"I think I'll miss the most, for me, the relationship between Bonnie and Christy, even though that will still continue. But she won't be present. That's what I'll miss."
Pressly added: "She's not gone as far as we're concerned, and we all spent so much time together over the years and love each other and support each other and we all want each other to be happy, so we're happy for her and we miss her no matter what."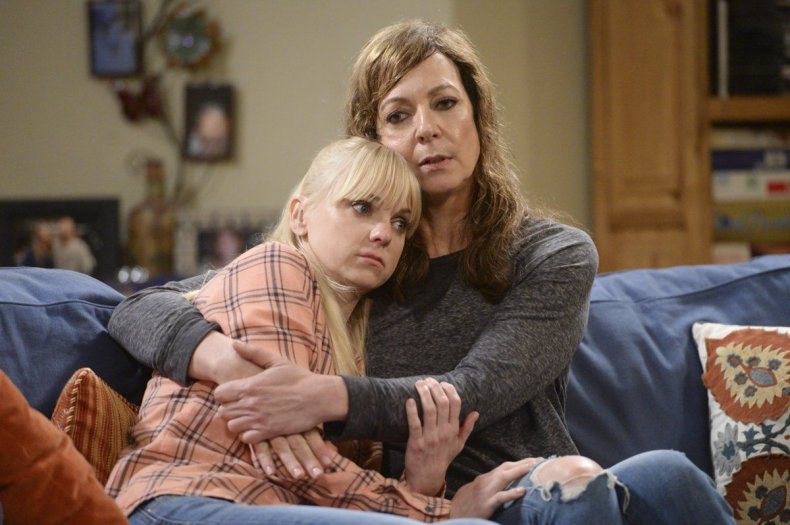 Kennedy's take on Farris leaving was as follows: "I had the dressing room next to her and I played her sponsor. And I got to know how smart she is... and I really, really enjoyed talking to her. She was also very funny and very witty and I'm going to miss that."
Wendy actor Beth Hall added: "The thing about Anna was she was always so encouraging. If you were funny, if you did a great scene, she was always the first one to compliment you and tell you how well it went."
The crew also had positive things to say about her, suggesting reports of the acrimony caused by her sudden departure may have been exaggerated. Showrunner Gemma Baker told Entertainment Weekly, for example, "When we first heard Anna was leaving Mom we were, of course, sad to lose her. Anna created such a beautiful character in Christy Plunkett. And we loved writing the mother-daughter dynamics for Christy and Bonnie and watching that relationship deepen and heal over the years."
After Farris' departure was announced, Warner Bros. TV, CBS and Chuck Lorre Productions released a statement reading: "From the inception of Mom, Anna was the first and only choice for the role of Christy...We are so proud of the stories we have been able to tell during Anna's seven years with us. We wish Anna all the best, and we thank her for her beautiful portrayal."
Farris herself, however, has not spoken publicly about exiting the show since her initial statement in September, which read: "The past seven years on Mom have been some of the most fulfilling and rewarding of my career. I'm so thankful to Chuck, the writers, and my amazing castmates for creating a truly wonderful work experience. While my journey as Christy has come to an end, allowing me to pursue new opportunities, I'll be watching next season and rooting for my TV family."
Mom Season 8 airs Thursdays at 9 p.m. ET / 8 p.m. CT on CBS.