'Mom' Season 8: How the Show Dealt with Anna Faris Leaving
Mom Season 8 began by explaining exactly where Christy (played by Anna Faris) had gone after Faris announced in September that she was leaving the CBS comedy. Though the actor did not reprise her role to give her character a final send-off, Bonnie (Allison Janney) and Adam (William Fichtner) had a conversation where they explained exactly what happened to Christy.
On Mom Season 8, Episode 1, streaming now on the CBS website and app, we saw the pair driving home from the airport, after dropping off Christy. It was then revealed that Christy had won a place at a Washington D.C. law suit.
Bonnie joked: "Every mom dreams of the day when they drop their 42-year-old daughter off at the airport to go to school...Georgetown Law School on a full scholarship? Phew! A lot of parents would be in a puddle of tears right now." Then, of course, both Adam and Bonnie delivered that puddle of tears.
Later in the episode, we got a glimpse of how the show is probably going to deal with Christy not being there from now on, as Christy rang her mother during Tammy's (Kristen Johnston) birthday sleepover – though we only saw (and heard) Bonnie's side of the call.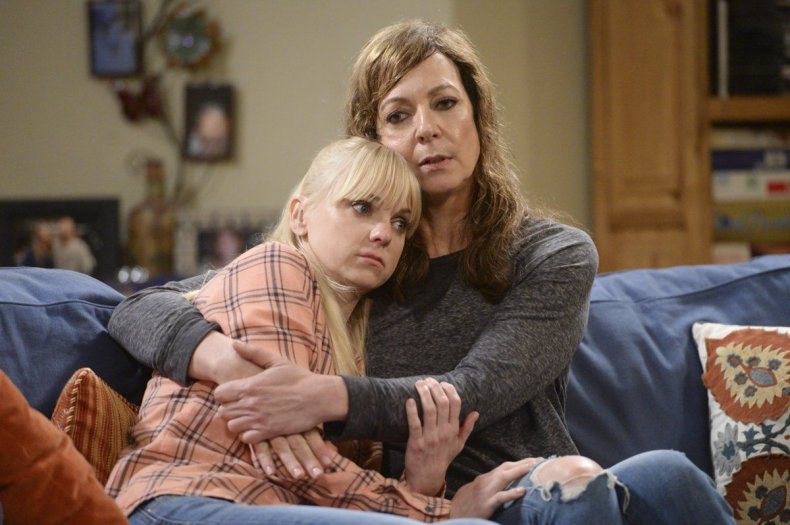 This is something that had previously been hinted by Jill actor Jaime Pressly, who told the Us Weekly podcast: "We still talk about the character Christy. Bonnie, Allison Janney's character, still speaks with her on the phone and will relay the things that Christy's doing or saying to us so we kind of feel like she's still there."
In an Entertainment Weekly interview, Mom showrunner Gemma Baker was asked whether she ever considered killing off Anna Faris' character. "Although our show has killed characters off in the past, we never considered this as an option for Christy," she said. "Our audience has been rooting for her for seven seasons and that loss felt like it would be too devastating for them and for our other characters.
"It was important to us that Christy moved on to bigger things. Quite often when people are in recovery their lives get bigger in ways they couldn't before have imagined. And so that will be the case for Christy."
Faris announced she was leaving the show in September with a statement that said she wanted to pursue new career opportunities. "While my journey as Christy has come to an end, allowing me to pursue new opportunities, I'll be watching next season and rooting for my TV family," her statement read in part.
Mom Season 8 airs Thursdays at 9 p.m ET / 8 p.m. CT on CBS.