Mom Shares Her Three Parenting Hacks for Toddlers 'That Actually Work'
A mom on TikTok is being hailed as a "genius" by fellow parents after sharing a series of baby hacks designed to make life a little bit simpler.
Parents face any number of day-to-day challenges when it comes to caring for their little ones. Administering medicine to a young child definitely ranks among at the top.
Often uncomfortable with the idea of taking something given to them via a syringe, attempts at providing medicine can often descend into something of a wrestling match.
Thankfully, Lauren Mejia, a TikTok mom who regularly posts videos offering followers tips on how to tackle parenting issues of this kind, has come up with a solution.
In a video subtitled "Parenting Hacks That Actually Work," Mejia showcases her winning method for getting her toddler son to take his medicine by hiding it inside the teat of his ordinary milk bottle.
The hack is one of three showcased in the video, posted under the username lauren_mejia_. The video has already been viewed 627,000 times on TikTok.
The video can be viewed here.
In the clip, Mejia also shows how a toy squish ball, also known as a Manhattan rattle, can also double up as a handy bottle holder for any young child who might otherwise struggle to keep a grip on the container.
Arguably the most inspired of the hacks offered up in the video is the one that follows and centers around the issue of getting toddlers to put their shoes on the right feet.
Using a simple dinosaur sticker, Mejia shows by cutting the transfer in half and placing the front half in the left shoe and the back end in the right, you can not only teach your child to learn the difference but have a little fun doing so.
The hacks have proven popular with fellow parents online, many of whom have flocked to the video's comments section to praise Mejia's ingenuity.
Cynthia Ngoy described the stick hack as "genius" with Lynette Taylor agreeing it is "amazing." Elizabetha Cochran was in awe of the bottle hack as her baby "struggles to hold the bottle."
Layneperk, meanwhile, lamented: "Why did I buy the expensive medicine giver when I could have used the teats we already have?!" Jameslindsey114 said all three hacks were "brilliant" while smckdown said Mejia deserved a PhD in "how to Mom."
Mejia, who is a childcare professional, told Newsweek she came up with the hacks after experiencing similar issues with her own sons and the students in her preschool class.
"I noticed that my son never wanted to take his vitamins, so I experimented with trying to mix it into his food, putting it into his cheek and nothing worked for me other than the bottle teat," she says.
"My students were always putting their shoes on backwards, and I found that cutting the sticker in half was a fun and easy way to teach them how to put their shoes on correctly."
Something of an expert when it comes to working out winning parenting hacks, Mejia has some advice for moms or dads looking to come up with hacks of their own.
"If parents want to come up with hacks on their own, I recommend finding a certain problem or conflict you may have as a parent, and trying to find a solution that works for your baby," she says.
Mejia also revealed her most favorite and effective hack to Newsweek.
"The one I am most proud of is using Velcro on puzzles to make sure the pieces never get lost," she says. "After losing so many puzzle pieces, it was a very helpful and useful solution."
Parenting hacks have proven popular on social media in recent weeks.
Earlier this week, a woman shared an inspired trick for reusing old sink sponges in the kitchen while another mom online went viral after showcasing her brilliant hack for getting her teenage daughter to clean her room, using rice.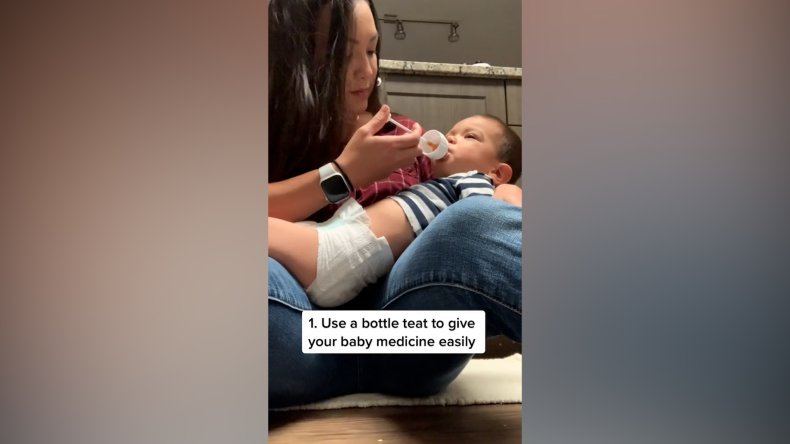 Update 9/20/21, 6:52 a.m. ET: This article was updated to include comment from Lauren Mejia along with an updated video and main image.