A mom has taken to the internet to complain after checking in for a flight and finding she was unable to sit with her young children.
Posted on Mumsnet on June 15, user giraffes2021 shared the story hoping for some advice.
She wrote: "So holiday booked gone to check-in and select seats and there are no seats next to each other and I've [got] a 2-year-old and a 4-year-old. What happens what do I do?"
"How come you didn't get a seat choice before you made payment?" asked a commenter on the now-viral post.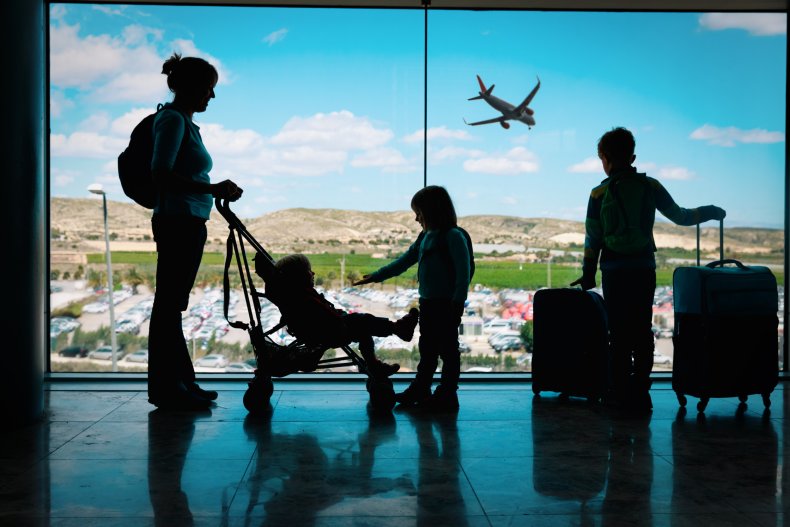 One reply said: "If you wanted seats together you should have paid for them and chose them when you booked the flight."
"Another one too stingy to pay for seats expecting others to change for them," said one Mumsnet user.
"I have booked seats and paid," wrote the commenter in the replies: "[I'm] not trying to avoid paying but by the time I checked in online there were no seats left together so I have booked what's left and spoke to the airline."
"I'd pay extra not to sit next to a 2-year-old. Particularly my own," joked one commenter.
The airline concerned, Jet2.com is the U.K.'s third-largest and flies to more than 60 destinations. On their website, they clarify their seating policy and say: "To reserve the seats you want for your party, you should pre-book your seats online when you book."
If seats are not reserved upon booking, the airline explains that they will be allocated on a first-come, first-served basis.
The airline also notes that seat prices vary depending on location and route, and also clarifies that seats across the aisle or in the row behind or in front are classed as together.
In another statement on their site, Jet2.com says: "Jet2.com allows passengers aged 14 or over to travel alone. Any passenger under the age of 14 can only travel if accompanied by a passenger aged 16 years or over who will take full responsibility for them. We are unable to offer an 'Unaccompanied Minors' service."
When it comes to infants—children under the age of two—the airline states there must be at least one adult per infant on the same booking. Jet2.com explains: "Infants will be seated on the lap of the accompanying adult, with an extension seat belt, unless you decide to book a seat for your infant and use an approved car seat."
Another commenter suggested that there should be a clear system for these situations and wrote: "​​I can understand when children are slightly older, but for toddlers and young children the booking system should automatically flag that they are unable to travel unaccompanied and allocate seats together. It's a simple enough fix to a problem that crops up time and time again."
"The cabin crew will get someone to swap with you," said another reply on the post. "They don't want a screaming 2-year-old any more than you do. Don't worry about it."
The story had a happy ending for the concerned mom. In a later comment she said: "So after me paying for seats for the kids to be next to us on the aisle got to check in today and the lady said we noticed you weren't all together so we have changed your seating," she wrote. "Could have kissed her! Jet2 are fab. Been fast-tracked through the whole airport. Pays to have kids."
In May, another parent was slammed online for their plan to pay passengers on board to swap seats so they can sit with their children, with internet users calling the move a "bribe."
Newsweek reached out to Jet2 for comment.