Single Mom Grounding Her Teenager for Letting the Neighbors Babysit Praised
A post about a single mom who refused to pay her daughter for babysitting her sister and grounded her instead has gone viral on Reddit, the online forum, where it received over 19,000 upvotes at the time of writing.
In a post shared on Reddit's Am I The A****** (AITA), user dratonallthings said her 16-year-old daughter Polly was due to hang out with some friends before she was asked to babysit her 8-year-old sister Cassie, as the mom had to take Polly's younger brother, 8-year-old Trevor, to the hospital.
The mother was "furious" to later discover that Polly had "dropped Cassie at the neighbor's and went out." She then grounded her daughter for two weeks and didn't pay her for babysitting.
"Polly said I overreacted. AITA?" the mom asked.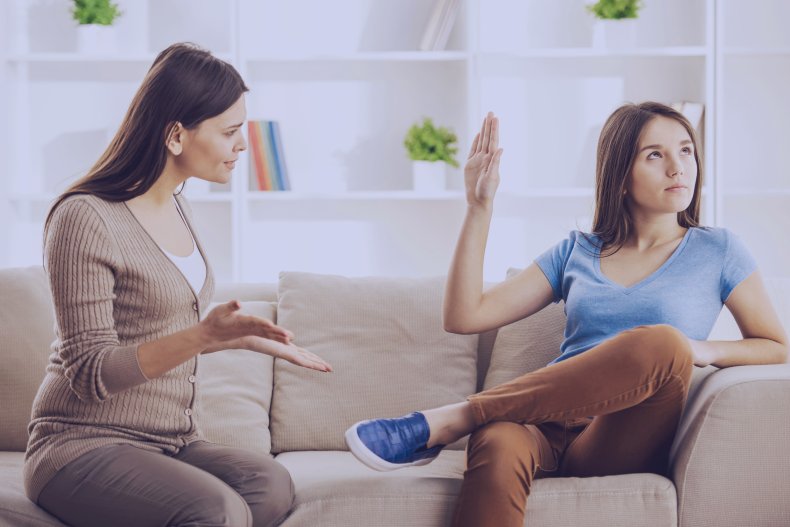 A September 2016 study in The International Journal of Social Sciences and Humanities Invention stated that research has shown that "harsh parenting can lead to difficulties in school, work, and self-reliant success. Self-efficacy and motivation can be stifled by a non-nurturing parenting style, which leads to complications in social and emotional interaction in adulthood."
The study found that "children's aggression, shyness or feelings of confidence correspond to the challenges that parents feel regarding their approach and attitude toward children."
The mom in the latest Reddit post said she asked Polly to watch Cassie as her usual babysitters weren't responding. "I apologized that she'd have to miss out on time with friends but said I'd pay her and she could even have her friends over our place," she wrote.
Leaving Cassie with Polly, the poster took Trevor to the emergency room after he had a "very high fever." He was later found to have "a bad case of RSV [respiratory syncytial virus]" and needed to stay overnight at the hospital.
The user said: "When I called Polly to update her, I heard people talking in the background," and she revealed that she dropped her sister off at the neighbor's place. Their neighbors moved in last month and apart from waving to them when picking up mail, "I don't have a relationship with them," said the poster.
The mom said: "I was furious. I told her to go home and get her sister. I then asked for the neighbor's number, she didn't even ask for it."
The user said her mom was able to do the two-hour drive down to their home to stay with her two daughters, "but I told her to not let Polly leave the house." The poster said she "lectured Polly about what she did" and grounded her for two weeks.
The poster said Polly "got mad at me and said that I can't expect her to drop her plans. I point out I never do, but this was an emergency and her brother was sick. She told me that's not her problem. She's also mad because I won't pay her..."
Angela Karanja, an adolescent psychologist and founder of Raising Remarkable Teenagers, an online resource offering parenting workshops, told Newsweek: "Children and teenagers don't learn responsibility, community spirit and kindness in times of emergency. These are values that are demonstrated and cultivated over time so that come the day of need, the teen is both cooperative and willing."
In the case of the latest Reddit post, the teenager may have felt "forced to take on a responsibility [in which] she was not well-versed," she said.
Most teenagers give in to such requests because "they don't feel safe enough to say an outright 'no.' Unfortunately as in this case, this can lead to the teen taking even a crazier risk," such as leaving her sibling with a stranger.
Karanja said: "It's important that our teens feel safe enough to tell us 'no.' Otherwise they are learning and practicing to say 'yes' when they mean 'no.'
"The moment the teen suggested [leaving] their sibling with the neighbor, the mother should have taken that as an opportunity to discuss the advantages and disadvantages of doing that," instead of just refuting the suggestion and demanding that the teenager look after the sibling.
The teenager shouldn't be paid because "she didn't deliver what she said she'd deliver," said Karanja, who added: "She knew she wasn't going to deliver the service of sitting their sibling from the onset and she didn't."
Martina Witter, a child and adult cognitive behavior therapist who founded the Rapha Therapy and Training Services in the U.K., told Newsweek that the mother should have considered alternatives to grounding her child.
According to the therapist, research shows that children/adolescents who get grounded will focus on the punishment element of it, "which may have a rebound effect and heighten emotions such as anger whilst fueling a sense of unfairness."
Witter said the grounding/punishment could potentially "avert feelings of remorse for leaving her sister at the neighbors, whilst preventing opportunities for reflection and growth."
The therapist recommends "empathic parenting from the mother to facilitate the young person in developing their decision making and problem solving skills."
The mother should create a space to have open dialogue with her daughter to gain a "reciprocal understanding" of the situation. Witter said: "This will help the daughter to reflect and process upon their emotions and unmet needs, which resulted in her leaving her sister with neighbors against her mom's will."
Several users sided with the mom in the latest Reddit post and criticized the teenager for her actions.
In a comment that got over 26,000 upvotes, user ABeerAndABook said: "NTA. [not the a******]...this was an extreme situation (emergency even) and Polly acted amazingly selfish and irresponsible. She left a young child with strangers and exposed them to an unknown illness as an added bonus...she is old enough to fully comprehend how terrible and dangerous her actions were, but instead doubled down on being petulant..."
User strywever said: "Left the child with the neighbors with no way to contact mom or anyone in an emergency, even. SO irresponsible! I'd be hopping mad in OP's [original poster's] place, and there's absolutely no way I'd pay that ungrateful, immature child a dime," in a comment that got 2,800 upvotes.
Newsweek has contacted the original poster for comment.
Do you have a similar parenting dilemma? Let us know via life@newsweek.com. We can ask experts for advice, and your story could be featured on Newsweek.