What Is Moms for Liberty? Group Hoping to Win 270 School Board Elections
Moms for Liberty, a conservative group that has turned parental rights into a rallying cry, is backing candidates in 270 school board elections in November.
The Florida-based group formed in early 2021 over frustration over COVID-19 policies such as mask mandates.
Since then, it has since grown massively in size and influence with more than 100,000 members across 240 chapters in 42 states, according to its Twitter page.
The group become known for members being vocal at school board meetings, its opposition to critical race theory in public schools, and efforts to get books with LGBTQ+ themes removed from school libraries.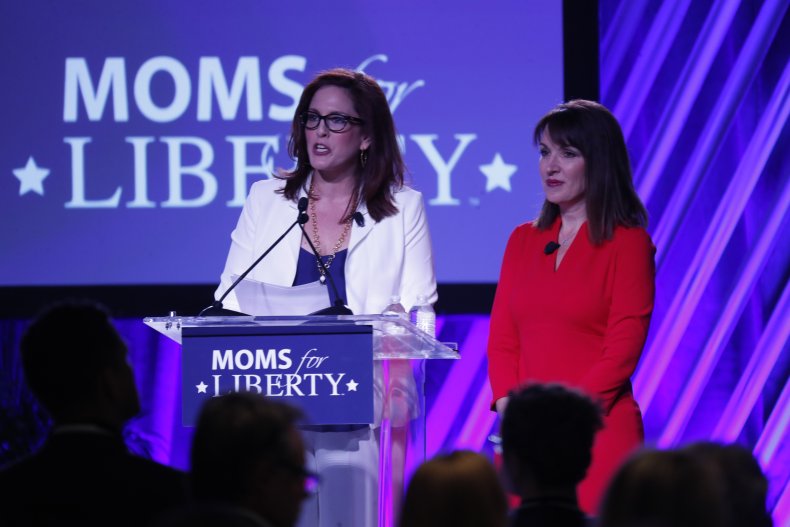 Moms for Liberty and other conservative groups want to install candidates that align with their views on school boards across the country. With less than a week to go until Election Day, the group announced that it is endorsing candidates running in 270 school board elections.
The litmus test when chapters of Moms for Liberty endorse a candidate is "someone that respects and is going to defend and protect parental rights," Moms for Liberty co-founder Tiffany Justice told Newsweek.
"We're incredibly proud to have 270 candidates endorsed across the country that will be serving on school boards."
She said elected officials "abdicated their authority" during the COVID-19 pandemic and were "unwilling to stand with parents."
"It was easier to cave to bureaucrats and to the government and school board members are elected to reflect and to do the will of their constituents and their communities," she said.
Justice said parents were also concerned about achievement rates. They are "very concerned about the fact that many children in American public school classrooms cannot read, and they want school board members who are going to put the focus back on education instead of indoctrination," she said.
"Parental rights, student achievement, stopping the sexualization of our children in schools. Those are really three of the top issues that our moms are really concerned about, and we're just getting started... 270 candidates endorsed this year, it will hopefully be at least double that next year. We're going to continue to grow and support and endorse candidates across the country, because we must reclaim public education in America."
Moms for Liberty's profile has grown significantly since parental rights became a key issue in the Virginia governor's race last year, with Republican Glenn Youngkin harnessing the anger over education and culture war issues to propel himself to victory.
Florida Gov. Ron DeSantis and others have taken that approach a step further by partnering with Moms for Liberty and affiliating themselves with the movement's goals.
The group worked with DeSantis' office on controversial legislation dubbed the "Don't Say Gay" bill that bars instruction on gender and sexuality issues for young children. In March, the governor named a member of the group, Esther Byrd, to Florida's Board of Education.
"This framing in terms of parental rights was something that seemed to catch fire and and particularly seemed to attract some suburban voters who had drifted a little bit away from Republicans because of their unhappiness with elements of the Trump agenda," Jeffrey Henig, a professor of political science at Columbia University, told Education Week recently.
"What we're seeing now is the increased role of national party and ideological forces that are feeding off of these local concerns, and trying to turn them into issues that will mobilize their base and swing certain voters," he added.
Henig and others have been contacted for further comment.
Moms for Liberty has also sparked a backlash, with advocacy group GLAAD describing it as a "fringe anti-LGBTQ organization."
"When a group's main focus is banning books that include a LGBTQ character and spreading lies about LGBTQ people, it's not really about liberty or learning," a spokesperson for GLAAD told Newsweek.
"'Moms against LGBTQ People' would be a more accurate name for this fringe anti-LGBTQ organization, which does not actually speak for most moms, especially moms who support LGBTQ people, have LGBTQ children, or who are LGBTQ themselves. This group is deeply connected to politicians who push anti-LGBTQ legislation. Voters in Florida, the group's home state, rejected the group's endorsed candidates."
Justice hit back at that characterization. "I completely reject any idea that we are anti-LGBTQ. We have gay members. We have members who have gay children and I think it is extremely disrespectful for GLAAD to make a comment about something that they have no idea about,' she said.
"The concern about the books has nothing to do with the sexual orientation of the characters. It has to do with the nature of the graphic content."
Update 11/3/22, 11:15 a.m. ET: This article has been updated with a statement from GLAAD.
Update 11/3/22, 11:45 a.m. ET: This article has been updated with comments from Tiffany Justice.