Pet Monkey Shot Dead After Attacking Woman, Ripping Ear in Half
A monkey that attacked a woman in her front yard, pulling out her hair and ripping her ear in half, has been shot dead by a family member.
The woman, Brittany Parker, was in her house in Dickson, Oklahoma when she spotted a monkey on her porch, attempting to get inside the house. She called the police when the monkey became aggressive, the animal ripping off part of her door as she attempted to keep it out.
By the time police arrived, the monkey had calmed down so Parker left the house to greet the officers. Suddenly, the monkey attacked.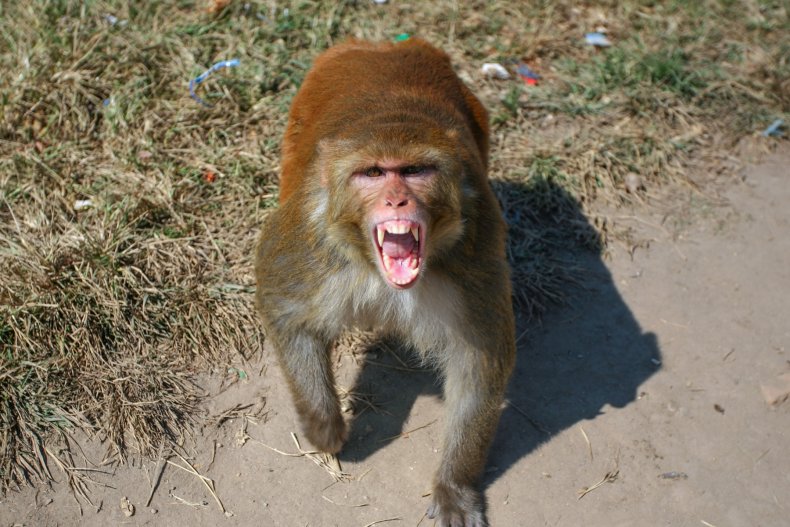 "He jumped up on my back and landed on my head," Parker told local news channel KOKH. "He started grabbing handfuls of hair and just ripped it out. He ripped my ear almost completely off of my head."
World Health Organization data shows that monkey bites make up between two and 21 percent of animal bite injuries, but monkeys usually only attack when they feel threatened or misread body language or facial expressions as aggression.
Captive primates have been responsible for one death and for injuring more than 280 people since 1990, according to animal rights group People for the Ethical Treatment of Animals, resulting in the deaths of 50 of the primates.
After it attacked Parker, the monkey ran away, but was shot dead by one of her family members.
"As we were looking for the primate, two shots were fired," Dickson police chief Tim Duncan told KOKH. "The shots came from the area of the victim's residence. Officers went back to the house and found that a family member of the victim shot and killed the primate."
Parker was taken to Mercy Hospital in Ardmore and later OU Medical Trauma Center in Oklahoma City for treatment to her injuries, and to receive a rabies shot. She will need plastic surgery on her ear, and told KOKH that she cannot work as a result of her injury.
The monkey was said by residents to be a pet of a neighbor, KOKH reported.
One local uploaded a video of the monkey on their own porch to TikTok, which shows the monkey lunging at them as they opened the door. In a follow-up video, the man shows the police at the scene and describes how the monkey had bitten off "some woman's" ear.
Pet monkeys are legal in Oklahoma, with no permits being required to keep one as a pet in the state because primates are classified as domesticated animals. Other species classified as domesticated in Oklahoma, and therefore available to own without a permit, include zebras, kangaroos and camels.
Parker is concerned for the safety of others living near someone who owns a monkey.
"I think that there needs to be some type of law that says that you need to have some kind of training as well as a certificate to even hold these type of animals," Parker told local news KXII.
She is also fearful for the safety of her own children.
"My son loves to play outside," Parker told KOKH. "Do I let my child go outside and play? Do I worry every time we step outside if we are going to be attacked by something? It is very traumatizing. It is very scary."
Do you have an animal or nature story to share with Newsweek? Do you have a question about monkey attacks? Let us know via science@newsweek.com.