Iraqi Gay Community at Risk Over Monkeypox Stigma Stoked by Leaders
A preliminary link between the latest monkeypox outbreak and gay and bisexual men could have a severe impact on the LGBTQ+ community in Iraq, with many fearing attacks as a result of getting the virus.
According to CDC figures as of June 7, there have been 1,019 confirmed monkeypox cases in non-endemic countries since the latest outbreak began. While most have been reported in Europe and North America, a handful of cases have also been reported in the Middle East, where homosexuality is still a crime in many countries.
In Iraq, homosexuality is legal, but people can be charged with public indecency. Those found guilty face fines and up to six months in jail.
"The general climate in Iraq is that homosexuality is heavily frowned upon, both in public and in private," Sally Bachori, an MD/MS candidate living in the US who grew up in Iraq, told Newsweek. "It's very common for us to hear that some family killed their son/daughter for being gay/lesbian."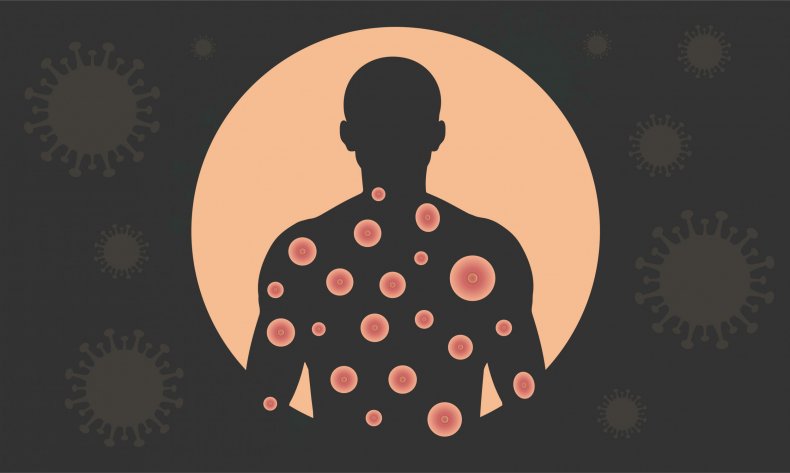 This kind of association between monkeypox and gay men will only serve to make life harder and more dangerous for LGBTQ+ people in Iraq and other countries where it's still very risky to be openly gay.
"They really do believe that monkeypox is caused by homosexual individuals," Bachori said. "I hate to be pessimistic but things are not looking great for the future of the LGBTQ+ community in Iraq. Especially after the [now deleted] tweet Muqtada Al-Sadr made a few days ago. The hashtag #كلا_للمثلية (#nogay) is still a trend that people keep tweeting about."
According to Middle East Eye, Sadr, an Iraqi Shia scholar, politician and militia leader said in a now deleted tweet: "I call on them [homosexuals] to repent."
He then called for laws that provide gay rights in Iraq to be repealed to "protect humanity from the monkeypox epidemic or what we call homosexual-pox."
Bachori said that many people in Iraq agree with Sadr's ideologies about the LGBTQ+ community, even those who are considered highly educated.
"He does have a large following and is quite feared by people because his so-called 'army' goes after those who speak against him, threaten them and even kill them," she said.
Bachori believes there is much work to be done to move things in the right direction for LGBTQ+ people in Iraq, but fears that it will be very difficult because most of the homophobic beliefs there are rooted in religious beliefs.
"More education needs to be done about these issues to bring awareness, but most importantly, religious leaders must stop inciting against gay people. They have a lot to do with why things are the way they are," she said.
A large number of the initial monkeypox cases were reported in men who have sex with other men, and despite there being no evidence that monkeypox is a sexually transmitted infection, countries including the U.K. have released official guidance advising people who have contracted monkeypox to abstain from sex, and to use a condom for eight weeks after first infection.
Monkeypox is spread via skin-to-skin contact, which means it can be transmitted during sex, but also during any other physical contact between people of any sexuality.
The initial surge of cases in LGBTQ+ people has led many to fear a homophobic backlash as occurred with the HIV/AIDs virus in the 1980s, where gay men were treated like "deviants" and health guidance for safer sex was withheld. Those with HIV positive status were sometimes treated like lepers and some people even avoided touching them at all, despite skin-to-skin transmission of HIV being impossible.
The stigmatization of monkeypox as a "gay disease" has already begun. In Germany, the LA Times reported, graffiti on a Berlin train has been spotted that read: "HIV and monkeypox = gift to gays."
In the U.K., the conservative LGB Alliance suggested on Twitter that gay clubs/saunas should be shut down over monkeypox to "protect gay and bisexual men." These tweets were then removed by Twitter.
Marjorie Taylor Greene , the U.S. Representative for Georgia's 14th congressional district, released a video saying that "monkeypox is really only transmitted mostly through gay sex" and that "monkeypox can clearly jump from person to person" because "monkeys jump from tree to tree."
In a interview with Stew Peters on his podcast, Pastor Stella Immanuel said that "the real pandemic here is promiscuous sex between gay men at sex orgies and participating in Satanic depravity," and that "we should make a law against homosexual sex" and "lock these people up."
"I think the stigma associated with it being a 'gay disease' will prevent men especially from seeking care," Rebecca Minor, a gender specialist, told Newsweek. "Historically the stigma has resulted in men not accessing care as readily, which impacts the ability to identify and properly treat cases to reduce the spread.
"Gay men are not the only population that is at risk but it does appear to be spreading most acutely within the gay community," Minor said. "There will be people who will assume they couldn't get it because they are not gay and that is also not accurate."
The Joint United Nations Programme on HIV and AIDS (UNAIDS) has also raised concerns about the stigmatizing language used in relation to monkeypox. In a statement, UNAIDS Deputy Executive Director Matthew Kavanagh said: "Stigma and blame undermine trust and capacity to respond effectively during outbreaks like this one.
"Experience shows that stigmatizing rhetoric can quickly disable evidence-based response by stoking cycles of fear, driving people away from health services, impeding efforts to identify cases, and encouraging ineffective, punitive measures."