Monkeypox Outbreak Updates: European Outbreak Differs from Transmissions in Africa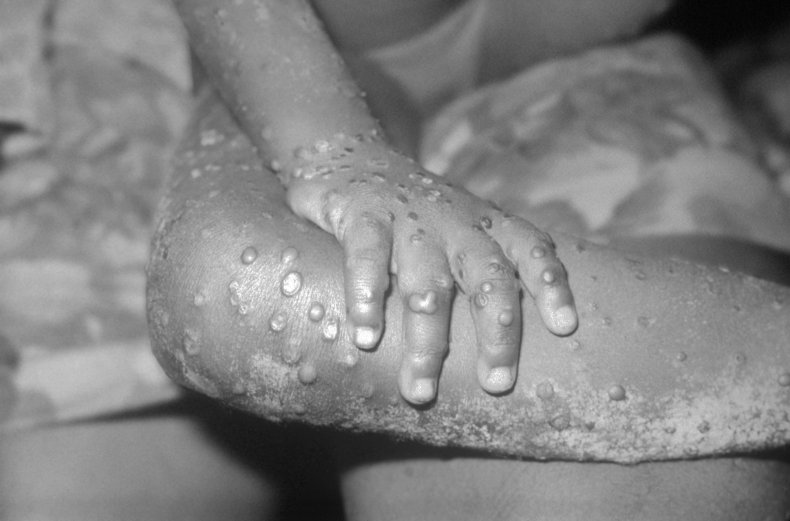 Live Updates Have Ended.
European Outbreak Differs from Transmissions in Africa, Scientists Say
African scientists are "stunned" by the spread of monkeypox in Europe and around the world.
"I'm stunned by this," Oyewale Tomori, a virologist and former head of the Nigerian Academy of Science, told the Associated Press. "Every day I wake up and there are more countries infected."
Tomori also sits on several World Health Organization advisory boards.
"This is not the kind of spread we've seen in West Africa, so there may be something new happening in the West," he added.
In Nigeria, about 3,000 monkeypox cases are reported each year, according to WHO. These outbreaks usually happen in rural areas where people have contact with infected rodents, Tomori said.
While there is still a lot unknown about the virus, British health officials believe the disease may be spread through sexual activities, as a "notable" portion of recent infections have been in men who had sex with men. Tomori said Nigeria has not seen sexual transmission of the virus.
Other African health officials are surprised to see such an outbreak outside of Africa among people who have not traveled to the continent.
"We've never seen anything like what's happening in Europe," Christian Happi, the director of the African Centre of Excellence for Genomics of Infectious Diseases, told the AP. "We haven't seen anything to say that the transmission patterns of monkeypox have been changing in Africa."
He said if something different is happening in Europe, "then Europe needs to investigate that."
Shabir Mahdi, a professor of vaccinology at the University of Witwatersrand in Johannesburg, said there needs to be a detailed investigation into the European outbreak. He told the AP that better understanding of how the outbreak started and "why the virus is now gaining traction" is needed.
"In Africa, there have been very controlled and infrequent outbreaks of monkeypox," he said. "If that's now changing, we really need to understand why."
WHO Warns Summer Festivals Could Worsen Outbreak
The monkeypox outbreak could worsen over the summer as people gather for festivals and parties, World Health Organization (WHO) Regional Director for Europe Dr. Hans Kluge said Friday.
"As we enter the summer season in the European Region, with mass gatherings, festivals and parties, I am concerned that transmission could accelerate as the cases currently being detected are among those engaging in sexual activity, and the symptoms are unfamiliar to many," Kluge said.
According to WHO, monkeypox is spread through close contact with an infected person or animal, or by a material contaminated with the virus. The organization calls the outbreak "atypical" as cases are being reported in non-endemic countries.
"In this instance, all but one of the recent cases have no relevant travel history to areas where monkeypox is endemic, in West Africa or Central Africa," Kluge said.
"Most of the initial cases found are being detected through sexual health services and are among men who have sex with men. And thirdly, because of the geographically dispersed nature of the cases across Europe and beyond, this suggests that transmission may have been ongoing for some time."
At least eight countries in WHO's European Region have reported cases in recent days. Those include: Belgium, France, Germany, Italy, Portugal, Spain, Sweden and the United Kingdom.
Massachusetts Case May be Linked to Canada Outbreak
Health officials believe the monkeypox outbreak in Massachusetts may be linked to an outbreak in Canada.
The Massachusetts Department of Public Health announced Wednesday that a man in the state, who had contracted the virus, recently traveled to Canada. The department stated that the case "poses no risk to the public, and the individual is hospitalized and in good condition."
Canadian officials confirmed their first two cases Thursday. The Public Health Agency of Canada (PHAC) is investigating "potential exposure and contacts of a case of monkeypox recently identified in the United States."
Canada's Chief Public Health Officer Dr. Theresa Tam said Friday that officials are following up with about 20 possible contacts, including some in British Columbia.
During a press briefing, Tam said it is unusual for this many monkeypox cases to be reported in countries outside of Africa.
"This is an usual situation," she said.
CDC Issues Health Advisory Amid Outbreak in U.S.
The U.S. Centers for Disease Control and Prevention (CDC) issued a health advisory following the monkeypox outbreak.
"The CDC is issuing this Health Alert Network (HAN) Health Advisory to "ask clinicians in the United States to be vigilant to the characteristic rash associated with monkeypox," the agency said in a statement.
This comes as the CDC and the Massachusetts Department of Public Health continue to investigate a confirmed monkeypox case in the state.
People with a rash should have a "heightened" suspicion monkeypox if they:
have traveled to countries with recently confirmed cases of monkeypox.
report having had contact with a person or people who have a similar appearing rash or received a diagnosis of confirmed or suspected monkeypox.
or are a man who regularly has close or intimate in-person contact with other men.
U.K. Advises Gay, Bisexual Men to be on Alert of Virus
U.K. health officials say a "notable portion" of early monkeypox cases detected have been in gay and bisexual men.
The U.K. Health Security Agency (UKHSA) said it is urging members of that community in particular to be on alert.
"We are particularly encouraging them to be alert to the symptoms and seek help if concerned," Dr. Susan Hopkins, the UKHSA Chief Medical Adviser said.
She added that men in that community should be aware of any unusual rashes or lesions and "to contact a sexual health service without delay if they have concerns."
Several British LGBTQ organizations have stepped up their advocacy by sharing the latest information on the virus.
LGBT HERO, a nonprofit NGO in the U.K., tweeted out a factsheet on the virus, based on the latest advice from health officials.
While monkeypox can be passed on by direct contact through sex, it is "not considered to be a sexually transmitted infection," the organization said in a factsheet.
It can also be spread through touching clothing, bedding or towels used by someone with the monkeypox rash, and through the coughs and sneezes of somebody with the infection.
"We don't think there's anything to be armed about yet but always good to know what the symptoms are and what to do should you think you've been infected or at risk," Ian Howley, the CEO of LGBT HERO, said in a tweet.
Stonewall U.K. also shared information on monkeypox.
"It is important to know that monkeypox is transmitted through close contact," the organization said. "The strain in the U.K. has a low mortality rate and most people make a full recovery."
Monkeypox cases in the U.K. have doubled Friday. Cases went from nine to 20, according to the U.K. Health Security Agency.
Most cases are mild, according to Sajid Javid, the U.K. Secretary of State for Health and Social Care. He also confirmed that the U.K. has obtained further doses of vaccines that are effective against monkeypox.
WHO Reports 80 Confirmed Cases
There are roughly 80 confirmed cases of monkeypox globally with dozens more under investigation, the World Health Organization (WHO) said Friday.
"Monkeypox has so far been reported from 11 countries that normally don't have the disease," WHO said. "WHO is working with these countries and others to expand surveillance, and provide guidance."
WHO reports about 80 confirmed cases with an additional 50 cases under investigation. The organization warns more are "likely to be reported."
A dashboard created by Italian management engineer Antonio Caramia depicts confirmed and suspected monkeypox cases in various countries. Spain, Portgual, Canada and the United Kingdom have the highest number of cases as of Friday, his data shows, compiled using research from global.health. Caramia created a similar site for COVID-19 cases.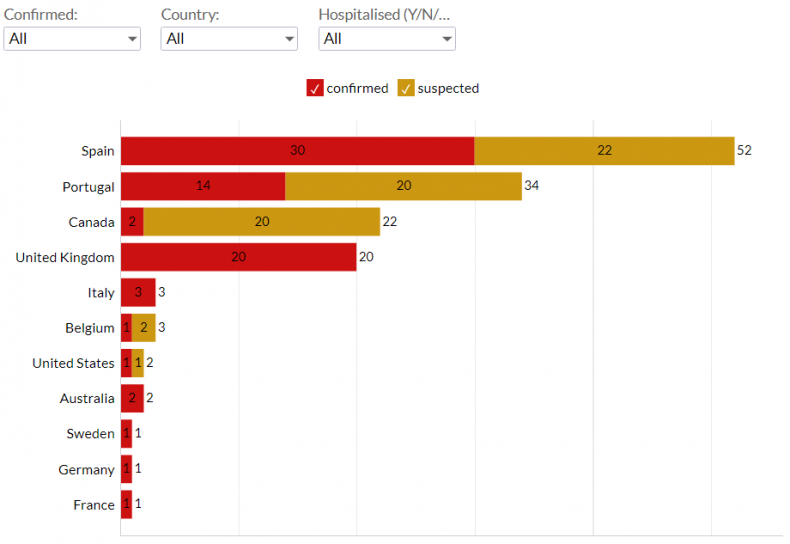 Monkeypox Spread Through Sexual Activities, European Commission Says
The European Commission (EC) said monkeypox is likely to further spread through close contact, including through "sexual activities."
EC spokesperson Stefan De Keersmaecker told the press that the virus is considered to have "moderate transmissibility among humans."
"The likelihood of further spread of the virus through close contact, for example, through sexual activities is considered to be high," he said.
Transmission between people without close contact is considered to be low. De Keersmaecker said the EC is monitoring the outbreak closely with "regular meetings" between the EC, member states and the European Centers for Disease Control and Prevention.
The EC Health Security Committee met earlier this week and will meet again next Tuesday, he said.
Those Under 30 at Higher Risk of Contracting Virus
Individuals younger than 30-years-old may be at higher risk of contracting monkeypox, some experts say.
"The key determinant will probably be if infection or vaccination against chickenpox provide some cross immunity against monkeypox," Aarhus University Denmark professor emeritus of infectious diseases Eskild Petersen said to the Daily Beast. "We do not know that. If not, we have a new virus in a non-immune population: those under 40."
Monkeypox is related to the virus that causes smallpox, the Centers for Disease Control and Prevention (CDC) says. Therefore, those who have been vaccinated against smallpox are more protected against monkeypox. As Newsweek has reported, smallpox vaccinations have slowed since the 1970s.
"Vaccination against smallpox is quite protective, so those like me old enough to have had a smallpox vaccine are well protected," Emory University School of Medicine professor Carlos Del Rio told the outlet.
"It is young people who have not received smallpox vaccine who are at risk."
The World Health Organization (WHO) says the virus is spread through "close" contact with an infected person or animal. Monkeypox can also be spread by "body fluids, respiratory droplets and contaminated materials such as bedding," according to WHO.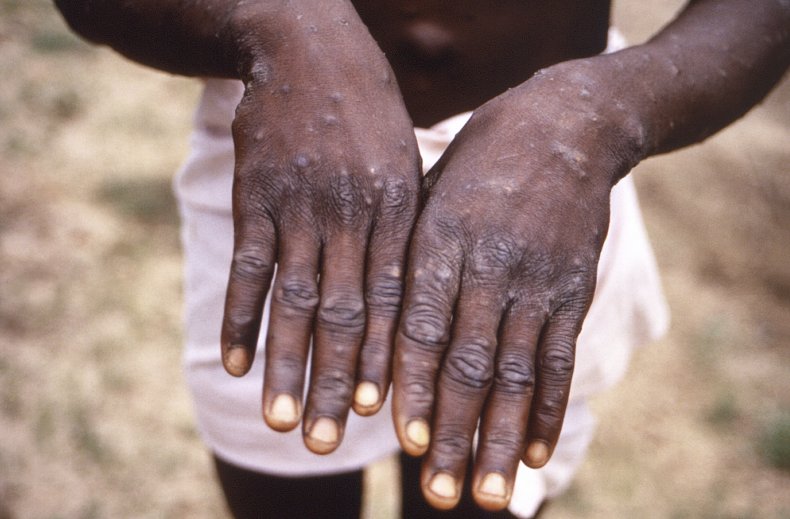 U.S. Orders Millions of Vaccine Doses
Amid the first confirmed case of monkeypox in the United States, the government has ordered millions of doses of a vaccine that protects against the virus.
The biotech company behind the vaccine, Bavarian Nordic, announced a $119 million order placed by the U.S this week. The order includes an option to buy additional doses worth $180 million. In total, the order would result in some 13 million doses.
Expected first doses would be manufactured by next year. The vaccine protects against smallpox and monkeypox. The order comes amid the first confirmed case in the U.S., a man in Massachusetts.
Virus Origins are 'Concerning,' Says WHO European Director
The European Director of the World Health Organization (WHO) said he is concerned about the origins of monkeypox cases in the region.
"While the number of cases in the region is still relatively small, what is concerning is that some of the cases appear to have been acquired in the region without a link to travel to countries where monkeypox is known to be endemic," WHO Regional Director for Europe Dr. Hans Kluge said.
Monkeypox has been reported in eight European countries. Kluge said investigations are ongoing into "atypical cases" of the virus.
The WHO is "working closely with countries and partners to investigate further as well as expand surveillance and provide guidance," Kluge said.
He added that many cases have been detected in clinics specializing in sexually transmitted infections.
"It is not clear at this stage what the extent of wider community transmission is, but it is likely that more cases will be identified in the coming days," he said.
The disease is often "self-limiting," Kluge said. The symptoms usually last between 14 to 21 days. While symptoms can be mild, the infection lesions can be itchy and painful, making infections "more severe."
Over 50 Cases Reported in Spain, Portugal
Spain health officials reported 23 new cases Friday.
These cases are mainly found in the Madrid region and are linked to an outbreak in a adult sauna, regional health chief Enrique Ruiz Escudero told reporters.
"The Public Health Department will carry out an even more detailed analysis to control contagion, cut the chains of transmission and try to mitigate the transmission of this virus as much as possible," he said.
There are now a total of 30 cases in Spain with another 18 cases under investigation.
Neighboring Portugal has identified a total of 23 cases, as nine more were detected Friday.
Italy Confirms Third Monkeypox Case
Italy has confirmed a third monkeypox case in Rome, health officials said Friday.
The three patients are in fair condition, Francesco Vaia, the general director of the Spallanzani hospital, said during a press conference.
"The first message to give is no alarm, but be careful," Vaia said. "We have three monkeypox positive patients, the virus will be isolated at the beginning of the week."
Andrea Antinori, a doctor at Spallanzani who specializes in infection diseases, said many of the cases in Europe originated through human-to-human transmission.
"Our cases confirm this trend," he said during a press conference.
The first patient with monkeypox had a mild viral infection with a fever, headaches as well as a distinctive bumpy rash after coming back from the Canary Islands, according to the Spallanzani hospital in Rome.
Lazio regional health commissioner Alessio D'Amato said each detected case had come into contact with about 10 people. He said in a statement that the second and third infections are related to the first.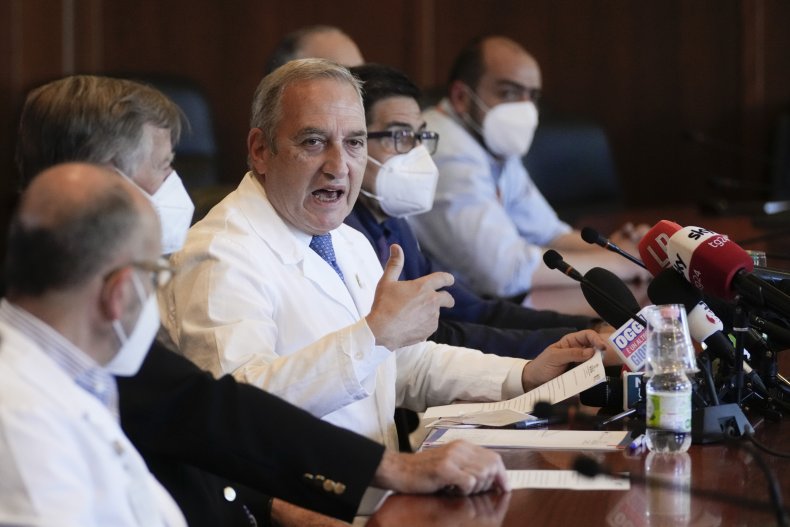 WHO Holds Monkeypox Meetings 'on a Daily Basis'
Despite media reports, the World Health Organization (WHO) does not have an emergency meeting on monkeypox scheduled Friday.
Monkeypox has been "a priority pathogen" for many years, a WHO spokesperson said in a statement emailed to Newsweek.
Since cases have been reported this month, WHO has been convening "a number of meetings related to monkeypox on a daily basis" involving experts from various affected countries, regional offices, the U.S. and European Centers for Disease Control and Prevention and other advisory groups.
This includes a meeting with the WHO Strategic and Technical Advisory Group on Infectious Hazards with Pandemic and Endemic Potential (STAG IH) Friday.
New York City Investigating Possible Monkeypox Case
New York City is investigating a possible case of monkeypox.
The New York City Department of Health and Mental Hygiene said the patient is being treated at Bellevue Hospital in Manhattan. The city's Public Health Lab will send tests to the U.S. Centers for Disease Control and Prevention (CDC).
There is one confirmed case in Massachusetts, according to the CDC. ABC News is reporting that six other possible cases are under investigation in the U.S.