Monkeypox, a virus normally found in West Africa, is currently having an outbreak in countries where it's rarely seen. This map, developed by Global.health, shows the virus' progress across the world, and tracks both confirmed and suspected cases as they arrive in each country.
The team behind the map had been developing infrastructure for tracking and surveillance for outbreaks for many years, but during COVID-19, they formalized a lot of the efforts to collect data in the early course of major infectious disease emergence.
So far, monkeypox cases have been detected in 19 countries, with over 300 suspected or confirmed cases. The strain of the virus in the latest outbreak appears to be similar to one involved in a 2018 outbreak and scientists are trying to determine why it is spreading so successfully now.
Tracking the virus to understand where and how it has spread is of huge importance.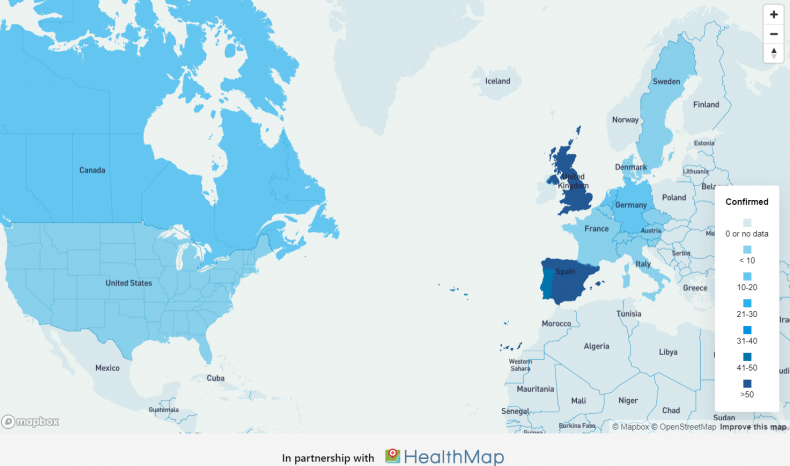 "We built up this infrastructure to support not only response to COVID, but the idea is that it could be quickly deployed to respond to future outbreaks," Professor John Brownstein, the Chief Innovation Officer at Boston Children's Hospital and Global.health team member, told Newsweek.
"When we saw these cases initially coming in, we recognized that it was probably worth pulling together as much of the data as possible because we realized that if you can start to aggregate this global dataset of cases—the demographic features, travel histories, all these characteristics—it can support both public health surveillance at a global level, and can also help in terms of understanding if there's a behavioral component to what we're seeing emerge," he said.
Global.health gets as much information as it can from official sources, but also relies on secondary sources, like verified news media, where there is a disclosure of an official source talking about a case.
Moritz Kraemer, an Associate Professor at the University of Oxford and Global.health team member, told Newsweek: "The data is highly variable by country: some countries have data on the health ministry website very fast and have very good descriptions of the newly reported cases, and in other countries, it's a bit more difficult. We had a team around the clock who went through news media official reports to try to always find multiple sources to validate some of the reports, then we feel more confident that those data are good to include in the spreadsheet."
The map doesn't currently elaborate on the case details of various U.S. states, but that degree of resolution is present in the dataset. As case numbers increase, the team plans to build partnerships with countries to help contribute data and make that data available.
"In addition to trying to provide that resolution, we're also trying to establish those relationships with ministries of health to be the channel to make that data available more broadly," Kraemer said.
In terms of making case information available, the team says that there's been an international shift from pre-COVID days: getting access to that kind of information was a lot harder. There's now a recognition that making that data available serves a global purpose.
"When the numbers are this low, to make good inferences on what's actually happening, you need an international dataset," Kraemer said. "If you've only looked at one country alone, it may just have too few cases to understand secondary transmission and incubation period, some of the very basic features of an outbreak. We can then start seeing major clusters in different communities that help inform public health decision making."
Uncommon Knowledge
Newsweek is committed to challenging conventional wisdom and finding connections in the search for common ground.
Newsweek is committed to challenging conventional wisdom and finding connections in the search for common ground.
About the writer
Jess Thomson is a Newsweek Science Reporter based in London UK. Her focus is reporting on science, technology and healthcare. She has covered weird animal behavior, space news and the impacts of climate change extensively. Jess joined Newsweek in May 2022 and previously worked at Springer Nature. She is a graduate of the University of Oxford. Languages: English.
You can get in touch with Jess by emailing j.thomson@newsweek.com.