Monkeypox Cases Have Been Found in These Six States
Monkeypox is a viral infection that has recently seen an outbreak of cases across the world. It is in the Poxviridae family, and is usually seen in Central and West Africa. Over 80 cases of monkeypox have been recorded worldwide so far, including in the U.S. and U.K., with over 50 suspected cases being investigated.
Monkeypox in the U.S.
Six U.S. states have reported cases of monkeypox as of Wednesday, with California being the most recent state to report a single presumptive case from someone who had recently traveled abroad.
The other five states include Washington, New York, Massachusetts, Florida and Utah. At this point, that is still the same number as the six states that were involved in the monkeypox outbreak in 2003, which was caused by contact with a shipment of prairie dogs from Ghana, but much fewer cases than the 71 seen in 2003.
There are mixed opinions on the severity of the outbreak, but President Joe Biden has said that we "should be concerned."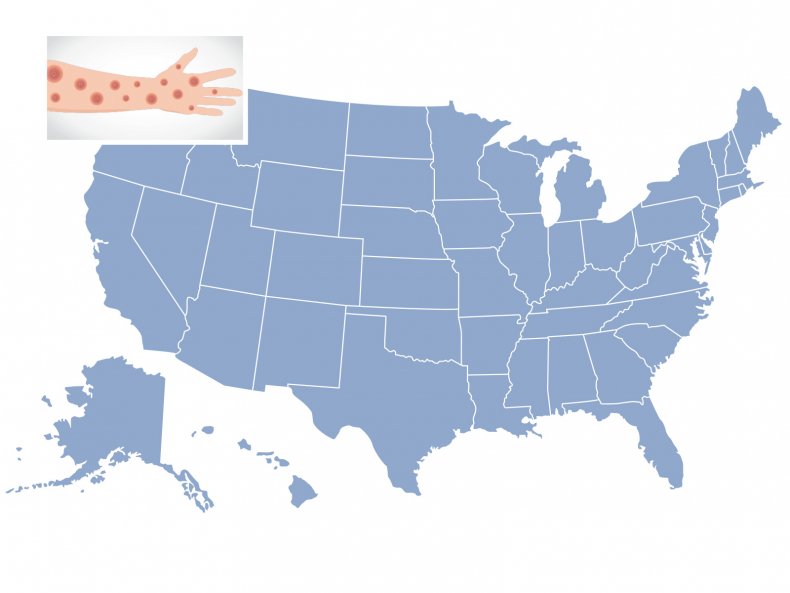 Massachusetts
On May 18, the Massachusetts Department of Public Health (DPH) confirmed a single case of monkeypox virus infection in an adult male who had recently returned from Canada. A statement from the DPH said authorities had identified people who may have may have been in contact with the individual. "The case poses no risk to the public, and the individual is hospitalized and in good condition," the statement said.
New York
Two residents of New York City were investigated on May 19 for a possible monkeypox infection, one of which was ruled out in preliminary tests. The other was positive for an orthopox virus, the genus which monkeypox is a member of, and had monkeypox-like symptoms. The case is being treated as a presumptive positive until the CDC confirms if it is indeed monkeypox.
Dr. Mary T. Bassett, the State Health Commissioner, said in a statement: "Reports of suspected cases of monkeypox in the United States and elsewhere are concerning. While a possible case in New York State awaits confirmatory testing by our local and federal partners, the Department has alerted health care providers in New York State so that they can consider this unusual diagnosis if their patients present with symptoms. The current risk to the public is low."
Florida
As of May 22, the Florida Department of Health in Broward County (DOH-Broward) and the CDC are investigating one potential case of monkeypox in an international traveler, who is now isolated. A statement from DOH-Broward said it was carrying out epidemiological investigations to find people who had potentially been exposed, but that no additional cases had been found.
Utah
According to the Salt Lake County Health Department on May 23, two adults in the same household are likely monkeypox cases based on preliminary testing for orthopox, and are awaiting formal CDC test confirmation. There is no public risk, as both are isolating, and all recent contacts are being informed.
Washington
Initial testing on one adult male who has recently traveled internationally confirmed an orthopox viral infection on May 23 at the Washington State Public Health Laboratory. The CDC is yet to officially confirm it is monkeypox.
California
Dr. Olivia Kasirye, the Sacramento County Public Health Officer, has publicly reported California's first suspected case of monkeypox. The patient recently traveled to Europe, and is yet to be confirmed a case by the CDC, however, a county health statement said "based on symptoms and preliminary testing, monkeypox confirmation is likely," according to the LA Times.
Will more cases be found?
Amira A. Roess, a professor of global health and epidemiology at George Mason University, told Healio.com: "We've dealt with numerous monkeypox outbreaks over the last few decades, since monkeypox virus was first identified. Monkeypox outbreaks tend to burn themselves out and historically that was due to the limited chain of transmission from the point of the spillover event to the close contacts of the first human case.
"However, increased encroachment into wildlife areas, combined with rapid urbanization and globalization, mean that we will see elongated chains of transmission, as we appear to be seeing now."
It can take anywhere from five to 21 days after catching the virus for any symptoms to start developing, which can include muscle aching, chills, a high temperature and exhaustion, followed up to five days later by the characteristic pox rash.
However, the general consensus is that it's a relatively mild illness, and in most cases will clear up on its own after a few weeks, but it can be serious for immunocompromised people, children, and pregnant women.
As there has been no pressure to fund development of a vaccine, there is no monkeypox-specific vaccination available, however, according to the BBC, "a smallpox jab offers 85 percent protection since the two viruses are quite similar."