'Monster Hunter World' Kulve Taroth Siege Guide: How to Start, Location and More
The latest update for Monster Hunter World brings a new Elder Dragon and quest type for hunters who team up online to take down one of the nastiest beasts in the game. Capcom announced Kulve Taroth is coming to Monster Hunter World along with its siege quest on April 18, and hunters have a chance to take down the beast and gain some exclusive rewards and gear.
Now that Monster Hunter World version 3.0 is up and running here's everything you need to know about Kulve Taroth and its quest including how to unlock it, where to find the Elder Dragon and everything in between.
GETTING STARTED
First and foremost, hunters will need to have completed the Monster Hunter World campaign and be at Hunter Rank 16 to participate in the siege quest. The Kulve Taroth Siege quests begin on April 18 and end May 3 so be sure to take part in as many quests as possible. Capcom did confirm this quest will return at a later date but you'll want to take advantage of it now.
The next step is to find and gather Kulve Taroth's Golden Scales, tracks and chipped fangs.
UNLOCKING THE KULVE TAROTH QUEST
To find Kulve Taroth's Golden Scales, Golden Tracks and Old Chipped Fangs, hunters will need to partake in the Optional Quest/Expedition.
Head over to the Ancient Forest from the South-West camp. There is a large, open area nearby where hunters can find a Golden Scale near a ledge. The tracks and chipped fangs should also be nearby, but you may have to go deeper into the Ancient Forest to find them. They are relatively easy to find and hunters should be able to max out the tracking meter in one expedition.
If you're having trouble maxing it out, go back to the gathering hub and head out to another Expedition and repeat the process.
Once you've maxed the tracking meter, head back to Astera and the Admiral will talk to you about Kulve Taroth. The quest now will be accessible under Special Assignments. This can only be accepted from Astera's Gathering Hub.
FIGHTING KULVE TAROTH
The new Siege quests allows up to 16 hunters to team-up to take down a particular monster. However, the hunters will be split into groups of four like a normal hunt, but whatever damage your group and the other four do to it will carry over.
You don't need 16 hunters to participate in the Kulve Taroth Siege quest but the more players taking part, the easier it will be to take down the Elder Dragon. It should also be noted that while you are all working together, the quest is also a competition between the four groups to see who deals the most damage.
Kulve Taroth can be found in the caverns of El Dorado, the Elder Dragon will appear before your group. The objective is to break the horns of the beast before it decides to run.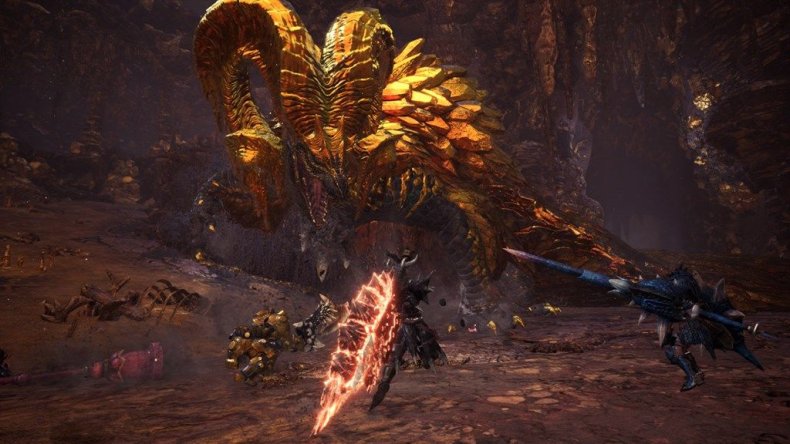 The Elder Dragon has a few attacks, including fire breath, a body slam and a roll attack. Kulve Taroth will telegraph its body slam by standing on its hind legs. If the dragon looks to the side, it will prepare a roll attack to hit any hunters trying to flank it.
Since Kulve Taroth breathes fire and the location has fiery spots, hunters will want to equip anti-flame gear to take as little damage as possible.
REWARDS AND GEAR
Rewards are distributed between groups depending on the amount of points that each group accumulates in each battle. Performing special attacks and breaking different body parts are some examples of points given outside of the amount of damage inflicted.
There are two categories for the Kulve Taroth rewards: Relic Weapons and Kulve Taroth Armor. The Relic Weapons will be rewarded to hunters after the dragon is taken down but players will need to take them to the smithy in Astera to get them appraised. Relic weapons take a weapon and infuse it with golden parts from Kulve Taroth. The weapon's stats will be completely random. Here's a list of weapons from the Monster Hunter World subreddit.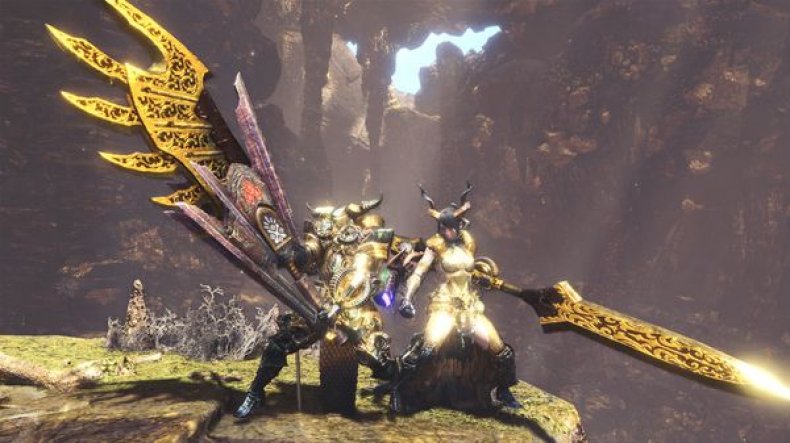 Kulve Taroth armor can be crafted after obtaining enough materials. Like other quests in Monster Hunter World, materials are presented as tickets that can be redeemed. Take them to the smithy in Astera to craft the Kulve Taroth alpha and beta armor. There is also a Palico armor available to purchase with these tickets so be sure to take part in as many of these quests as possible to get them all.
Check out Raised By Sharks' video showcasing the different armor with what materials you need and their stats below.
Are you enjoying the new Kulve Taroth quests in Monster Hunter World? What gear and weapons do you have so far? Let us know in the comments section below.