Joe Biden Faces GOP Governor Revolt After Worse Than Expected Jobs Report
A Republican push to end unemployment benefits aimed at helping Americans weather the COVID pandemic is gaining momentum after worse than expected job figures for April.
Even before Friday's release of the meagre 266,000 job gain for last month, GOP governors of Montana and South Carolina had already announced plans to no longer participate in the federal program that gives a $300 weekly boost to jobless benefits.
Economists had predicted more than one million job gains, and Friday's figures cast minds back to one year ago, when in April 2020 the U.S. economy lost 20.5 million jobs, the largest decline since records began.
But, last month saw the slowest improvement since January 2021 when only 49,000 jobs were added.
With businesses complaining that federal aid has caused a shortage of workers, Montana Gov. Greg Gianforte announced that his state would swap the weekly payments by the end of June with a one-time $1,200 bonus for those who choose to return to work.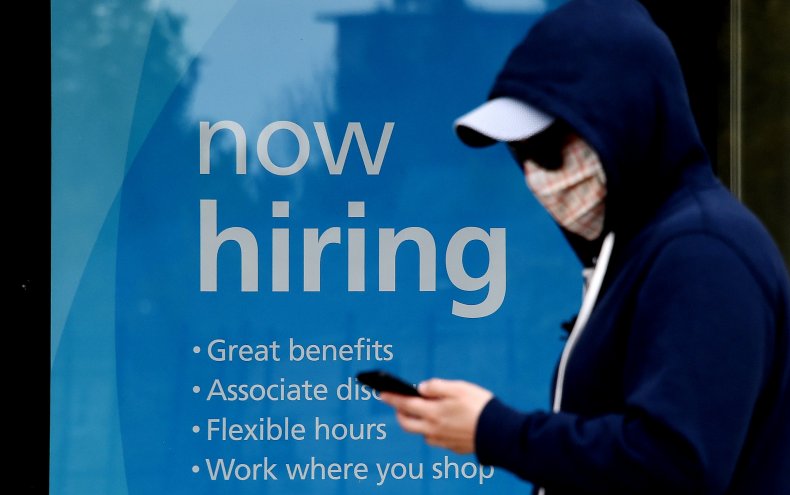 "Incentives matter," Gianforte said in a statement on Tuesday, "and the vast expansion of federal unemployment benefits is now doing more harm than good."
On Thursday, South Carolina Gov. Henry McMaster also announced his state would end its participation in the program, which he said was "incentivizing and paying workers to stay at home rather than encouraging them to return to the workplace."
Although federally funded, states have to opt in and administer the program which runs until the end of September, and as such, have the legal right to opt out.
Other Republican governors could follow suit amid a chorus of disapproval among GOP lawmakers and conservative groups at the COVID aid payments.
Neil Bradley, executive vice president of the U.S. Chamber of Commerce, expressed concern that one in four recipients got more in unemployment than they did working, and said that aid payments were "dampening what should be a stronger jobs market."
Kansas Senator Roger Marshall said he would introduce a bill to phase out the payments by the end of the month.
House Minority leader Kevin McCarthy said in a statement that Biden must stop doubling down on "his failed tax-and-spend agenda" and work with the GOP "otherwise "his crisis-era policies will continue to trap Americans in a cycle of fear."
The jobs numbers complicate the Biden administration's proposals for $4.1 trillion in new spending financed by tax increases on wealthy individuals and corporations.
However, away from right-leaning groups, economists appear divided on whether unemployment aid was the main reason behind job growth for April that was only a quarter of what had been expected.
A skills mismatch between available jobs and workers, a lack of business startups and closed companies were also cited as factors.
"You can look at states with higher and lower unemployment benefits and there's no correlation with their unemployment rates," Robert Frick, corporate economist at Navy Federal Credit Union told The Hill.
Jason Furman, a Harvard University economist, said that the reason for the lower figures "is just as much about a shortage in labor supply as it is about a shortage of labor demand."
"If you look at April, it appears that there were about 1.1 unemployed workers for every job opening. So there are a lot of jobs out there, there is just still not a lot of labor supply," he told CNBC.
Newsweek has contacted the White House for comment.