Monthly Direct Payments for City Residents Gain Popularity
More cities in the U.S. seem to be implementing a monthly payment program that gives money to low-income residents to fight inflation and homelessness.
Last year, several mayors of major cities experimented with initiatives that allocated no-strings-attached funds to low-income citizens, and the guaranteed income programs have continued to be implemented in more cities, growing in popularity.
On Thursday, Austin, Texas announced a $1 million pilot program that will allow the city to send monthly checks of around $1,000 to residents in the city who risk losing their homes.
At a press conference, Austin's Mayor Steve Adler said, "We can find people moments before they end up on our streets that prevent them, divert them from being there. That would be not only wonderful for them, it would be wise and smart for the taxpayers in the city of Austin because it will be a lot less expensive to divert someone from homelessness than to help them find a home once they're on our streets."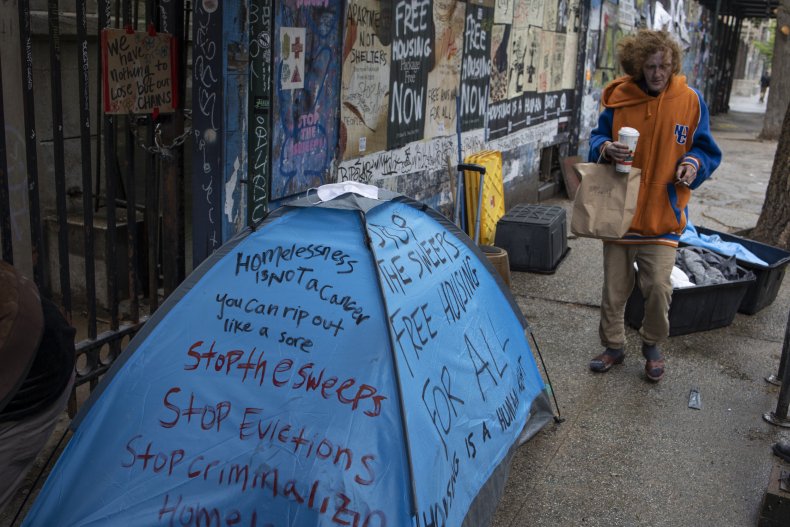 The Texas Tribune reported that Austin city officials are still determining who will be qualified to receive the funds, but said that it will most likely include residents with eviction cases, those with several unpaid utility bills, and some already experiencing homelessness.
"Austin is the latest city to join our coalition of mayors piloting guaranteed income across the country who understand that economic insecurity isn't an individual failure, it is a policy failure," Sukhi Samra, the director of the Mayors for a Guaranteed Income Coalition, told Newsweek.
"Showing the positive effects of a guaranteed income in a variety of settings will help us achieve our ultimate goal of a federal program that would provide financial stability to all who need it."
While the idea of universal basic income has been debated in recent years, the idea of monthly payment initiatives became plausible after it was evident that stimulus packages and expansion of the child tax credit program proved beneficial to many Americans. The effects of the pandemic and inflation have proved to many mayors that the programs are necessary.
In October 2021, Los Angeles Mayor Eric Garcetti announced the launch of the Basic Income Guaranteed: L.A. Economic Assistance Pilot (BIG:LEAP) program, which promised to provide 3,200 households in Los Angeles with $1,000 per month for one year.
"When you provide resources to families that are struggling, it can give them the breathing room to realize goals that many of us are fortunate enough to take for granted," Garcetti said. "Put food on the table and cover childcare with less stress, keep their children's focus on education and pursue new opportunities with fewer worries about the day-to-day needs of their household."
At least 28 U.S. cities have implemented something similar, including Chicago, Atlanta, and New York.
Melvin Carter, mayor of St. Paul, Minnesota, implemented a program in 2020, and told Reuters last year, "We're 60 years into the war on poverty, and the notion of giving money to poor people still feels profoundly new. Maybe that's the problem."
Update 5/9/22, 10:44 a.m. ET: This story was updated with comment from Mayors for a Guaranteed Income Coalition Director Sukhi Samra.