Moon Knight is coming to Disney+ on March 30, and we now have the first full trailer for the Oscar Isaac series.
We already know that Isaac is playing Marc Spector and his multiple personalities (at least one of which has an English accent according to the trailer). But the subtitles of this promo also revealed that Ethan Hawke is playing a character named Arthur Harrow. Or, to give him his proper salutation, Dr. Arthur Harrow.
That character is a fairly obscure one, so Marvel fans may be forgiven for not knowing exactly who Ethan Hawke is playing.
However, a glimpse at the Moon Knight comic books gives us a potential hint of where Disney+'s new show might be heading.
Who is Arthur Harrow in Moon Knight?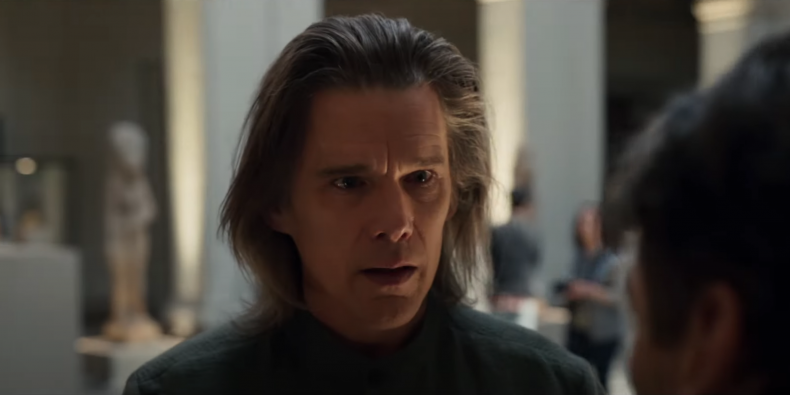 Harrow comes from the second run of Moon Knight comics, which Marvel published in the second half of 1985. He only appeared in one issue, making him one of the more obscure villains joining the Marvel Cinematic Universe (MCU).
Hawke's version of the character also looks very different to that of the comics, suggesting Marvel is taking a new spin on Harrow. In his issue of Moon Knight, Dr. Arthur Harrow has red hair and a beard, compared to the beardless Hawke we see in the trailer with shoulder length brown hair.
The comics Harrow also had one half of his face paralyzed into a permanent grimace due to a condition called trigeminal neuralgia that left him in constant pain. Hawke does not have this grimace, which would make it pretty hard to act, and may fall foul of recent campaigns from groups like Changing Faces to stop TV shows and movies giving villains facial disfigurements. However, we see the character carrying a cane, suggesting he may have some sort of injury that has left him in pain.
After all, pain is a major obsession for the character. In the comics, he is a research scientist working on something called in Moon Knight "pain theory." His research sees him become a candidate for the Nobel Prize, but he has a secret: His research is stolen from Nazi experiments conducted in Auschwitz.
In the comics, Moon Knight starts to take notice of him when he starts to kidnap people to use them in his experiments on pain. As one of Spector's powers is a high pain tolerance, Harrow also becomes very interested in him.
It is so far unknown how much of this backstory will be used for the MCU take on the character—after all, we only see him very briefly in the trailer.
However, the character seems to be more like a guru in the promo. One scene sees him walk among a crowd somewhere in Europe, and people are seen touching him as he moves through the crowd. Then, when he begins to talk, the crowd kneels.
The trailer shows that the character takes an interest in Spector's unique set of conditions. We hear Harrow say to him: "It must be very difficult. The voices in your head...There is chaos in you."
Moon Knight starts on Wednesday, March 30 on Disney+.