More Than 100 Republican National Security Experts Warn Trump's Refusal to Concede Risks 'Long-Term Damage'
A group of more than 100 national security experts who served in Republican administrations warned that President Donald Trump's refusal to concede and his effort to cast doubt on the election's validity "undermine democracy" and "risk long-term damage" to the nation's institutions.
President-elect Joe Biden and Vice President-elect Kamala Harris were declared the election's winners more than two weeks ago, after Fox News, the Associated Press and other television networks called Pennsylvania and Nevada in their favor. Trump has refused to concede while he and his legal team have pushed unsubstantiated claims of widespread voter fraud without providing evidence. Legal challenges brought by Trump's lawyers have nearly all failed in courts across the country.
"President Trump's continued efforts to cast doubt on the validity of the election and to interfere in state electoral processes undermine our democracy and risk long-term damage to our institutions," wrote the national security experts, who worked under Presidents George H.W. Bush, George W. Bush and Trump, or as members of Congress.
"Although some Republican leaders have supported President Trump's right to challenge aspects of the voting in various states, for the good of the country, they should now strongly oppose his dangerous and extra-legal efforts to intimidate state election officials and distort the Electoral College process," the statement, first published by The Washington Post, said.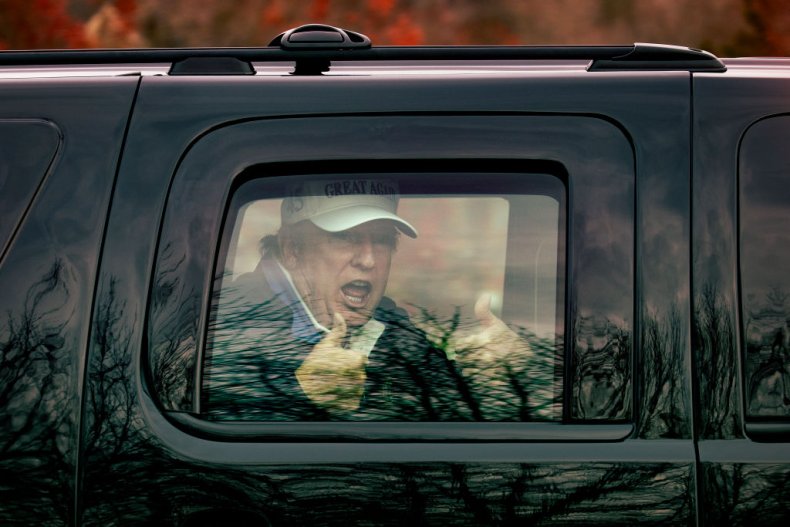 The experts warned that the president's "refusal to permit the presidential transition also poses significant risks to our national security, at a time when the U.S. confronts a global pandemic and faces serious threats from global adversaries, terrorist groups, and other forces."
"The election is over, the outcome certain. Over the past days, a number of Republican leaders have called on President Trump to respect the will of the American people. It is now time for the rest of the Republican leadership to put politics aside and insist that President Trump cease his dilatory and anti-democratic efforts to undermine the result of the election and begin a smooth and orderly transition of power to President-elect Biden," the experts noted.
"By encouraging President Trump's delaying tactics or remaining silent, Republican leaders put American democracy and national security at risk," they wrote. Among the signatories were former Pennsylvania Governor Tom Ridge, who also served as George W. Bush's secretary for homeland security, and former CIA Director Michael Hayden.
Newsweek reached out to Senate Majority Leader Mitch McConnell, a Kentucky Republican; House Minority Leader Kevin McCarthy, a California Republican; and the Republican National Committee for comment, but did not hear back in time for publication
Although a growing number of prominent Republicans have congratulated Biden on his victory, the majority of GOP lawmakers in Washington, D.C., have not publicly recognized his victory.
Bush publicly congratulated Biden and Harris on November 8, the day after the election was called in their favor by media outlets. In a Saturday statement, Senator Pat Toomey, a Pennsylvania Republican, became only the fifth GOP senator to congratulate Biden, saying Trump had "exhausted all plausible legal options" to challenge the results in his state.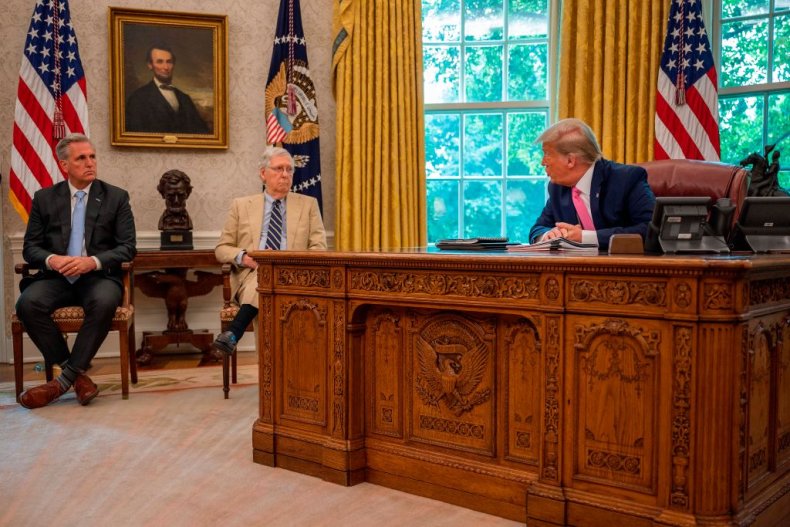 Previously, Republican Senators Mitt Romney of Utah, Lisa Murkowski of Alaska, Susan Collins of Maine and Ben Sasse of Nebraska had congratulated the president-elect. Several Republicans in the House of Representatives have also accepted Biden's victory and urged Trump to move on with the transition process—but GOP leaders have thus far declined to do the same.
John Bolton, a Republican who served as Trump's national security adviser, has been highly critical of the president's post-election actions and urged Republicans to explain to voters that the president clearly lost.
"The arguments that Trump and his campaign are making on the conspiracy to deny him re-election [are that] this conspiracy is so vast and so successful that apparently there's no evidence of it," Bolton told NPR in a November 13 interview.
"Donald Trump has one paramount interest in life, and that's Donald Trump, whereas the party has higher interests—the country and the party," he said.