More Than 110 Confederate Monuments Have Been Removed Across the U.S. Since 2015, SPLC Says
State and local governments across the U.S. have removed at least 110 publicly-supported Confederate monuments and symbols since 2015, the Southern Poverty Law Center has revealed.
In an updated version of a 2016 report called "Whose Heritage" the SPLC said dozens of tributes dedicated to the Confederate States of America were removed in the wake of the 2015 mass shooting in Charleston, Virginia that saw white supremacist Dylann Roof kill nine African-Americans during a prayer service at Emanuel African Methodist Episcopal Church.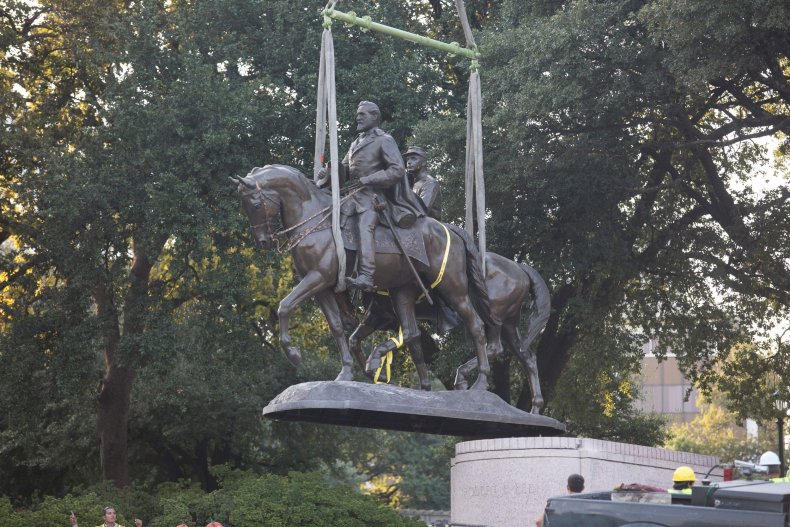 The massacre sparked a nationwide movement to remove Confederate monuments, flags, signs and other symbols from public spaces.
"In what seemed like an instant, the South's 150-year reverence for the Confederacy was shaken," the SPLC said in its report. "Public officials responded to the national mourning and outcry by removing prominent public displays of its most recognizable symbol."
Still, the SPLC said at least 1,728 Confederate memorials remain, with many protected by state laws in former Confederate states.
"We've seen a remarkable effort to remove Confederate monuments from the public square, yet the impact has been limited by a strong backlash among many white Southerners who still cling to the myth of the 'Lost Cause' and the revisionist history that these monuments represent," said Heidi Beirich, director of the SPLC's Intelligence Project.
In its study, the SPLC found that 772 of those monuments are in 23 states and the District of Columbia, with more than 300 in Georgia, Virginia and North Carolina.
The SPLC also found that at least 100 public schools are still named after Confederate States Army commander Robert E. Lee, Confederate States President Jefferson Davis and other "Confederate icons."
At least 80 counties and cities were also found to be named after Confederates, while 10 U.S. military bases were named after Confederate military figures, the SPLC said.
The law center said nine paid Confederate holidays are still celebrated across five states, including Jefferson Davis's birthday, which was celebrated in Alabama on Monday, June 4.
Read more: What is Confederate Memorial Day? Mississippi observes controversial state holiday
Even as monuments and symbols are being removed across the country, groups such as the Sons of Confederate Veterans are continuing to push for new memorials to be erected.
"They're taking them down, and we're putting them up," Thomas V. Strain Jr., who heads up the organization, told the Associated Press.
He said the SPLC's count on how many statues have been removed "seems a little high," but admitted that his group has not been tracking the number of removals across the U.S.
The 110 Confederate memorials that have been removed since the 2015 Charleston attack include 47 monuments and four flags, as well as name changes for 37 schools, seven parks, three buildings and seven roads, according to the SPLC.
The law center said 82 of the removals took place in former Confederate states, with Texas leading the way with 31 removals since 2015, followed by Virginia where there were 14 removals.
The removals of some Confederate statues have sparked outrage, with a "Unite the Right" rally protesting the planned removal of a Robert E. Lee statue in Charlottesville, Virginia last August turning deadly after a protester rammed a vehicle a crowd of couterprotesters, killing 32-year-old anti-racism activist Heather Heyer.
The SPLC said President Donald Trump has also "sided with those who want to continue honoring the Confederacy" by calling the removal of the monuments, which he referred to as "beautiful," a "foolish" decision and tweeting that it is "sad to see the history and culture of our great country being ripped apart."
"You can't change history, but you can learn from it. Robert E. Lee, Stonewall Jackson—who's next, Washington, Jefferson? So foolish!" Trump tweeted in August, adding: "Also the beauty that is being taken out of our cities, towns and parks will be greatly missed and never able to be comparably replaced!"
The SPLC has urged states to consider removing the hundreds of Confederate monuments and symbols that remain in public spaces across the country.
"We encourage communities across the country to reflect on the true meaning of these symbols and ask the question: Whose heritage do they truly represent?" the SPLC said in its report.