More Than 2,700 Schools Remain Closed First Week Back Due to Rising COVID Concerns
More than 2,700 schools across the country remain closed the first week back from winter break amid rising concerns over the highly contagious Omicron variant.
A Burbio tracker, which actively monitors school closures throughout more than a thousand K-12 school districts nationally, shows that 2,753 schools will be closed going into the first week of 2022. The average closure length for schools closing this week is six days.
The majority of closures involve schools shifting to one or two weeks of virtual learning in response to the rising COVID-19 cases in the U.S., but the key issue driving districts to move online is the number of teaching staff who have been infected over the holidays.
"The closures that are occurring in January are due to COVID cases triggering shortages," Burbio co-founder Dennis Roche told Newsweek. "There is testing going on and as you know there are very high percentages of COVID in certain parts of the country."
Roche noted that a handful of big districts in the country are spending the first few days of 2022 distributing rapid tests to students, families, teachers and other school staff.
Districts in Virginia and Vermont conducted COVID testing ahead of scheduled returns while some schools in Washington and Ohio delayed the start of school in favor of offering in-person testing on Monday.
Beachwood Schools in Ohio, which will return to regular operations on Thursday, said: "This delay will provide more time before reopening after the winter break to receive staff and student test results, determine the extent of virus spread and any staffing level implications."
Last week, the Massachusetts Department of Education also announced that it would distribute enough tests for every school district to provide two tests for all school staff.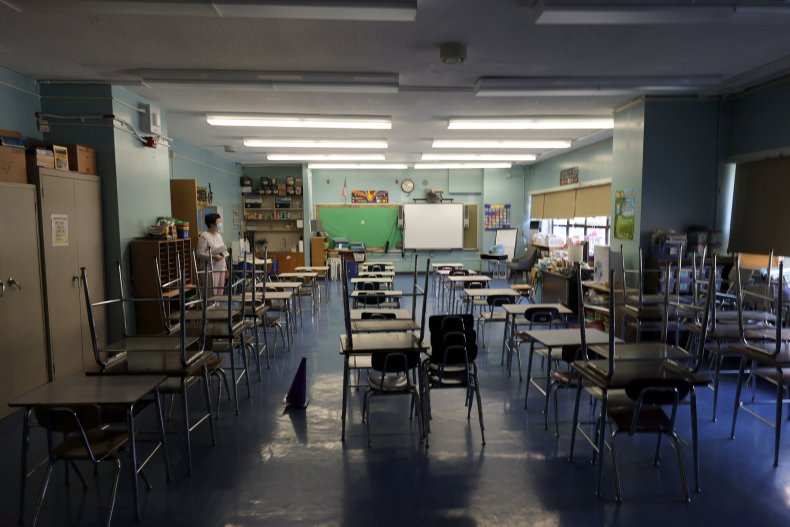 Data from the tracker show that New Jersey has the most closures by far.
Three school districts in the state—Camden City School District, Newark School District and Linden Public Schools—will move to virtual classes for the first two weeks of January while another six districts in New Jersey will be remote for just the first week.
States in the Northeast and the Midwest have been particularly hard hit by the Omicron variant.
On Monday, New Jersey Governor Phil Murphy said there are more COVID hospitalizations in the state right now than last winter's surge. There are currently 102 children in the state who have been hospitalized due to an infection.
State figures show that positive COVID cases have more than doubled among students and more than quadrupled among school staff.
Since Burbio began tracking closures for the 2021–2022 school year, the week beginning January 3 has the highest number of closures driven by COVID-19 and the third highest number of closures this school year.
The other two weeks with the highest number of school closures—the weeks starting November 7 and November 21—were largely due to closures around Veterans Day or Thanksgiving.
"They were not directly related to COVID, meaning they were not due to COVID cases—but they were related to ongoing staffing issues (shortage of substitutes, etc.) that had been accumulating over time," Burbio said.
Teacher shortages have been an issue many districts faced even before the pandemic and the full return to in-person classes this fall has further exacerbated the staffing problem as more teachers retire early and few are entering the profession.