Florida Senator Marco Rubio is leading a group of 43 Republican senators demanding that President Joe Biden call off nuclear talks with Iran over the country funding Hamas amid the ongoing conflict in Israel.
The senators made their demand in a letter sent to Biden on Wednesday. U.S. and Iranian officials have been meeting with the help of European intermediaries in Vienna, Austria to discuss resuming the 2015 nuclear deal that was cancelled by former President Donald Trump, which both the Biden administration and the government of Iran hope to renew.
"Over the past couple days, Palestinian terrorists in Gaza, who are funded by Iran, have launched a series of rocket attacks into Israel," the senators wrote in the letter. "They are targeting Israeli civilians and cities, including Israel's capital Jerusalem. This is troubling as members of your administration are currently in Vienna negotiating with Iran, the world's leading state sponsor of terrorism."
"The United States engaging in active negotiations with Iran and potentially providing billions of dollars in sanctions relief will no doubt contribute to Iran's support of Hamas and other terrorist organizations who attack Americans and our allies," they continued. "We call on you to immediately end negotiations with Iran, and make clear that sanctions relief will not be provided."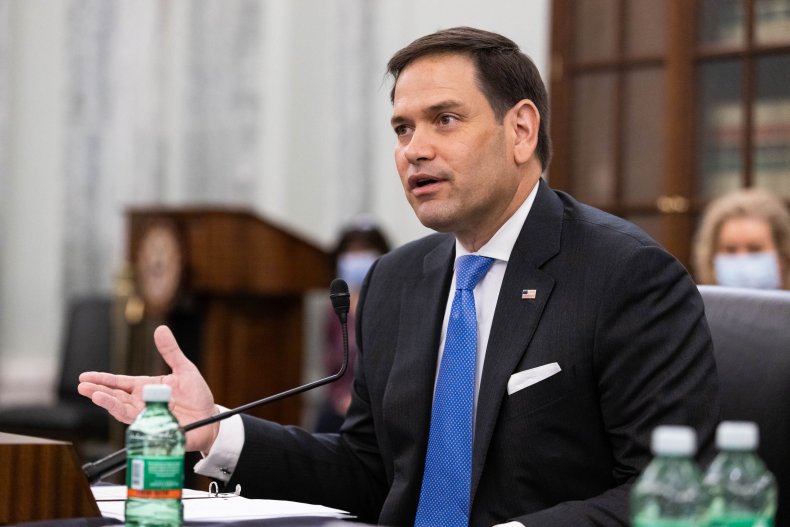 The senators went on to note that the U.S. government has considered Hamas a terrorist organization since the 1990s, while the Iranian government "resoundingly supports" rocket attacks from the group during the current conflict with Israel. They demanded that Biden "unequivocally support Israel's right to defend itself against any and all terrorist attacks."
The president "conveyed his unwavering support for Israel's security and for Israel's legitimate right to defend itself and its people" during a phone call with Israeli Prime Minister Benjamin Netanyahu on Wednesday, according to a White House readout of the call.
The letter to Biden came on the same day that Abbas Araghchi, Iran's deputy foreign minister, said that any renewal of the deal was dependent on the U.S. "verifiably" lifting sanctions imposed on Iran after Trump pulled out of the deal in 2018. Araghchi said that the deal, known as the Joint Comprehensive Plan of Action, would "return to full implementation" after the condition was met.
Hamas and other militant groups have fired over 1,000 rockets at Israel during three days of conflict. The attacks have killed at least 7 people, including one child. Meanwhile, Israeli airstrikes aimed at the Palestinian Gaza Strip have killed at least 67 people, including 16 children, according to the Associated Press.
Newsweek reached out to the White House for comment.