More Than 440,000 Ballots Already Cast in Virginia 2 Weeks Out From Election Day
More than 440,000 voters in Virginia have already returned their ballots two weeks ahead of the state's election on November 2, according to state data compiled by the nonpartisan Virginia Public Access Project (VPAP).
Citing data from the Virginia Department of Elections, VPAP reported 444,690 ballots were cast as of Monday. Of those early ballots returned, 284,511 were cast in person and 160,179 were mail-in ballots. The total number of ballots cast with two weeks remaining until polls close on November 2 is already more than double the number of early votes cast during the state's last gubernatorial election in 2017—when VPAP reported fewer than 200,000 voters cast their ballots before Election Day.
Although the number of early votes cast this fall exceeds the number reported during Virginia's last gubernatorial battle, the total still represents fewer than 10 percent of all voters in the state. Virginia election officials reported a total of 5,945,556 registered voters as of October 1.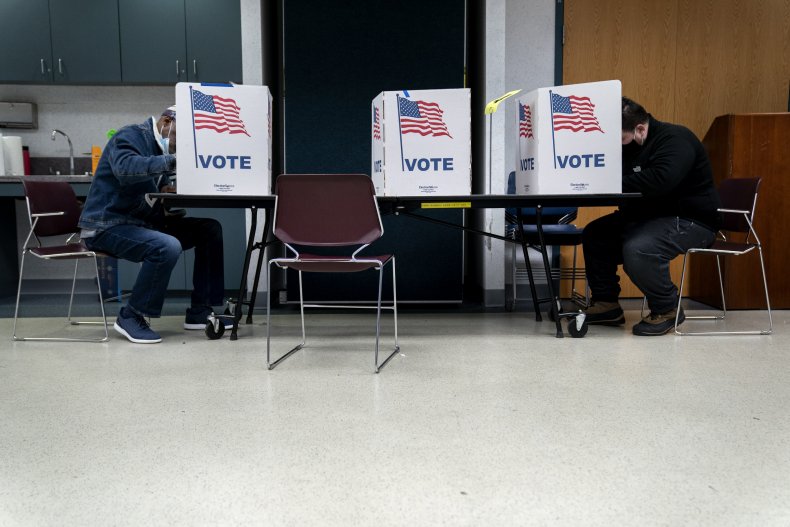 This year, many politicians around the country are paying close attention to the race in Virginia, one of two regularly scheduled gubernatorial elections taking place this fall. Some political strategists have pointed to the Virginia contest as a potential indicator of how voters may lean during the 2022 midterm elections.
Although three gubernatorial candidates appear on the ballot, Democrat Terry McAuliffe and Republican Glenn Youngkin were quick to emerge as the race's top two candidates, with Liberation candidate Princess Blanding trailing far behind them in the polls. Voter surveys conducted over the last couple of months have shown a close race between McAuliffe and Youngkin, with polling averages estimating McAuliffe to have a lead over Youngkin between 2 and 3 points by mid-October.
McAuliffe served as Virginia's governor once before from 2014 to 2018, after which he was succeeded by sitting Governor Ralph Northam, a fellow Democrat. Virginia does not allow its governors to serve consecutive terms in office.
In addition to Northam's support, McAuliffe has welcomed a handful of high-profile Democrats to campaign alongside him, including first lady Jill Biden, Atlanta Mayor Keisha Lance Bottoms, and voting rights activist Stacey Abrams. Vice President Kamala Harris and former President Barack Obama are each expected to campaign with McAuliffe later this week.
Before launching his campaign for governor, Youngkin worked as a co-CEO for the global investment firm Carlyle Group, a position he retired from last year. Former President Donald Trump has voiced support for Youngkin's campaign multiple times over the last few months after first endorsing him in May.
Newsweek reached out to the Virginia Department of Elections for comment and will update this article with any response.