More Than 5,500 Students in Quarantine After Florida School District's First Week Back
Thousands of students enrolled in the country's seventh-largest school district were in isolation or in quarantine Monday morning for possible exposure to COVID-19 following their first week of school.
Hillsborough County Public Schools (HCPS), a district in Tampa, Florida, that extends throughout the state's Hillsborough County, reopened to students for its first day of classes on August 10. The district had about 208,500 enrolled students as of the third day back at school, according to an estimate district officials cited in a message distributed to the wider district community last week.
As of 7 a.m. local time on Monday, the district said 5,599 students and 316 district employees were either isolating after testing positive for COVID-19 or in quarantine after being in close proximity with someone who did test positive.
The numbers represent an uptick in students and district employees who have either tested positive or been placed in quarantine since last Friday when fewer than 4,500 students and fewer than 290 employees were in isolation or in quarantine. According to HCPS, the August 13 numbers represented about 2.15 percent of the district's student population and about 1.2 percent of all employees district-wide.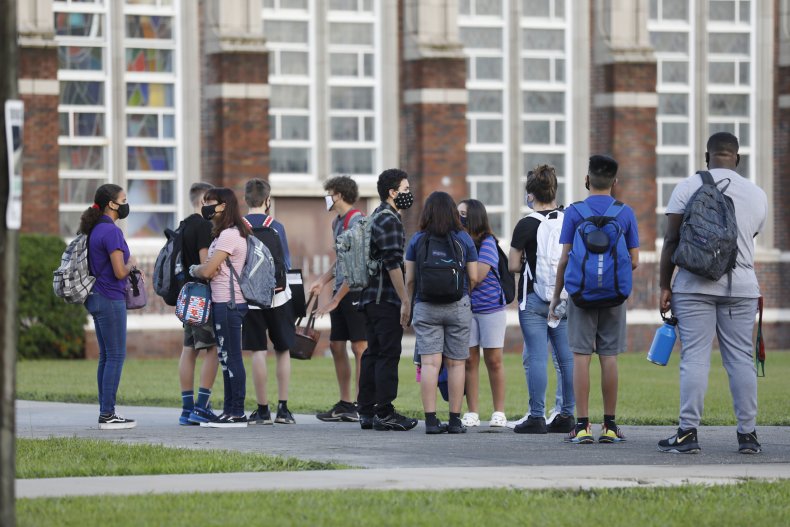 The district's COVID-19 data dashboard showed 929 reported COVID-19 cases between August 1 and Monday afternoon. Of those reported, 577 were student infections and 352 were employee infections. An additional 8,771 cases confirmed between March 2020 and the beginning of August were not included in the updated numbers, the district noted on its virus dashboard.
The district said Monday it scheduled an emergency board meeting set to take place on Wednesday to discuss the district's experience with COVID-19 thus far this school year and to explore "the best way to mitigate against the spread of the virus, up to and including mandatory face coverings for all students and staff."
HCPS previously announced a temporary mask mandate but offered parents the opportunity to opt their children out of the requirement. That original mask requirement was expected to last "until at least September 3rd."
Florida Governor Ron DeSantis previously issued an executive order blocking schools from implementing mask mandates, a decision HCPS acknowledged in its Friday message. DeSantis' order puts HCPS and other districts "in danger of losing state funds" if they violated his decision, the district noted.
Newsweek reached out to the district superintendent for comment about the anticipated emergency board meeting but did not hear back before publication time.
According to the district's Friday message, school officials are providing masks to students or employees who request them and have hand soap and sanitizer available for use on school campuses. The district has encouraged families to assess how their children are feeling before sending them off to school each morning and discouraged parents from allowing students to attend school if their child has recently taken a COVID-19 test and is waiting for the results to come back.
As classrooms around the country reopen for the fall semester, many schools are reporting temporary shutdowns or student quarantines in response to dozens or hundreds of infections within school communities. As of Monday, a school district in Tennessee said more than 1,000 members of its school community were in isolation or in quarantine due to COVID-19 exposures, and a school district in Georgia last week initiated a temporary district-wide closure due to a rise in new infections.