The Supreme Court is set to make a major ruling on abortion in 2022, but more Americans think the country's laws regarding abortion should be decided by the federal government, according to a new poll.
Sometime in the new year, the high court will take up the pending case of Dobbs v. Jackson Women's Health Organization, which deals with a Mississippi law that bans abortion after 15 weeks of pregnancy. The case essentially reopens Roe v. Wade, the court's 1973 decision that legalized abortion in the U.S.
While the fate of abortion in the nation may soon be decided by the Supreme Court, a new Reuters/Ipsos poll found 38 percent of respondents said the federal government should decide whether abortion should be legal or not. Thirty-four percent said each state government should decide the legality of abortion, while 28 percent said they were unsure.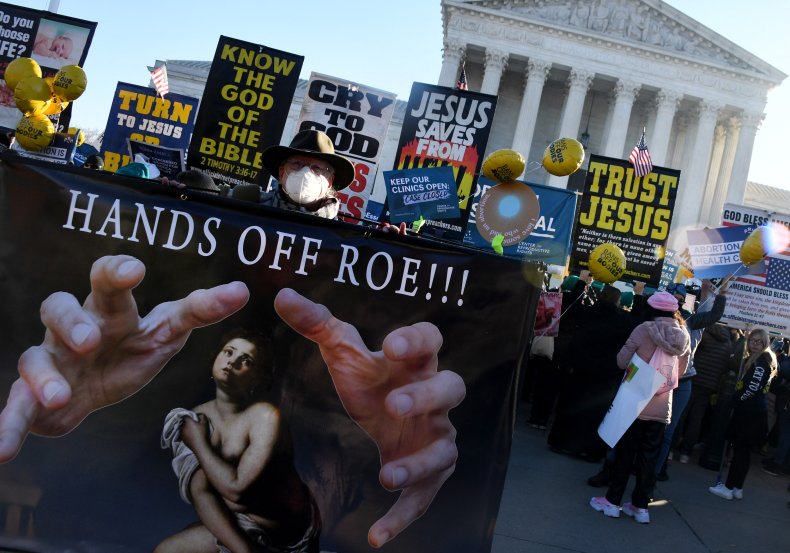 When asked about how actual abortion laws should be decided, opinion was more divided. Thirty-three percent favored states being left with the decision, with 12 percent saying it should be decided by state legislators at the state level, while 21 percent said such laws should be made at the state level by voter referendum.
Twenty-eight percent of respondents said abortion laws should be made by the Supreme Court declaring a nationwide constitutional right, while 15 percent said Congress should set nationwide abortion laws.
When broken down by political affiliation, Republican respondents were more likely to support state voters making the decision regarding abortion. Twenty-seven percent of Republicans said voter referendums at the state level should decide the laws, while more Democrats (36 percent) felt the Supreme Court should have the ultimate say.
The poll also found 32 percent of Americans correctly knew that if the Supreme Court overturned Roe v. Wade, the power to decide abortion laws would be given to state governments, thus allowing it to be legal in some states while illegal in others.
Sixteen percent of respondents said they believe abortion would become illegal in the U.S. immediately if the court overturned Roe v. Wade.
When asked about their general opinions on abortion, Americans were split. Twenty-six percent said they believe abortion should be legal in most cases, compared to 25 percent who said it should be illegal in most cases. Twenty-three percent said it should legal in all cases, and 12 percent said it should be illegal in all cases. Fourteen percent said they were unsure.
The Reuters/Ipsos poll was conducted between December 13 through December 17 and involved 4,407 U.S. adults.