More Americans Trust Joe Biden to Maintain 'Law and Order' Than Donald Trump, Poll Shows
Despite President Donald Trump consistently promoting himself as the "law and order" candidate, more likely voters actually trust Democratic nominee Joe Biden to maintain law and order, new polling shows.
The poll from The New York Times/Siena College, which was conducted from October 15 to 18, shows that 50 percent of likely voters view Biden as the candidate that will do a better job to maintain law and order if he is elected president. Meanwhile, just 44 percent of likely voters see Trump as the better candidate for law and order, and 6 percent did not respond or had no opinion.
Biden led Trump by 9 percentage points as the favored candidate among likely voters in the poll. While 50 percent of respondents said they planned to support the Democratic nominee, just 41 percent said they'd vote for Trump. An additional 6 percent said they did not know or refused to answer, 2 percent said they planned to vote for Libertarian candidate Jo Jorgensen, and 1 percent said they'd back someone else.
The poll surveyed 987 likely voters and has a margin of error of plus or minus 3.4 percentage points.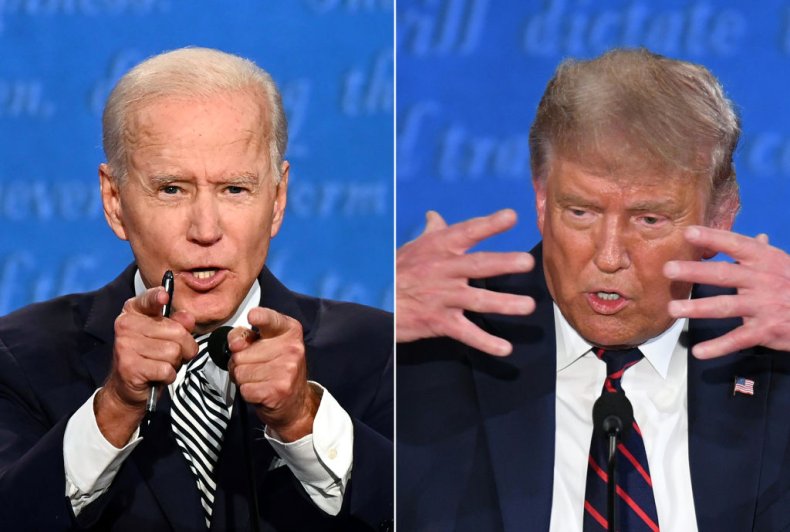 As Black Lives Matter and anti-racism protests erupted around the country throughout the summer, some were hijacked by rioters, which resulted in looting, vandalism and incidents of violence. Trump leaned into a "law and order" message as he urged local leaders to crack down on demonstrators while his administration sent federal agents to several prominent cities.
"I am your president of law and order," the president declared in June.
Trump has tried to characterize Biden as weak on addressing social unrest and crime, attempting to play to fears of Americans living in the suburbs. The president has repeatedly claimed, incorrectly, that Biden supports defunding the police.
But that messaging has failed to resonate with at least half of Americans, according to the new poll results. In the first presidential debate on September 29, Trump tried to deride Biden and promote himself as the law and order candidate.
"Are you in favor of law and order?" Trump asked the former vice president during the debate. "Yes, I'm in favor," Biden responded. "Law and order with justice where people get treated fairly."
The Times/Siena College poll found that more voters believe Biden will do better handling a range of pressing issues than Trump will, including managing the coronavirus pandemic, unifying Americans and choosing a Supreme Court justice. Although Trump has previously been seen by likely voters as the better candidate to handle the economy, support for Biden's economic policies is about equal with Trump's now. While 48 percent of likely voters said they trust Trump more on the economy, 47 percent said the same of Biden.
All recent national polls show Biden with a significant lead over Trump. The current Real Clear Politics polling average gives the Democratic challenger an advantage of about 8.9 percentage points. And the FiveThirtyEight polling average shows Biden ahead by about 10.5 percentage points. Biden is also favored in most key battleground states, including Arizona, Florida, Michigan, Pennsylvania and Wisconsin.