More Americans Want Kamala Harris as President than Mike Pence Ahead of VP Debate: Poll
Democratic vice presidential nominee Kamala Harris is favored over Vice President Mike Pence in a hypothetical race for president, according to a new poll.
The poll, released Wednesday by Florida's Saint Leo University Polling Institute, found that 48.3 percent of likely national voters would prefer Harris as president compared to 41.5 for Pence, with 10.1 percent undecided. Results were much closer among Florida voters, with Pence and Harris statistically tied at just under 47 percent each.
Pence and Harris were scheduled to debate in Salt Lake City, Utah on the same day the poll was released. The event was expected to include plexiglass barriers and additional distancing between the candidates following concerns sparked by the recent COVID-19 diagnosis of President Donald Trump and many of his associates, although Pence has tested negative.
Other recent polls have also found that voters may have a slight preference for Harris over Pence. A YouGov poll released Monday showed Harris with a 48 percent to 45 percent advantage over Pence among likely national voters asked about a head-to-head matchup.
A poll released Tuesday by Franklin Pierce University and The Boston Herald showed that 45 percent of likely voters believe Harris is better equipped to assume the presidency, compared to 40 percent for Pence.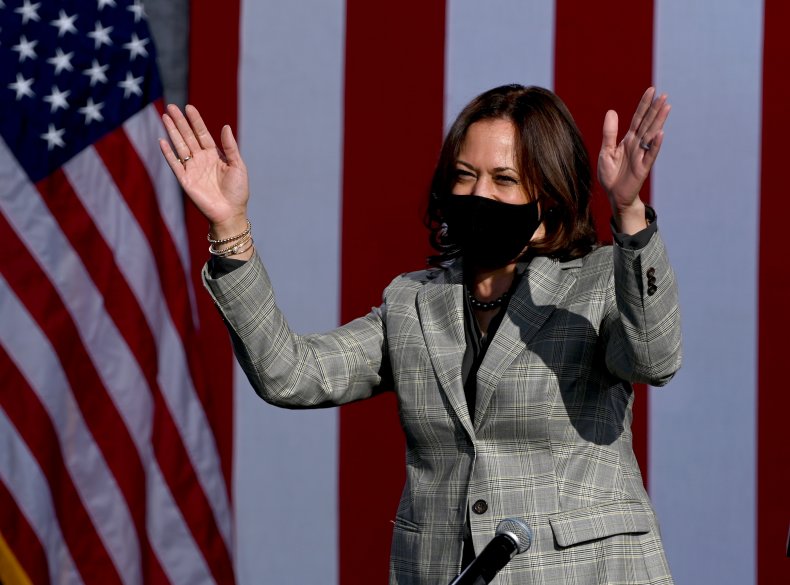 Recent polling of the current presidential candidates has shown Democratic nominee Joe Biden pulling away from Trump following his positive coronavirus test and last week's chaotic presidential debate.
The Franklin Pierce University poll showed Biden with a 14 percent lead over the president, with Biden's lead widening to 21 percent in the three days after news of Trump's infection broke.
The Saint Leo poll showed Biden with a similar margin over Trump, leading nationally by 52.1 percent to 38.3 percent. Biden's advantage shrunk to 6 percent among Florida voters. The poll was conducted just before Trump's diagnosis was announced.
An average of recent national polls provided by polling analysis site FiveThirtyEight showed Biden leading Trump by 9.5 percent as of Wednesday evening. The site's election forecast gave Biden an 84 percent chance of winning the election, with a 14 percent chance for Trump and a 1 percent chance that the contest will end with neither candidate reaching a majority in the electoral college.
Opportunities for Trump and Pence to gain ground may be dwindling. While Wednesday's meeting between Pence and Harris will be their only debate, Trump and Biden are still slated to take part in two more debates. However, it is not clear whether either will move forward as planned due to Trump's health status.
Newsweek reached out to the Trump and Biden campaigns for comment.