More Countries Added to CDC COVID High Risk List As U.S. Cases Drop
As COVID-19 case numbers dwindle in most of the U.S., more countries have been classified as "very high-risk" for potential travelers.
The Centers for Disease Control and Prevention (CDC) currently classifies 133 countries as having "very high" COVID risk, the fourth and most severe classification on its official scale. On Monday, the list grew by seven with the reclassification of seven nations: Armenia, the Democratic Republic of the Congo, Cuba, Israel, Japan, Libya, and Oman.
Under the very high-risk classification, the CDC urges all residents to "avoid travel to these destinations." Israel also has a travel advisory in effect from the U.S. State Department due to "due to terrorism and civil unrest." This latest round of additions came shortly after 12 others were added to the list on January 31, including Brazil, Chile, Ecuador, and Mexico.
In order to qualify as very high-risk, a country must have reported 500 cases of COVID per 100,000 residents over the course of 28 days. Among the lower tiers, 52 countries as classified as having high risk, five have moderate risk (Pakistan, El Salvador, New Zealand, Cameroon, and the Madeira Islands), and seven have low risk (Benin, Timor-Leste, Indonesia, Sierra Leone, China, Taiwan, and Hong Kong).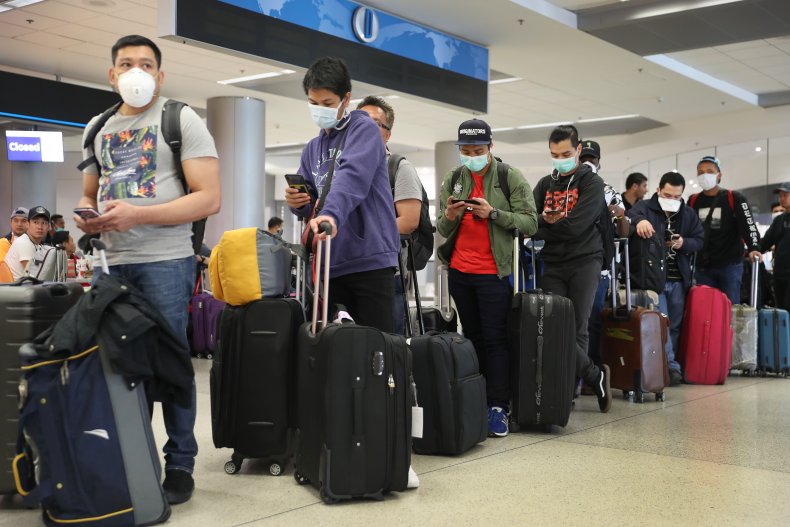 "If you must travel to these destinations, make sure you are fully vaccinated before travel," the CDC's official guidance states.
Newsweek reported on February 7, 2022, that a majority of states in the U.S. were reporting considerable drops in COVID case numbers since January. A total of 31 states saw drops of 60 percent or higher from their peak case numbers in mid-January, according to a review of CDC data, with 17 reporting a drop of at least 70 percent. Connecticut, Delaware, Maryland, Massachusetts, New Jersey, New York, Rhode Island, and Wisconsin saw the best improvement with drops of at least 80 percent.
Cases across the U.S. are trending downward overall. The country's seven-day average peaked on January 15 with just shy of 806,000. As of February 7, the same average was down to around 313,000.
During the final week of January, the CDC reported that 99.9 percent of all COVID cases in the U.S. were attributed to the Omicron variant. This was up from 89.3 percent as of January 1.
Despite recent rises attributed to the Omicron variant, the number of countries classified as "very high-risk" is still lower than it was at the height of the pandemic. CDC spokesperson Nick Spinelli said that the current number is still lower than it was in late 2020 and in Summer 2021, according to the Miami Herald, the latter period coinciding with the rise of the Delta variant.