Reporters covering the one-year anniversary of George Floyd's death on the street corner where he was killed by a former Minneapolis police officer last year heard more than a dozen gunshots go off Tuesday morning, with one person reportedly injured.
Watching footage from the scene, Associated Press reporter Philip Crowther said that his news team counted 30 shots go off and that windows were broken by the gunfire. "Consensus among reporters here at George Floyd Square was that we heard anywhere between a dozen and two dozen shots fired," Crowther tweeted.
Fox News' Garrett Tenney and ABC News' Alex Presha reported hearing about a dozen gunshots go off.
People in the area began running and sheltering in place when the shots began. The Minneapolis Police Department's public information officer, John Elder, told Newsweek an individual suffering from a gunshot wound showed up at Abbott Northwestern Hospital shortly after the shooting.
The person was transported to the Hennepin County Medical Center for treatment. "It is believed that the injury is non-life-threatening," Elder said.
At 10:09 a.m., police responded to the 3800 block of Elliott Avenue South on a report of the sound of gunshots, Elder said. "Information received from callers was that a suspect vehicle was last seen leaving the area at a high rate of speed," he said. A police investigation is ongoing.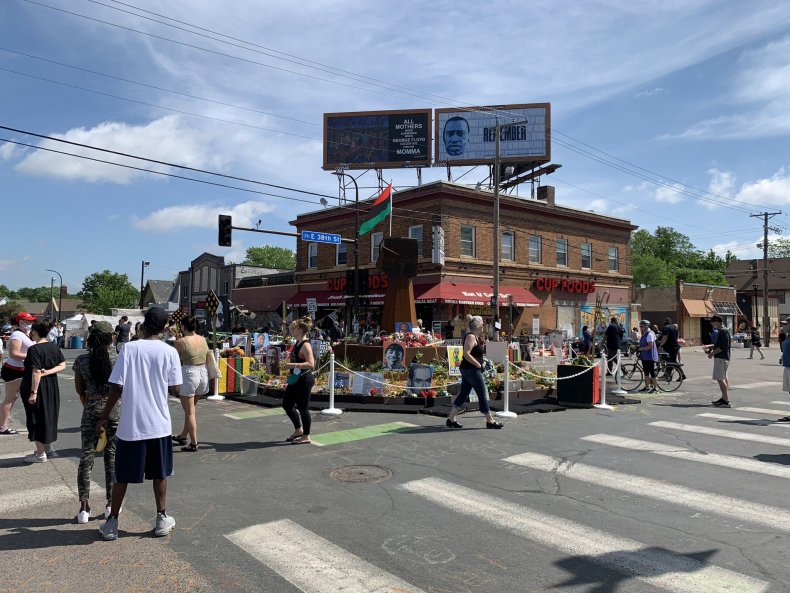 Tuesday marked the one-year anniversary of Floyd's death, which sparked racial justice protests nationally and around the world and renewed calls for police reform. Last month, former Minneapolis police officer Derek Chauvin, who was seen kneeling on Floyd's neck for more than nine minutes, was found guilty on all three counts he was charged with, including second-degree murder. Three other officers still face trial.
The intersection where Floyd's death occurred was turned into a site for a memorial and protests. Many came to George Floyd Square on Tuesday to pay tribute.
Members of Floyd's family are scheduled to be in Washington, D.C., on Tuesday to meet with President Joe Biden and House Speaker Nancy Pelosi.
In an interview on CNN's New Day, Floyd's brother Philonise said that while he thinks there has been progress on police reform, it has been slow. He urged Congress to act on reform legislation because "people shouldn't have to live in fear."
"African American people, people of color, they are dying at a rate that we shouldn't have in this world," he said.
In March, the House of Representatives passed the George Floyd Justice in Policing Act, which would ban chokeholds, curb qualified immunity for law enforcement personnel, ban no-knock warrants and prohibit racial profiling, among other measures.
But the Senate has yet to take any action on the legislation or a Republican-backed proposal introduced by Senator Tim Scott.