The September 11 Victim Compensation Fund (VCF) released its "20th Anniversary Special Report" that reported it believes more people have died from 9/11-related illnesses than were lost in the initial 2001 attacks.
Forty-eight percent have those who claimed compensation reported having cancer, and 20 percent of those with cancer were found to have an additional qualifying condition. Under the "Never Forget the Heroes" Act, the VCF provides funds to those who survived, lost a family member, responded, removed subsequent debris, or were near the exposure site on the day of the attacks.
The report stated that 79 percent of those filing eligibility claims were approved. It also read that the fund has down administered over $8.9 billion in awards to over 40,000 individuals. In the financial year 2021, nearly 4,700 claims were filed by survivors while over 3,650 were submitted by responders.
"In the decades since 9/11, tens of thousands of responders and survivors have become sick or died because of their exposure," U.S. Attorney General Merrick Garland wrote in the report. "As we mark the 20th anniversary of the terrorist attacks of September 11, 2001, it is important to acknowledge that the tragedy of that day continues."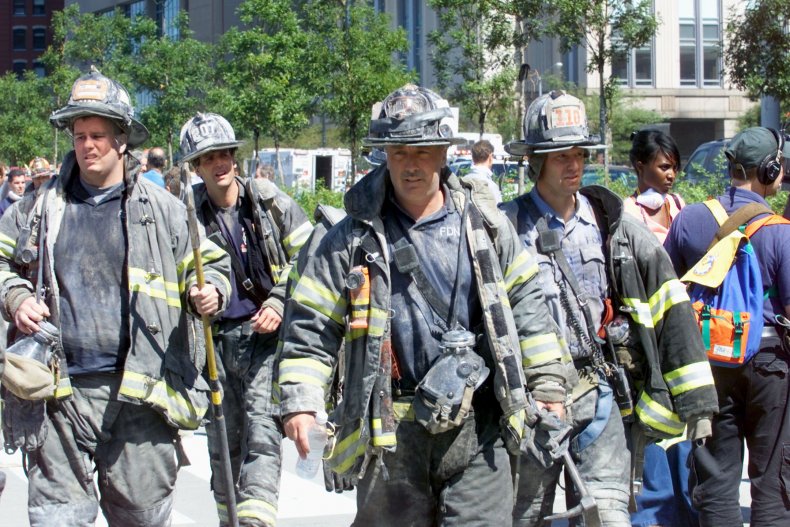 A staggering 2,974 people died in the attacks on the World Trade Center and Pentagon and in the diverted Pennsylvania plane crash. More than 400 of these individuals were New York City firefighters and police officers who were killed at the scene when the Twin Towers fell.
The Centers for Disease Control and Prevention's World Trade Center Health Program reports that as of June 2021, nearly 81,500 responders and almost 30,600 survivors have enrolled in the program which provides no-cost medical monitoring and treatment to those affected by the attack.
People from all 50 states are part of the CDC program. The program reports that chronic rhinosinusitis, a condition affecting the sinuses, stands as the most common illness associated with the attack, with nearly 27,250 responders and almost 6,200 survivors reporting it. Over 24,900 responders and nearly 5,200 survivors have reported gastroesophageal reflux disease, an issue affecting the stomach lining. And more than 14,400 responders and nearly 9,300 survivors report cancers.
In addition to the aforementioned conditions, along with asthma, sleep apnea, chronic respiratory disease and chronic obstructive pulmonary disease (COPD), many individuals affected by the attack have reported mental health issues. Over 12,500 suffer from post-traumatic stress disorder, nearly 3,500 suffer from anxiety and almost 3,400 have experienced a major depressive disorder.
"For many, the mental anguish is as difficult to bear as the physical ailments," Stefanie Langsam, VCF Deputy Special Master, wrote in the report. "There are young adults—infants or toddlers at the time—who have never known a life without illness. But they take the time to thank us. We cannot change their circumstances, but we can do our best to help them move on."