More People Have Already Voted Early in Texas Than the Total Number Who Voted for Trump in the State in 2016
More people have voted early in Texas than the total number of people who voted for President Donald Trump in the state during the 2016 election, records show.
As of Monday evening, 4,708,734 Texans had cast their ballots ahead of the November 3 election, according to the Texas secretary of state (SOS). The number has just surpassed the total votes Trump received in 2016 in the state—4,685,047, according to The New York Times.
Trump won Texas that year, receiving more than 50 percent of the vote to defeat Democratic candidate Hillary Clinton. He thus gained the state's coveted 38 electoral votes, the second-largest Electoral College prize.
Former Texas congressman Beto O'Rourke, who launched a presidential campaign himself, stressed how crucial the state will be in determining the outcome of this year's election, especially if Texas goes blue.
"Thirty-eight electoral votes; mathematically, it is impossible then for Donald Trump to claim victory, and this country can move on and get past Trump," the Democrat told MSNBC last Friday. "That's how important Texas is."
The Texas SOS does not disclose the breakdown of parties among its voters, so there is no way to know with certainty how Trump's numbers are currently looking in the historically red state. If Democratic candidate Joe Biden were to win Texas this year, it would mark the first presidential victory there for the party in 44 years. Jimmy Carter secured the state in 1976.
But TargetSmart, a political data hub, used prediction modeling to show that 41 percent of early voters could be registered Democrats, compared with the nearly 50 percent it predicts are registered Republicans.
The latest public opinion polls show that the race to win the state remains tight. According to a Morning Consult poll conducted October 2 to 11, Trump was 2 percentage points ahead of Democratic candidate Joe Biden. Forty-nine percent of likely voters picked the president, compared with the 47 percent who said they'd vote for Biden.
In a YouGov poll conducted September 25 to October 4, Trump's lead widened. Fifty percent of likely voters backed him over Biden, who was supported by 45 percent.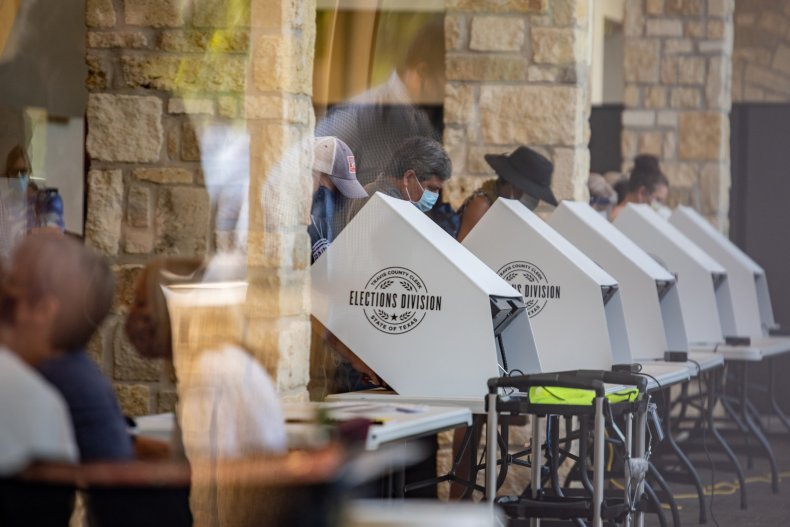 There are 16.9 million registered voters in Texas—a huge increase from the 15.1 million registered voters in 2016, according to the Texas SOS. The final day to register to vote was October 5.
Early voting began this year in the state on October 13, and Texans have already turned out for more than 50 percent of the total vote in 2016. Only 8.9 million people voted in Texas that year, suggesting that around 40 percent of its registered voters did not show up to the polls at all.
Texas currently leads the U.S. in voter turnout ahead of the 2020 election, according to the United States Election Project. Following behind are California, with 3.9 million, and Florida, with just over 3 million ballots already cast.