More than Quarter of Republicans Don't Think Trump Should Ever Concede: Poll
Over a quarter of Republicans don't think that President Donald Trump should ever concede to President-elect Joe Biden, according to a new poll.
Biden has secured 290 Electoral College votes, exceeding the 270 requested to win the election, but Trump has declined to concede. In recent days, the president has continued to condemn what he calls the "lamestream media" calling results and launched a series of lawsuits in swing states.
As pressure on Trump to acknowledge defeat mounts, the latest Politico/Morning Consult poll, released Tuesday, found that 27 percent of Republican registered voters think the president should refuse to concede "no matter what." Only 3 percent of Democrats and 8 percent of Independents shared the view.
Overall, 46 percent of registered voters think that Trump should concede "right away," including 72 percent of Democrats, 43 percent of Independents and 17 percent of Republicans.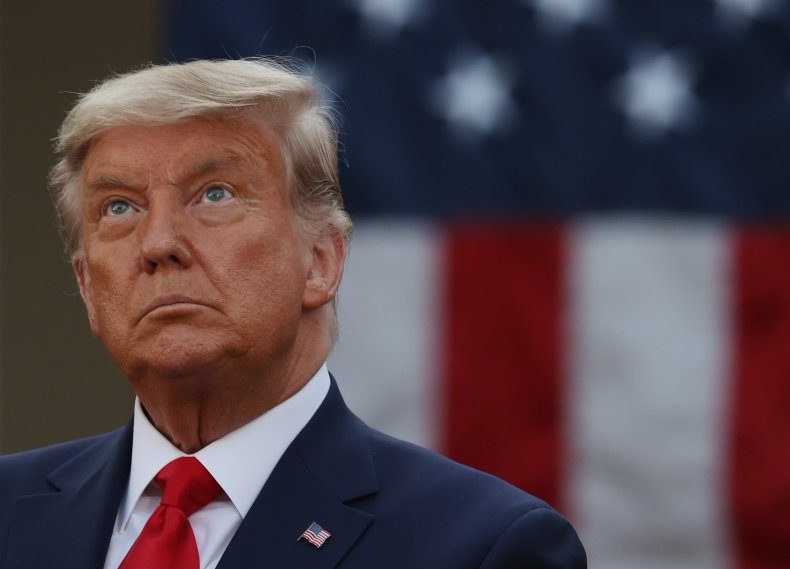 Thirty two percent believe that Trump should concede "eventually if he is unable to back up" his allegations of mass fraud, including 21 percent of Democrats, 34 percent of Independents and 45 percent of Republicans.
It has been 10 days since Biden was projected winner of the election. Trump has acknowledged the former vice president's win but he insists that the Democrat only succeeded because the election was rigged in his favor. Top Republicans have sided with Trump's refusal to concede, but calls from other members of the party for him to do so have mounted.
On Tuesday, a handful of GOP senators appeared to offer their congratulations to Vice President-elect Kamala Harris on the Senate floor. Senators Tim Scott of South Carolina and Lindsey Graham of South Carolina gave Harris a fist bump, while Mike Rounds of South Dakota gave her an elbow tap.
Graham later explained that he was "just saying hello" but said that he told her "I wish her well and try to work where we can" if Biden's win is confirmed.
"We will know here in a month or so," he added.
Senator Mitt Romney of Utah was one of the first Republican senators to break with Trump. He congratulated Biden and Harris shortly after most television networks and media outlets called their win.
Former President George W. Bush has urged Trump to concede. Republican Governor Larry Hogan of Maryland called on the president to "move on" after saying that Biden's victory was "pretty overwhelming." GOP Congressman Marco Rubio of Florida has also acknowledged Biden's win by referring to him as "president-elect."
Newsweek reached out to the Trump campaign for comment.