A handful of Republican senators on Tuesday appeared to offer their congrats to a Democratic colleague from California who will soon depart from her service in the upper chamber: Vice President-elect Kamala Harris.
Mingling on the Senate floor during a vote, at least five Republicans extended what looked like congratulating remarks to Harris, despite most GOP lawmakers still siding with President Donald Trump's refusal to concede the election to President-elect Joe Biden.
Senator Mike Rounds (R-S.D.) gave Harris an elbow tap, Senator Tim Scott (R-S.C.) offered a fist bump and Senator Lindsey Graham (R-S.C.) gave her a pat on the back and a fist bump. Senators James Lankford (R-La.) and Ben Sasse (R-Neb.) also seemed to congratulate Harris.
The apparent acknowledgment of the Biden-Harris victory by the GOP lawmakers is despite most Republicans still publicly refusing to cross the president and recognize Biden as the winner, 10 days after the Democrat was projected as the victor.
Sasse is the only Republican of those who congratulated Harris who has explicitly acknowledged Biden's win. Rounds has said it "looks like it will be" Biden.
Graham later told reporters that he said to Harris: "If it works out, congratulations."
Lankford explained why he congratulated Harris but has yet to acknowledge Biden's win.
"The election's not settled," he said. "You can spin it however you want to, but if someone walks right up to you, you say, 'Hello, congratulations.'"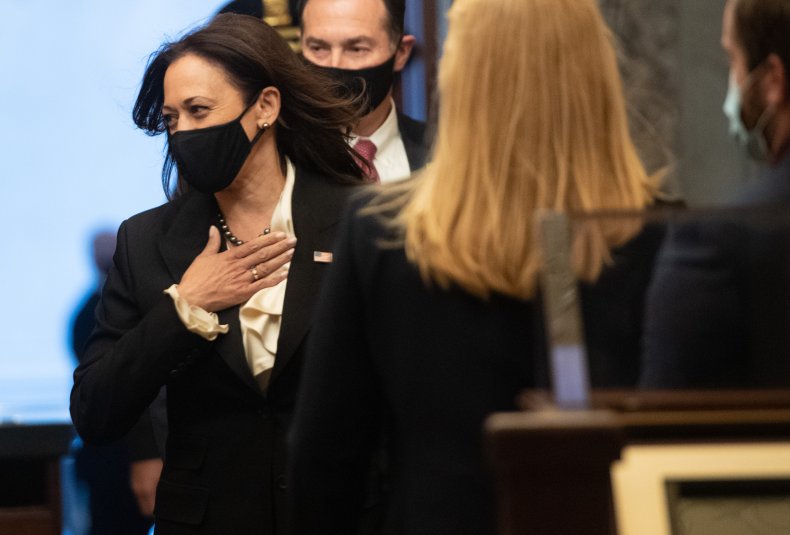 Graham, a Trump confidant, told reporters just hours earlier that there were only two scenarios in which he would personally consider Biden as president-elect: "When Trump concedes, or the court cases have been dismissed and the states certified."
The Trump campaign's legal efforts in several battleground states have failed to alter the election's outcome in any way.
In recent days, Graham has phoned elections officials in key states that helped Biden unseat Trump, including Arizona, Nevada and Georgia, to question them about their signature-matching process for mail-in ballots. The Georgia secretary of state, a Republican, accused Graham of pressuring him to disqualify legal absentee votes in a quest to help Trump. Graham denied such an allegation, calling it "ridiculous."
Lankford said Monday that "we don't have a declared president-elect yet" and suggested he will only acknowledge Biden's win once states certify their results.
"At the end of the day, we're waiting on December 14 when everything has to be certified," Lankford said. "We don't know for sure who the victor is."
Even as many Republicans still say the election outcome is unknown, a growing number of GOP lawmakers have come to the public realization that Biden will be inaugurated as the 46th president on January 20.
A number of them believe the Trump administration should allow Biden to begin receiving more classified intelligence briefings, as any other incoming president typically would. Marco Rubio (R-Fla.) has referred to Biden as "president-elect," James Risch (R-Idaho) said this will be his "second transition" that he's experienced from one party to another and John Cornyn (R-Texas) said he hasn't "seen anything that would change the outcome."
Rounds suggested the focus from him and his fellow GOP senators in the coming weeks will be on the two Senate runoff races in Georgia that will determine which party controls the upper chamber.
"That's where our focus is at," Rounds told Newsweek. "I think the president—he's got a lot of supporters out there that want to make sure that he doesn't give up and that he makes sure that this election is safe."
Leaving a Senate Intelligence Committee briefing Tuesday afternoon, Harris momentarily addressed Trump's repeated false claims that he "won the election."
"I think that we want to make sure that we are all focused on the priorities of the moment and the day, which includes addressing one of the major crises that we have faced as a country, which is COVID, and everything that has resulted from it," she told reporters. "The American people want leaders that respect our democracy and our democratic process."
This story was updated to include additional remarks from Graham and Lankford.