Lindsey Graham Says He Discussed Election Concerns With Officials in Key States Trump Lost
Republican Senator Lindsey Graham revealed on Tuesday that he has spoken with top officials in at least three key swing states that helped catapult Joe Biden to victory about the election results and the vote-counting process.
The confidant to President Donald Trump told reporters on Capitol Hill that in addition to contacting Georgia's secretary of state—who alleges Graham urged him to disqualify legal ballots—he has also had conversations with Arizona GOP Gov. Doug Ducey and an unknown person whom Graham could not recall about "what they do in Nevada."
Ducey's office did not respond to Newsweek's request for comment. Neither Arizona Secretary of State Katie Hobbs (R) nor Nevada Secretary of State Barbara Cegavske (R) said they spoke with Graham.
The revelation that Graham—a South Carolina lawmaker who leads the powerful Senate Judiciary Committee—reached out to top officials in battleground states came the day after Georgia's Republican secretary of state accused Graham of pressuring him last week to disqualify legal absentee ballots to help the president, who lost the state.
It also comes as Graham and most of his GOP colleagues refuse to recognize Biden as the president-elect, as well as amid a concerted effort by Trump and Republicans to make baseless voter fraud claims about the election and file lawsuits lacking evidence in an attempt to flip the outcome for Trump.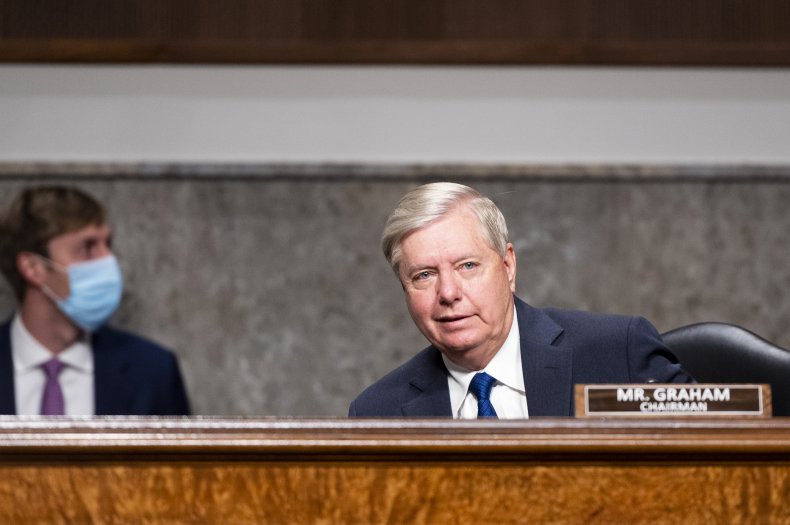 Graham said he reached out to the states "as a United States senator who is worried about the integrity of the election process nationally, when it comes to vote-by-mail."
The crux of his inquiry centered on how each state conducts its signature-matching process for mail-in ballots, according to Graham.
However, Georgia Secretary of State Brad Raffensperger told The Washington Post that Graham went much further. The GOP state official told the outlet that Graham pressed him to toss out legal absentee ballots from counties that have higher rates of non-matching signatures. Such a move could alter the state's election outcome, which went for Biden by just over 14,000 votes.
Graham denied the allegation on Monday, saying "that's ridiculous" and called into question the accuracy of the story, despite Raffensperger being on the record.
On Tuesday, Graham reiterated that his intent with talking to officials about how certain states handle their elections was not meant to alter the outcome.
"It wasn't about trying to change an election result," he said. "It's to try and find out how do you deal with mail-in voting signature validation."
Graham also revealed Tuesday that he spoke with Trump Monday night but would only say they discussed "national security."
Republicans saw little issue with Graham acting as a one-man-band for election security.
Senate Majority Leader Mitch McConnell (R-Ky.) skirted a question about Graham's conversations but said "one of the beauties of the American election system" is that each state conducts its own election.
Senator Roy Blunt (R-Mo.), a former secretary of state and who oversees election matters as head of the Rules Committee, chuckled at a question about Graham's actions.
"He wouldn't be the first senator to ever do that," the No. 4 GOP senator said. "I didn't see it as troublesome... Every senator can talk to anybody who will pick up the phone and talk to them, and any secretary of state should be willing to any senator that calls, in my view."
Democrats with former experience at the state level suggested that Graham, as a federal official from South Carolina, should not interject himself in other states' matters.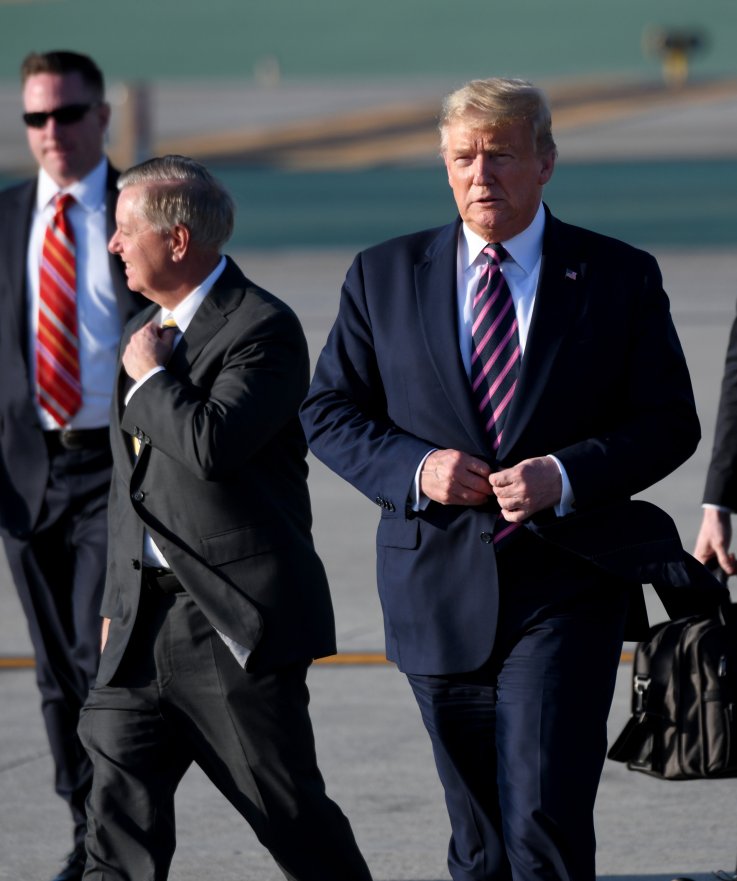 President Donald Trump (R) and Senator Lindsey Graham walk to greet supporters after arriving on Air Force One at LAX Airport on February 18 in Los Angeles, California.
Photo by Michael Kovac/WireImage/Getty
Senator Richard Blumenthal (D-Conn.), who sits with Graham on the Judiciary Committee, served five terms as Connecticut's attorney general. He said that as a former state official, he received calls from federal lawmakers during the tobacco wars. However, Blumenthal said he would pay little attention to what they had to say.
"The wonderful thing about being a state-elected official: you don't have to give a hoot what a United States senator says to you," Blumenthal said. "I said, 'Well, thanks for the call, but the voters of Connecticut are the ones who hired me.' There's no reason any secretary of state should feel intimidated."
He declined to say whether he felt Graham's actions were inappropriate.
"I'm going to certainly presume that he was careful to avoid any violation of law," Blumenthal added. "But the judgment should be made by people who know exactly what he said."
Senator Sheldon Whitehouse (D-R.I.), who also sits on Judiciary and is a former state attorney general, said it would be "problematic" if Graham sought to "influence the way they perform their duties" rather than simply inquiring about the process.
In Nevada, Graham said he was concerned about a machine that's used to verify signatures on mail-in ballots, specifically that the "sensitivity of the machine was turned down so low that anything went through."
In Arizona, Graham was wary that the process for individuals to check signatures could be partisan.
There is no evidence of vote irregularities in either state.
"Here's my bottom line," Graham said. "Any signature verification system, when it comes to mail-in balloting, needs to be bipartisan."
As far as accepting the election outcome, which was called for Biden 10 days ago, Graham said there are only two scenarios in his mind that will render Biden president-elect.
"When Trump concedes or the court cases have been dismissed and the states certified," he said.
This story was updated to include more information and comments from Graham, McConnell and Blunt.