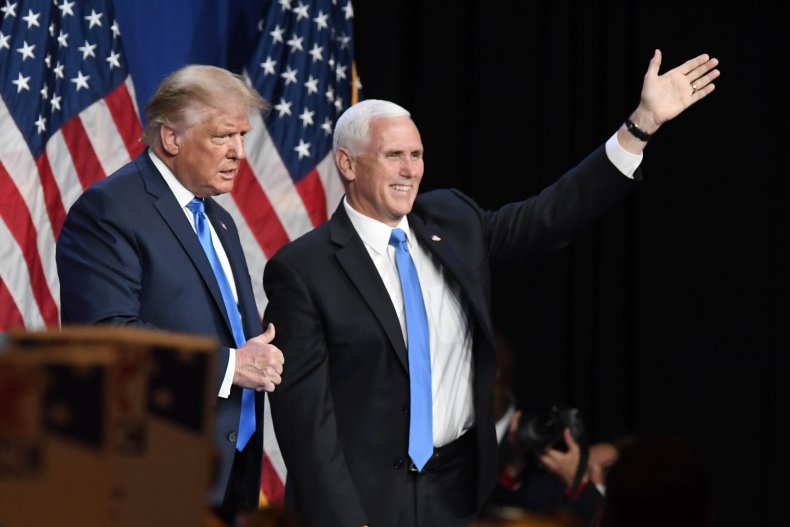 A majority of Republicans are backing former Vice President Mike Pence's assertion that he could not have overturned the 2020 presidential election results to favor former President Donald Trump, according to a new poll.
Pence rebuked Trump's claim that he "could have overturned" the election outcome earlier this month, insisting that he "had no right" to change the result and escalating his recent tensions with Trump. A Quinnipiac University poll released Wednesday found that 72 percent of all Americans, including a 52 percent majority of Republicans, said that Pence's view on the topic was closer to their "line of thinking."
"Could Pence have overturned the election as ordered by Trump?" Quinnipiac University Polling Analyst Tim Malloy asked in a statement. "Pence said no, and a large majority of voters agree, including 52 percent of Republicans, exhibiting a rare break in the GOP lockstep with Trump."
While most Republicans said they sided with Pence, 36 percent said they agreed with Trump, and another 12 percent were undecided. The poll was conducted among 1,321 U.S. adults between February 10 and February 14 and had a 2.7 percent margin of error.
Pence finalized President Joe Biden's 2020 win by opening envelopes and counting Electoral College vote results during the joint session of Congress that was interrupted by pro-Trump rioters, some of whom were chanting "hang Mike Pence," at the U.S. Capitol on January 6, 2021.
Trump and some of his allies have insisted that Pence could have helped overturn the election by rejecting the Electoral College results, which had already been certified by each state. However, legal experts overwhelming agree that Pence did not have any legal or constitutional power to do anything that could have changed the outcome.
In a statement released in late January, Trump said that "Mike Pence did have the right to change the outcome" of the election but had "unfortunately" chosen not to exercise his "power" during the joint session. Pence pushed back on this claim days later.
"I heard this week that President Trump said I had the right to 'overturn the election,'" Pence said during a February 4 speech at a Federalist Society meeting in Florida. "President Trump is wrong. I had no right to overturn the election. The presidency belongs to the American people, and the American people alone."
A number of Republicans who attended the speech praised Pence for rebuking Trump, according to a CNN reporter who interviewed attendees immediately after the speech.
Others were less than complimentary—former Trump adviser Steve Bannon labeled Pence a "stone-cold coward" who had been left with a "mark of shame" for contradicting the former president.
Trump reacted to Pence's speech by issuing a statement that insisted, "I was right and everyone knows it," while accusing his former vice president of acting as "an automatic conveyor belt for the Old Crow Mitch McConnell to get Biden elected president as quickly as possible."
Newsweek has reached out to the offices of Trump and Pence for comment.