Steve Bannon Calls Mike Pence 'Stone-Cold Coward' for Rebuking Trump
Steve Bannon, ex-adviser to former President Donald Trump, has lashed out at former Vice President Mike Pence for denouncing Trump's "un-American" attempt to overturn the 2020 presidential election outcome.
During the Friday edition of his War Room: Pandemic podcast, Bannon dubbed Pence a "stone-cold coward" for daring to challenge Trump's false claim that he had the power to legally overturn the outcome. Bannon argued that Pence's rebuke of Trump was a "mark of shame."
"Pence, you're going to carry this thing eventually to your grave, OK?" said Bannon. "Because it is a mark of shame. And you are a stone-cold coward. A stone-cold coward."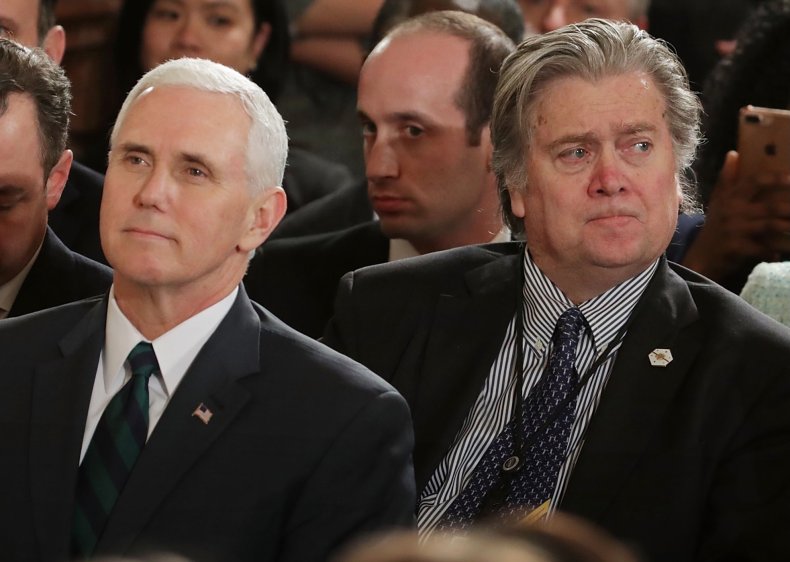 Bannon also blasted Pence's former Chief of Staff Marc Short for earlier this week testifying to the House Select Committee to Investigate the January 6th Attack on the U.S. Capitol.
"My head's blowing up," Bannon said. "I can't take Pence. And I can't take Pence and Marc Short and all these Koch guys up there ratting out Trump up on Capitol Hill right now."
Bannon's reference to "these Koch guys" likely refers to the wealthy Koch family, major donors to conservative candidates and causes over the past several decades who also declined to support Trump.
The attack on Pence was in response to a clip from a speech that the former vice president delivered earlier in the day during a meeting of the conservative Federalist Society in Florida.
Pence addressed a Tuesday statement from Trump that had suggested the January 6 Committee should investigate "why Mike Pence did not send back the votes" during the joint session of Congress that officially confirmed President Joe Biden's 2020 win.
Tensions between Trump and Pence have been high since he read the certified Electoral College results that confirmed Biden's victory, something he was obligated to do as Senate president.
Pence told the audience on Friday that Trump was "wrong" to claim that he could have overturned the results.
"I heard this week that President Trump said I had the right to 'overturn the election,'" Pence said. "President Trump is wrong. I had no right to overturn the election. The presidency belongs to the American people, and the American people alone."
"Frankly there is almost no idea more un-American than the notion that any one person could choose the American president," he added. "Under the Constitution, I had no right to change the outcome of our election and Kamala Harris will have no right to overturn the election when we beat them in 2024."
Trump struck back at Pence in a statement issued late on Friday night, accusing his former vice president of acting as "an automatic conveyor belt for the Old Crow Mitch McConnell to get Biden elected President as quickly as possible" before insisting that "I was right and everyone knows it."
Newsweek reached out to the offices of Pence and Trump for comment.