More Than Two-Thirds of Americans Support Resettling Afghan Refugees in U.S.: Poll
A bipartisan majority of Americans say they support resettling Afghans who worked with the United States, according to a new poll published by National Public Radio and Ipsos.
The poll found that 73 percent of respondents are in support of resettling the Afghan refugees in other countries, and while 69 percent said they are supported resettling the refugees in the United States.
Of that group, 80 percent of Democrats polled said they were in favor of resettling refugees in the U.S., as were 64 percent of both Republicans and Independents.
The poll surveyed 1,299 people between September 1 and September 2, days after the final U.S. military plane left Kabul, bringing the two-decade war to a close.
While the poll found that bipartisan majorities back resettling Afghan refugees, it showed the differences between Republicans and Democrats on other immigration issues.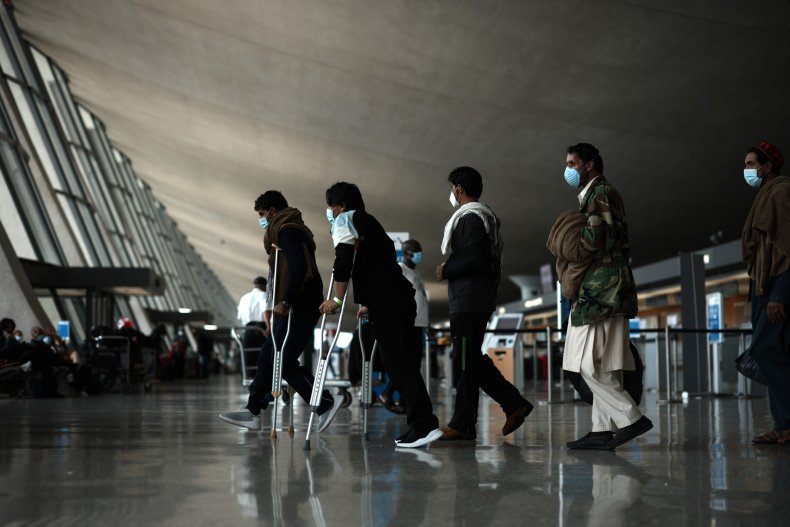 While 77 percent of Democrats said they supported giving legal status to undocumented immigrants brought to the U.S. as children, only 33 percent of Republicans said the same. A majority of Republicans—75 percent—said they support requiring asylum-seekers at the U.S. border to remain in Mexico until an
immigration court can hear their case, while only 46 percent of Democrats did.
Francesco Logreco, a Republican poll respondent from Michigan, told NPR that he believes illegal immigration is a "massive problem." However, he believes the U.S. has an "obligation" to help the Afghan refugees.
"They love America. They fought for us. They were with us the whole time. True allies to the West," he said.
The poll also asked respondents which groups of people they supported admitting into the United States. While 74 percent—including 73 percent of Republicans and 81 percent of Democrats— said they were in favor of admitting Afghans who worked with the U.S. government, support dipped for other groups.
Only 56 percent of respondents said they supported admitting Central Americans fleeing violence and poverty, with the results showing 75 percent of Democrats and 41 percent of Republicans. When asked about people fleeing violence in Syria and Libya, once again 56 percent said they were in favor of admitting them in the U.S., made up of 72 percent of Democrats and 44 percent of Republicans.
In August, President Joe Biden authorized $500 million in funds to assist refugees fleeing Afghanistan.
The Biden administration is requesting that Congress grant it even more money—$6.4 billion—for its efforts to resettle refugees. The White House is expecting as many as 65,000 Afghan refugees to arrive this month, and up to 30,000 to arrive over the next year, according to USA Today.