Morgan Wallen Ineligible For Solo CMA Awards After N-Word Controversy
The Country Music Association (CMA) announced Friday that country singer Morgan Wallen has been banned from competing in solo categories at the 2021 CMA Awards, months after controversy erupted over his use of the n-word.
Wallen was captured using the racial slur in video shared by TMZ in early February. The fallout led to him being widely banned from country music airwaves and dropped from competing in this year's CMT Awards and Academy of Country Music Awards. Although the CMA Awards decided to bar him from competing in solo categories, he remains eligible in categories where he would share an award with a collaborator.
"Board of Directors voted to amend Morgan Wallen's 2021 CMA Awards eligibility: He will be eligible in categories that honor artistic works (Single, Song, Album, Musical Event, and Music Video of the Year categories), so as not to limit opportunity for other credited collaborators," a CMA rep said in a statement, according to Variety. "He will not be eligible for nomination in the individual artist categories (Entertainer and Male Vocalist of the Year categories)."
The news came as the CMA announced the eligibility rules and schedule for this year's awards ceremony, which is set to take place in November. Ballots for the awards will be sent to voting members on July 6, with members being required to follow instructions including the rules about Wallen when making their choices.
Wallen's album Dangerous: The Double Album was released weeks before the video emerged. It was a critical and commercial hit. In the wake of Wallen's racism controversy, sales and streams of the album actually surged despite his removal from radio and certain streaming playlists.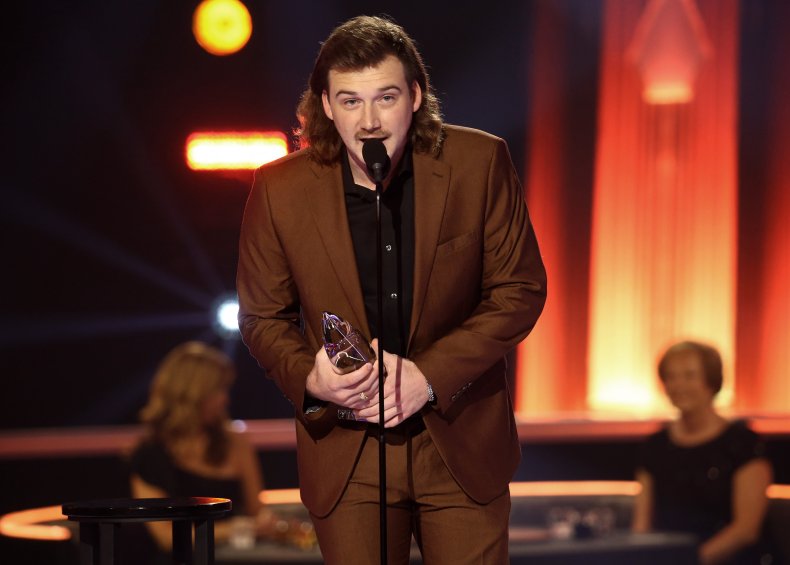 The decision about how to handle Wallen's CMA Awards eligibility was hotly anticipated since the success of the album likely would have made him a frontrunner in multiple categories if not for the controversy. He was voted CMA's best new artist in 2020.
The controversial video captured Wallen describing someone as a "p****-ass [n-word]" as he stumbled towards his Nashville, Tennessee home after a drunken night out with friends. In addition to being dropped from radio, the incident led to him being suspended by his record label Big Loud.
The suspension lasted around four months, ending earlier this month. Big Loud CEO Seth England said that the label would "stand by family," while reasoning that "cancelling is a slippery slope," according to Digital Music News.
Wallen was involved in a number of other controversies prior to being caught using the racial slur. Last October, he was dropped from a Saturday Night Live appearance after being spotted partying with fans while ignoring COVID-19 public health restrictions. He was invited back and appeared on the show in December.
In May 2020, Wallen was kicked out of Kid Rock's bar in Nashville and charged with disorderly conduct and public intoxication, although he was not prosecuted. This Wednesday, he reportedly performed two songs during an impromptu performance at the same bar.
Newsweek reached out to Big Loud Records for comment.