Mormon Approval Of Trump's Job Performance Was More Than Any Other Religious Group in 2017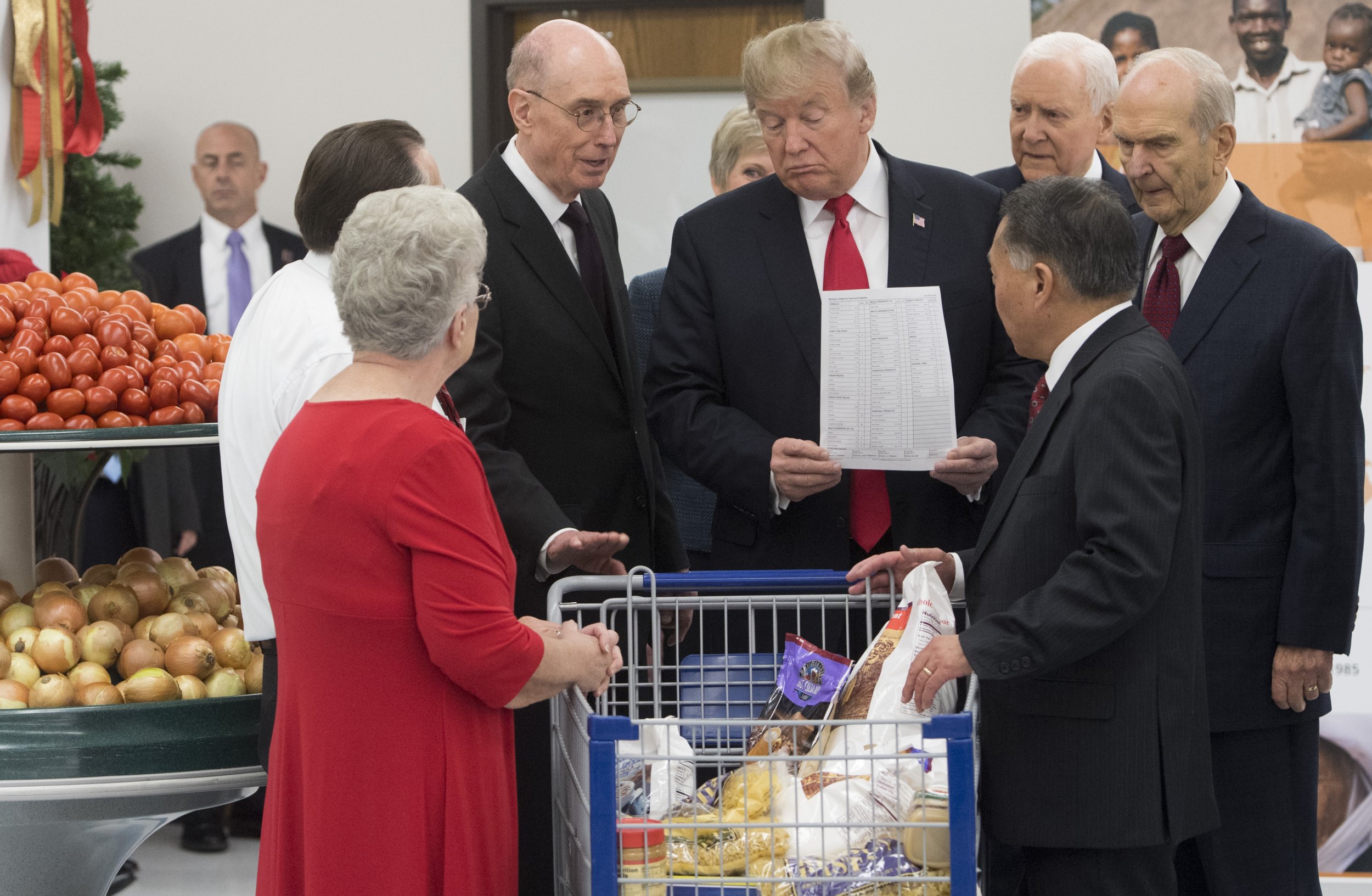 More Mormons approved of President Donald Trump's job performance last year than any other religious group. An incredible 61 percent of members of The Church of Jesus Christ of Latter-day Saints said they approved of Trump in 2017, according to a new Gallup report, an apparent shift from the religious group's feelings towards Trump during the 2016 election.
Mormons were the only religious group to overwhelmingly approve of the president in 2017, the Friday Gallup report shows. 61 percent of Mormons polled said they approved of the president while Trump's national approval rating last year averaged only 38 percent. However, Trump and top Mormon leaders have had a turbulent relationship.
After the infamous hot mic from the Access Hollywood 'Grab 'em by the pussy' video was released during the 2016 election, Utah's Mormon Governor Gary Herbert, as well as then-Representative Jason Chaffetz, spoke out against Trump. Chaffetz even said that if he voted for Trump, he could no longer look his daughter in the eye.
"Donald Trump's statements are beyond offensive & despicable. While I cannot vote for Hillary Clinton, I will not vote for Trump," Governor Gary Herbert, wrote in a tweet on October 7, 2016.
Despite the Gallup poll showing overwhelming support from Mormons during Trump's first year in office, experts say that Mormon support for Republican leaders is usually much higher.
"[Mormons are] happy with some of his policies but unhappy with his style — very unhappy in some cases," Brigham Young University Professor of Political Science Quin Monson told Mormon-affiliate Deseret News about the poll. "With a normal Republican president, I would expect his approval among Mormons to be in the high 70s."
Protestants were the next largest religious group to support Trump, showing 48 percent approval for the president last year, according to the poll results. A low 18 percent of Muslims approved of Trump in 2017. The approval ratings among religious groups were reversed during the presidency of Barack Obama, with Muslims giving Obama high ratings and Mormons giving the Democratic president his lowest approval ratings, according to Gallup.
Trump met with Mormon leaders during a December 2017 visit to Salt Lake City during which he announced his intention to shrink Bears Ears National Monument. Trump toured the church's welfare facilities. The Mormon Church's worldwide headquarters are located in Utah's capital, Salt Lake City.
Former Massachusetts governor, 2012 presidential nominee, and Mormon, Mitt Romney said "I'm running" in a text message about the Utah Senate seat to a top businessman last Saturday. Top GOP lawmakers including incumbent Utah Senator Orrin Hatch have indicated that Romney is their top pick for the seat.
During the 2016 election, Utah went red for Trump, but not overwhelmingly. The current president earned 45 percent of the popular vote in the state in 2016. Democratic nominee Hillary Clinton won 27 percent of the vote, and Mormon ex-CIA independent candidate Evan McMullin claimed 21 percent. Mormons were among the 65 percent of evangelical Christians who voted for Trump in 2016, according to Pew Research.
Romney won an overwhelming 73 percent of the popular vote in Utah during his presidential run in 2012.