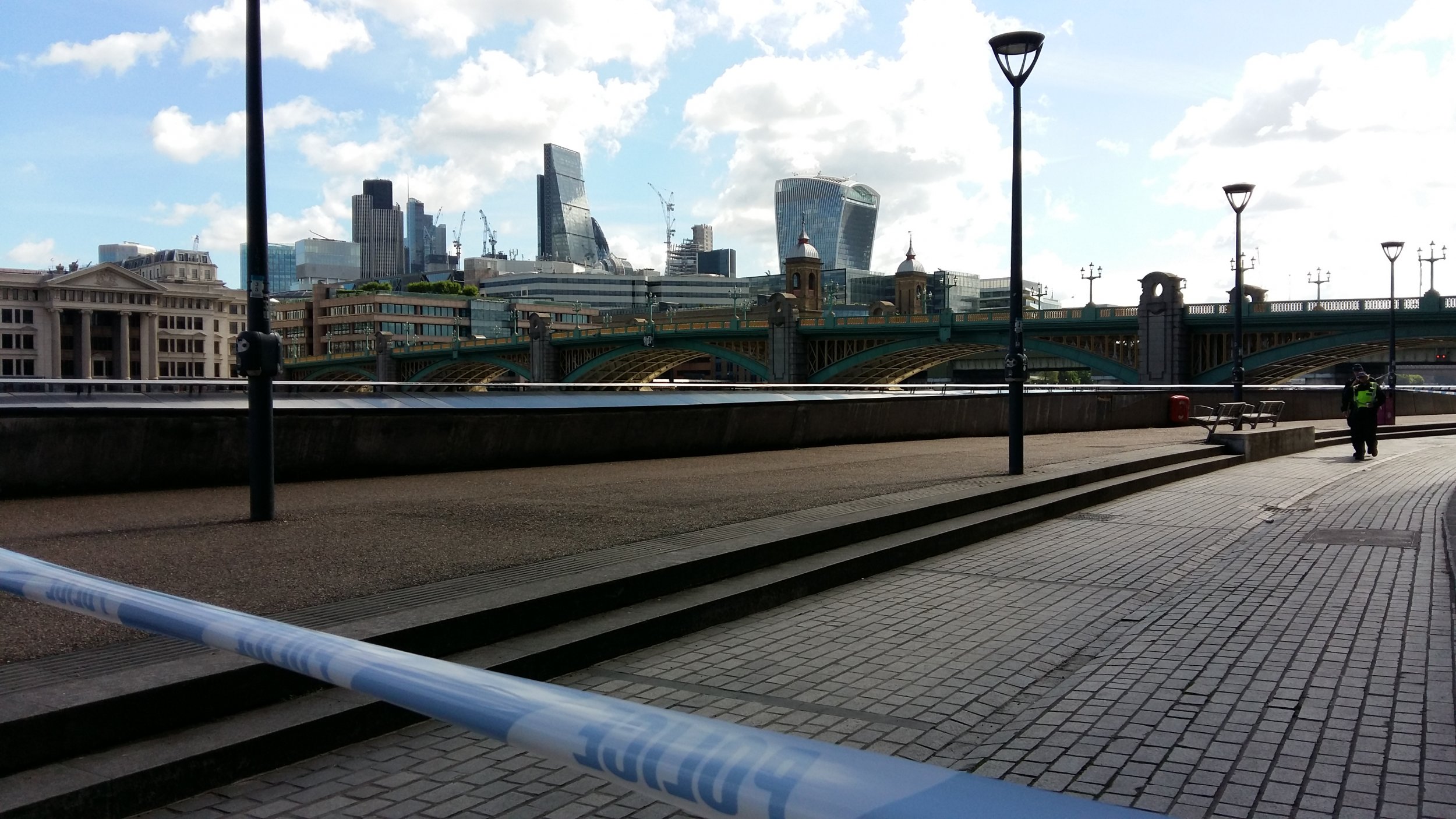 The sun is shining on a warm Sunday morning in London—but wearing only a black crop top, black trousers and high heels, the young Irish woman stands on the corner of Newcomen Street and Borough Street and is shivering.
She's dressed for a night out on the town but at almost 10 a.m. on Sunday all she can think about is getting back the St Christopher's Inn Hostel, close to London Bridge, where she was staying with her two friends. After last night's attack, the trio found shelter in another hostel 1.5 miles away and are now waiting to be allowed to pick up their belongings and wash the evening away.
"I'm cold and I just want to go in and shower," she tells Newsweek.
Like hundreds —possibly thousands—of others, the young women were unable to get back to their hotels and homes after an attack at London Bridge on Saturday night. The police closed down the train and tube station and the streets around the bridge and Borough Market after a van ran into pedestrians and three suspects carried out a frenzied stabbing attack just after 10pm BST (5pm EST).
The following morning and this vibrant area of the British capital, usually buzzing with office workers during the day and revellers at night, was still largely cordoned off, with police officers calmly directing joggers and passersby through alternative routes.
The police shot the alleged attackers dead within eight minutes, but hundreds of Londoners and tourists were left to wander around for hours last night to find alternative accommodation. Just behind London Bridge station, the Hilton Hotel provided shelter for some.
Mark Chessman, his wife Lynsey and their friend James McKillop were having a drink in the hotel lobby, recovering after what they described as "a strange night."
The three had been using the Jubilee line of London's Underground train system last night returning from a Depeche Mode concert. Finding London Bridge station closed, they got off the underground at nearby Southwark —one stop further along the line—at around 10.45 p.m., just after the attack.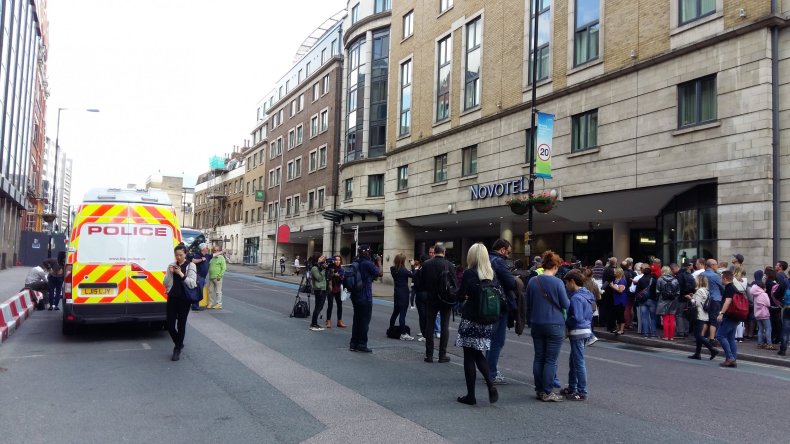 They tell Newsweek how they were stopped by the police and told they could not reach their hotel on London Bridge Street. They tried finding shelter at the Premier Inn hotel lobby while the situation calmed down, but they were turned away. "I was a bit surprised about that," Mark says.
Lynsey called their hotel three times and eventually she was told to try the Hilton Hotel, where they finally arrived around 2.30 a.m., after spending almost four hours walking in a big loop around Tower Bridge and Blackfriars.
"It was strange because certain people were running away and other people were strolling around like it was just another night. As if they did not want that to interfere with their night out," Mark recalls.
Even the garbage collector was still carrying on with his job. "It made me smile because there was chaos going on, and helicopters were going around, and the binman was just out and emptying the bins", he says.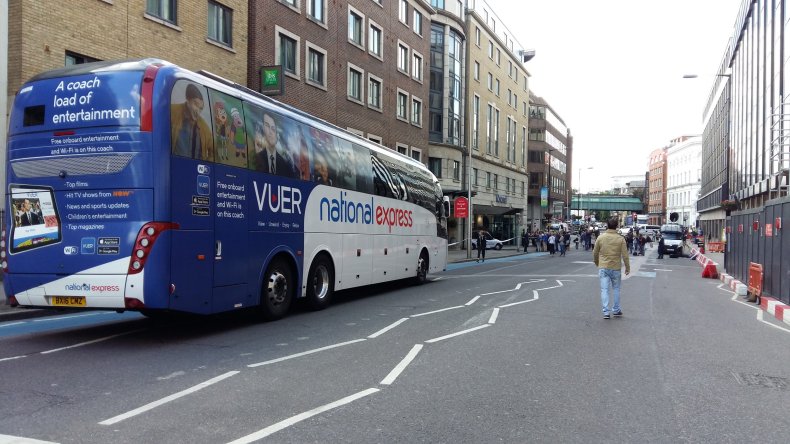 The three concertgoers were now waiting to hear when they were going to be able to return to their hotel and then home to Grimsby, on the northeastern coast of the U.K. They were grateful for the accommodation Hilton provided in the meantime. "They even gave us toothbrushes this morning," Lynsey says, "It's the little things."
Outside the hotel, Californian couple Doreen Bacon and Mark von Tagen are about to head off to visit the British Museum, continuing their five-day visit to London. Is life going back to normal? "It's not normal, I hate it", Doreen says, "But I can't stay inside the room either..." Her husband completes the sentence: "Otherwise, they've won."