'Mortal Kombat 11' Friendships Return in Free Aftermath Update
Of the many reveals in the Mortal Kombat 11 Aftermath announcement, one of the most surprising is the return of Friendships.
Friendships are another form of finishing move that players can perform after they've defeated their opponent. However, instead of the signature Mortal Kombat gore and viciousness of Fatalities, Friendships have the fighters perform a friendly (and totally out of character) act that's sure to put a smile on a player's face.
So far, only three have been confirmed and shown.
"With every new Mortal Kombat game we love to bring back some of the classic features or modes we had in previous games," Ed Boon, head of NetherRealm Studios, told media during a virtual press conference on Monday.
Boon points out how Babalities—featuring the characters as infants—returned in Mortal Kombat X, and in Aftermath they are bringing new stages, stage fatalities and Friendships, which were all highly-requested.
These updates will be free to all Mortal Kombat players, not just those who purchase the Aftermath expansion. This update is scheduled for May 26.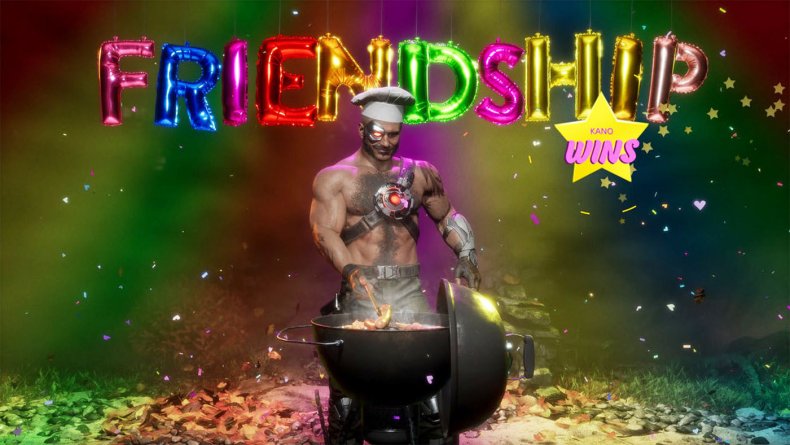 The first Friendship shown is Scorpion who launches his spear, but instead of bringing back a body he brings back a giant teddy bear before he hugs it.
Kano's Mortal Kombat 11 Friendship has the assassin start a barbeque and light it with his cybernetic eye.
Noob Saibot, one of the most deadly characters in the game—with often the goriest Fatalities—has a Friendship that sees the spectre split in three and plays double dutch with himself.
Sub-Zero's Friendship was also revealed, which you can watch below.
All the Mortal Kombat 11 fighters will have a Friendship, and it'll be interesting to discover what each of them are.
Friendships, new stages and more will become available to Mortal Kombat 11 owners on March 26 in a free update. Be sure to update your PS4, Steam, Xbox One and Nintendo Switch versions to get access to these free goodies.
The Friendship concept was introduced to the Mortal Kombat franchise back in 1993 with Mortal Kombat 2. After the outcry from the violence of the original Mortal Kombat, Friendships were added as a response to those who weren't a fan of the over-the-top Fatalities.
Friendships would return for Mortal Kombat 3 as well as Ultimate Mortal Kombat 3 and Mortal Kombat Trilogy.
Mortal Kombat 11 Aftermath is scheduled to release digitally on May 26. The physical version of the expansion will be released in June.
What do you think of Friendships returning in Mortal Kombat 11? Let us know in the comments section.