New 'Mortal Kombat 11' Trailer Shows Cyrax and Sektor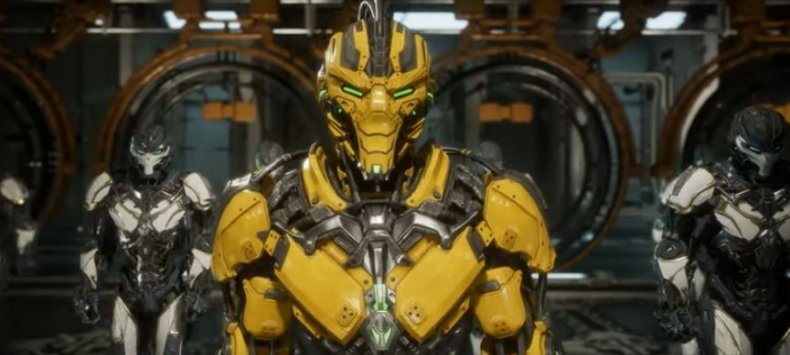 We're a few days away from the Mortal Kombat 11 release on April 23 and NetherRealm Studios dropped a new trailer showing off never-before-seen clips from the story that includes some surprising cameos.
Before we dive into what we see, check out the official Mortal Kombat 11 launch trailer set to Dimitri Vegas and 2WEI's remix of "Techno Syndrome," below.
Fans are treated to an overview of the Mortal Kombat 11 story involving Kronika trying to reshape the timeline after the events of Mortal Kombat X.
The klassic and new fighters involved appear in various cutscenes from the story including a sword battle between Kotal and Shao Kahn, Jacqui Briggs shooting zombie monks and much more. But there are two characters that were a surprise, Cyrax and Sektor.
In the trailer Cyrax says, "We defend Kronika as she rewrites history" as he and the other Cyber Initiative cyborgs approach Sub-Zero and Scorpion. Sektor and Sub-Zero have a battle between ice and fire.
Both characters make an appearance in the latest Mortal Kombat 11 trailer but will they be playable? It's unlikely that both members of the Lin Kuei's Cyborg Initiative will be playable as the base roster is just about complete with another reveal coming on Monday's Kombat Kast.
Mortal Kombat X 's story had characters, like Rain, who were not playable so it's likely Cyrax and Sektor will just be there for the story. Although, there are plenty of slots in Mortal Kombat 11's DLC that could include them.
Currently, the only confirmed DLC fighter for Mortal Kombat 11 is Shang Tsung. Shao Kahn is also not a part of the base roster but is a pre-order bonus. The emperor of Outworld can be purchased separately when the game launches if you chose not to pre-order.
The base roster for Mortal Kombat 11 sits at 22 and includes: Scorpion, Raiden, Sub-Zero, Sonya Blade, Skarlet, Baraka, Geras, Kano, D'Vorah, Kabal, Jade, Johnny Cage, Cassie Cage, Erron Black, Jacqui Briggs, Kotal Kahn, Noob Saibot, Liu Kang, Kung Lao, Jax Briggs, Cetrion, The Kollector, and Kitana
Mortal Kombat 11 is available April 23 for PS4, Xbox One, PC and Nintendo Switch.
What did you think of the launch trailer for Mortal Kombat 11? Who are you looking forward to playing as? Let us know in the comments section below.