'Mortal Kombat 11' Fatalities: How to Perform Both Finishers
A staple of every Mortal Kombat game, Fatalities are graphic finishing moves that players can perform to punctuate their victories.
In Mortal Kombat 11 Fatalities return, giving each fighter two finishers to do at the end of their victory. One Fatality for each character will be locked in the Krypt, a feature in MK11 where players use in-game currency to unlock gear, moves and more.
You can find a list of Krypt chest and where to find second fatalities, here.
Mortal Kombat 11 offers Fatality Training in the "Learn" tab, allowing you to figure out input for each character's fatalities and the distance from your opponent that you'll need. While it won't show you the inputs for the second fatality (even after you unlock it), you can still practice it in the training mode if you know it.
Here's a list of every Fatality in Mortal Kombat 11, organized by fighter.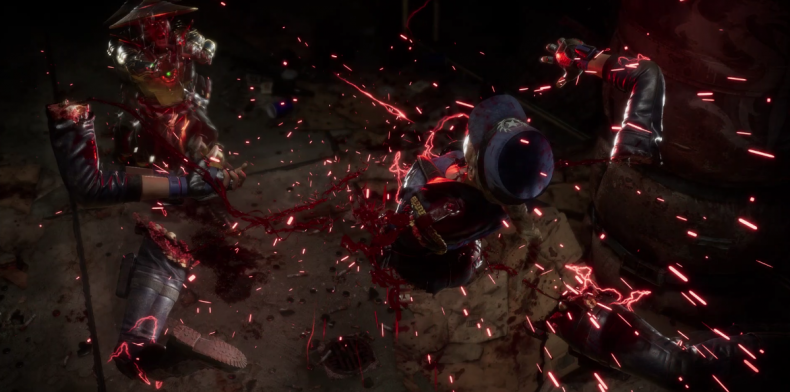 BARAKA
Food for Thought (Close) - Back, Down, Back, Triangle/Y
Rock, Paper, Barak (Close) - Back, Forward, Back, X/A
CASSIE CAGE
I
#GirlPower (Mid) - Back, Down, Down, Back, Triangle/Y
CETRION
Maintaining Balance (Mid) - Back, Down, Forward, Down, Circle/B
Good and Evil (Mid) - Back, Down, Back, X/A
D'VORAH
New Species (Close) - Back, Forward, Back, X/A
Can't Die (Mid) - Back, Down, Down, Circle/B
ERRON BLACK
Melted (Mid) - Down, Down, Down, Square/X
Death Trap (Mid) - Down, Forward, Down, Triangle/Y
FROST
Ice Sculpture (Close) - Forward, Back, Down, Square/X
The Cyber Initiative (Mid) - Back, Forward, Down, Forward, Circle/B
GERAS
Phasing Through Time (Anywhere) - Back, Down, Down, X/A
Peeling Back (Close) - Down, Forward, Back, Square/X
JACQUI BRIGGS
Spider Mines (Mid) - Forward, Back, Forward, X/A
Nothin' But Neck (Mid) - Back, Forward, Back, Circle/B
JADE
Bow Before Me (Anywhere) - Down, Down, Forward, Down, Circle/B
Pole Dance (Close) - Back, Forward, Down, Forward, Square/X
JAX BRIGGS
Coming in Hot (Close) - Forward, Down, Forward, X/A
Still Got It (Close) - Back, Forward, Back, Down, Square/X
JOHNNY CAGE
Mr. Cage's Neighborhood (Close) - Forward, Back, Down, Down, Circle/B
Who Hired This Guy? (Close) - Forward, Down, Forward, Square/X
KABAL
Road Rash (Mid) - Back, Forward, Down, Forward, X/A
Hooked (Close) - Down, Down, Down, Circle/B
KANO
Last Dance (Close) - Forward, Down, Down, Square/X
Face Like a Dropped Pie (Close) - Back, Down, Forward, Triangle/Y
KITANA
Gore-Nado (Mid) - Down, Down, Down, Down, Triangle/Y
Royal Execution (Mid) - Down, Back, Forward, Square/X
KOLLECTOR
For the Kollection (Close) - Down, Down, Down, Down, Square/X
Head Lantern (Close) - Down, Forward, Back, Square/X
KOTAL KAHN
Totem Sacrifice (Close) - Back, Down, Back, X/A
Kat Food (Close) - Back, Forward, Back, Forward, Square/X
KUNG LAO
Headed Nowhere (Close) - Down, Forward, Back, Down, Triangle/Y
Meat Slicer (Close) - Down, Forward, Down, X/A
LIU KANG
Burn Out (Close) - Down, Back, Down, Forward, Square/X
Belly of the Beast (Mid) - Back, Down, Back, Forward, Triangle/Y
NOOB SAIBOT
Split Decision (Mid) - Back, Forward, Back, Forward, Square/X
Double Trouble (Close) - Down, Down, Down, Square/X
RAIDEN
Alternating Current (Mid) - Back, Down, Back, Square/X
Direct Current (Close) - Down, Forward, Back, X/A
SCORPION
You're Next (Mid) - Back, Down, Down, Square/X
Chain Reaction (Mid) - Down, Forward, Back, Triangle/Y
SHAO KAHN
Back Blown Out (Close): Back,Forward, Down, Down, Triangle/Y
Kahn-Sequences (Close): Back,Forward,Back, Square/X
SKARLET
Bloody Mess (Mid) - Back, Forward, Down, X/A
Heart Kondition (Mid) - Down, Down, Back, Circle/B
SONYA BLADE
To The Choppa (Mid) - Down, Forward, Back, Triangle/Y
Supply Drop (Close) - Back,Forward,Down, X/A
SUB-ZERO
Ice-Cutioner (Mid) - Forward, Back, Forward, Triangle/Y
Frozen in Time (Mid) - Back, Down, Back, Circle/B