'Mortal Kombat 11' Halloween Event Brings New Brutalities, Skin Pack Available Now
Mortal Kombat 11 is ready for a new event and a big update this week, as we get closer to Halloween.
NetherRealm Studios announced that a Halloween event will come to Mortal Kombat 11 alongside four new bosses. From October 25 to November 1, players will be able to fight these bosses. Each boss will be a Mortal Kombat 11 character with a Halloween-themed costume.
Halloween-themed modifiers will also help these bosses and can come in the form of flying witches and bats, falling pumpkins, rising gravestones and sprinting black cats. New Brutalities, consumables, player module pieces and other in-game rewards can be earned by players during these battles.
While MK 11 players wait for the Halloween event, they can purchase the new Masquerade Skin Pack for $5.99 today. The featured themed character skins include "Wicked Witch" Jade, "Psyko Killer" Kabal and "Calavera" Liu Kang.
Take a look at the brand-new Mortal Kombat 11 trailer featuring the Masquerade Skin Pack below.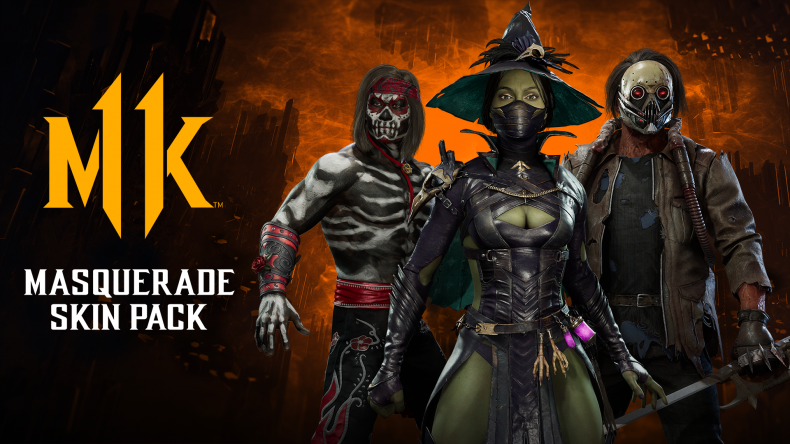 On Friday, October 18 a free update is coming to Mortal Kombat 11 that brings the highly-anticipated Team Raid battles. Team Raids offer a new multiplayer Tower to the Towers of Time mode, where two or three players must work together to complete group challenges and defeat one powerful boss, all at the same time, to earn in-game rewards.
This update was revealed in late September during NetherRealm Studios' Kombat Kast stream alongside third variations.
During the stream, it was also revealed that players will be able to voice chat to coordinate their attacks because there will be certain challenges that all three players will need to achieve to get a boost for the team.
All the players involved will have five shared lives, and if you complete the challenge, you'll receive a boost. Team Raids will be on the premiere platform alternating with the boss fights.
The NetherRealm Team suggested that players not be shy about using augments, because these bosses will be on the "very hard" difficulty setting.
The new update and Halloween event comes hot off the heels of the Terminor's debut on Tuesday. Further in the pipeline, players can still look forward to Sindel dropping in Mortal Kombat 11 on November 26.
Mortal Kombat 11 is available now for PS4, Xbox One, PC and Nintendo Switch.
What do you think of this new event coming to Mortal Kombat 11? Which of the new costumes is your favorite? Let us know in the comments section.