'Mortal Kombat 11' Kabal Confirmed; Gameplay Shown During Kombat Kast
Kabal is officially joining the Mortal Kombat 11 roster after NetherRealm Studios showed off the legacy fighter during its first Kombat Kast stream.
NetherRealm Studios president Ed Boon says about the new character, "Kabal and a number of other characters like Baraka are a list of characters in that vein that haven't been seen in a long time, but you think of those characters and the DLC characters are in the same vein."
Ed Boon confirms that one of Kabal's outfits will show him in his "unburned" state.
The first gameplay trailer for Kabal in Mortal Kombat 11 was shown, which you can watch below.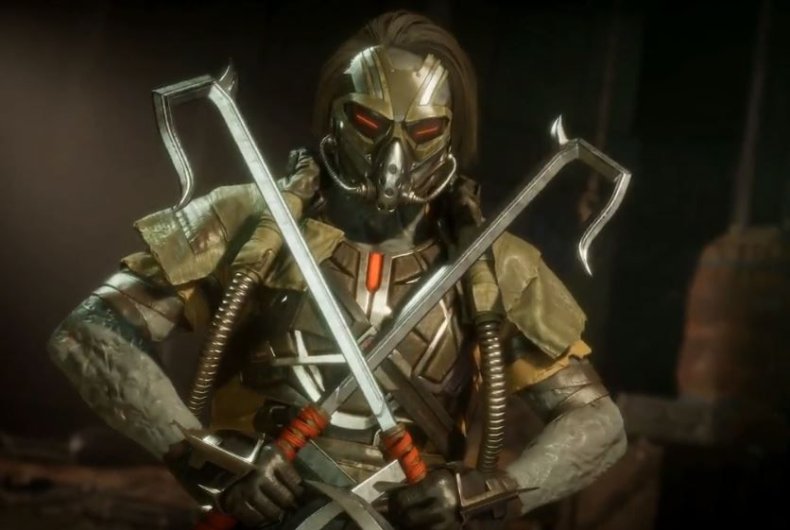 In the gameplay trailer, Kabal's signature hook swords are in full force as well as his Dash. There's a throw that shows Kabal using his hook swords to spin the opponent on the ground.
His fatality, at least one of them, shows Kabal hooking his swords into his opponent's sides before using his super speed to drag them across the floor. He'll then throw the opponent into the air and Kabal will use his speed to get in front of the flying enemy and hold his swords up to slice them into three pieces.
In Mortal Kombat 11, Kabal will use his hook swords more often than he has in the past. He's a mid-to-long-range fighter now. Kabal's Dash attack can always be used in a combo, like classic Kabal.
As for Kabal's specials, his gas attacks are gone in his default. His Buzzsaw is a straight projectile, with the amplified version keeping the opponent in the air. One loadout throws the Buzzsaw across the ground with the amplified throwing two Buzzsaws. Another special ability can throw the Buzzsaw in the air.
Another loadout can throw an air Buzzsaw but it'll go down diagonally instead of straight.
Kabal's Nomad Dash, you can cancel it out with a special loadout. Another move is a Nomad Dash augment that digs the hook swords into the opponent's and you can dash and throw.
The character can use a low hook, that will throw the opponent straight into the air if it lands.
Kabal has a parry in Mortal Kombat 11. He can hold it as long as he wants and will punish with a full combo.
Another one of the specials will have Kabal spit out a gas, with the augment spitting out a larger gas cloud. It gives damage over time and stops enemy's from jumping. Another gas-based special is that he can hover using a gas that acts like a jetpack.
NetherRealm Community Manager, Tyler Lansdown did tease Kabal during The Reveal event after announcing the return of the Kombat Kast streams. A blue blur raced past the Kombat Kast logo giving fans a taste of who was joining the roster.
So far the only confirmed characters in Mortal Kombat 11 are: Shao Khan, Sonya Blade, Raiden, Scorpion, Sub-Zero, Skarlet, Baraka, Kabal, Geras, and Kano.
Mortal Kombat 11 will release on PS4, Xbox One, PC and Nintendo Switch this April 23.
What do you think of Kabal in Mortal Kombat 11? Who do you still hope makes the roster? Let us know in the comments section below.