'Mortal Kombat 11' New Trailer Reveals Unannounced Characters and Story Beats
NetherRealm Studios surprised Mortal Kombat 11 fans with a brand new trailer showing off some major developments in the story for the upcoming fighting game. It also confirmed three more fighters for the roster.
While the story trailer focused heavily on the big bad, Kronika, and her attempts to bring balance to the Mortal Kombat universe after Raiden's actions in Mortal Kombat X, there were some interesting tidbits that many fans may have missed including unannounced/confirmed characters and the different sides of the upcoming battle.
If you missed it the first time, check out the new Mortal Kombat 11 story trailer below.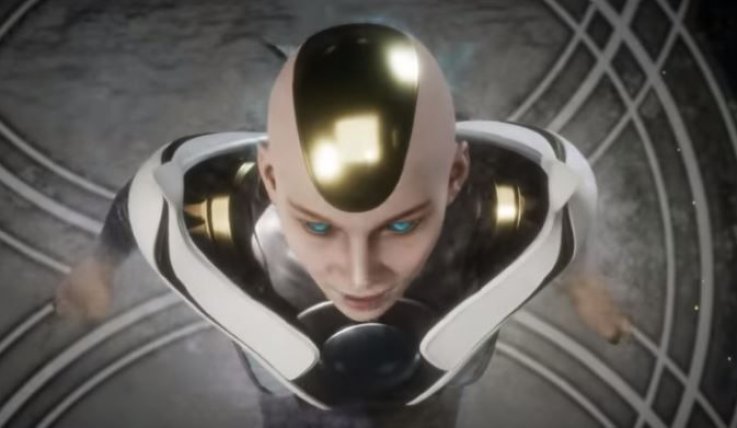 FACTIONS
NetherRealm's official synopsis of the Mortal Kombat 11 story is " Raiden's defeat of the evil Elder God, Shinnok, has drawn the ire of Kronika and upset her desired balance between good and evil. To restore stability in the realms, Kronika has only one option – rewind time to its beginning and restart history."
Characters will have to join forces to defeat Shao Khan's Outworld armies, and the story trailer shows who is on bothsides of this upcoming battle.
Kronika appears before Shao Khan and asks him to defend the future she is trying to build. Shao Khan is flanked by D'Vorah, Skarlet, Baraka and a never-before-seen character (who we will get to later). Kano, Erron Black and another Skarlet are behind Kronika and her two loyal subjects, Geras and a hooded figure (who we will also get to later.)
We then see Raiden appear before Kotal Khan and ask for his help against Shao Khan. Raiden is joined by Liu Kang and we see Kotal is fighting alongside Jade. Kung Lao and Liu Kang are approached by Scorpion later in the trailer and we can assume that the Special Forces including Johnny Cage and Sonya Blade will be on their side as well.
At the end of Mortal Kombat X, Raiden was corrupted and a lot of fan-favorite characters were turned into revenants, so be ready to see different versions of characters pop up on different sides of the battle.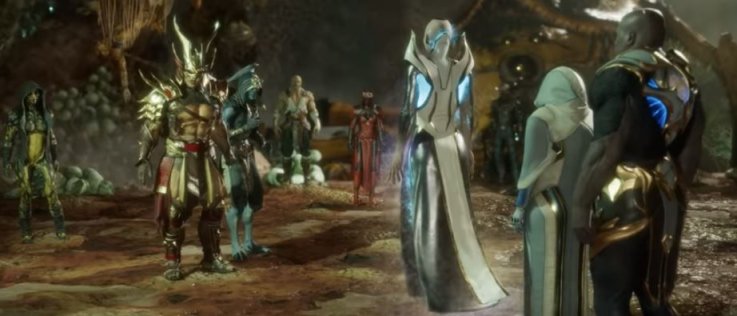 NEW CHARACTERS
Mortal Kombat 11 has been plagued by leaks in recent weeks and the new story trailer confirms a huge one that appeared on Reddit. Of course, if you don't want to know about the characters confirmed for MK 11's roster turn back now.
As mentioned above, there's a blue-skinned character next to Shao Khan that hasn't been seen before. The Reddit leak gave the name Kollector to this character, whose code name (KOL) was found in the Steam leak that happened weeks prior.
Another fighter going by Cetrion (CET) was also posted in the Reddit leak and their character model resembles the hooded figure next to Kronika in the new trailer. The March 6 Kombat Kast will feature Kano and Cassie Cage, but the identities of these two characters may be revealed by the NetherRealm Studios team so you'll want to tune in.
Mortal Kombat 11 is set to release April 23 on PS4, Xbox One, PC and Nintendo Switch.
What do you think of the latest story trailer? Are you interested to learn about the new characters? Let us know in the comments section below.
'Mortal Kombat 11' New Trailer Reveals Unannounced Characters and Story Beats | Tech & Science