'Mortal Kombat 11' Roster Possibly Leaked on Reddit
A new Mortal Kombat 11 roster leak has popped up online, and it allegedly reveals two new characters from the Steam leak and possible post-launch DLC.
The supposed roster leak first appeared on Reddit, but has since been taken down. The post included a photo of the Mortal Kombat 11 character select screen, which included previously unannounced fighters. The Reddit post also showed silhouettes of other fighters with their code names pencilled in.
Of course, without confirmation from NetherRealm Studios, this information may prove to be inaccurate.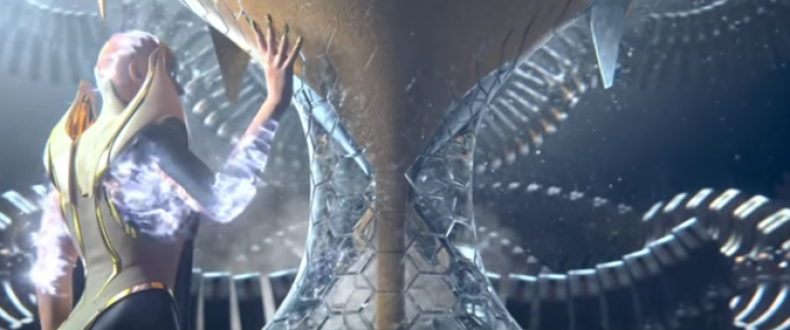 SPOILER ALERT! From this point, we'll be talking possible Mortal Kombat 11 spoilers and the roster leak. If you don't want to know who may join the roster, turn back now.
A thread on Resetera captured the screenshot of the leaked Mortal Kombat 11 roster, and from the looks of the character select screen, the recently announced fighters are filled-in - minus Johnny Cage.
Previously unannounced fighters shown include:
Erron Black
Jacqui Briggs
Frost
Liu Kang
Kung Lao
Cassie Cage
Kotal Kahn
The most interesting part of this rumored leak is the addition of two brand new characters. The light blue character next to Jacqui Briggs is named Cetrion, while the dark blue goblin-looking character under Kotal Kahn is named Kollector.
If you recall the Steam leak, three code names were not attached to any past character, suggesting new fighters were coming to MK11 . The codes were: Cet, Kol, and Ter. It's plain to see how Cetrion and Kollector fit two of the three names from that list.
The leaked character select screen also shows silhouettes of possible fighters. These spaces have the code names for which characters the leaker says they belong to. JAX is Jax Briggs, NOO is Noob Saibot, JOH is Johnny Cage, KIT is Kitana and SHA is likely Shang Tsung.
The now-deleted Reddit post also revealed that three of the post-launch DLC will include veteran fighters Mileena, Shang Tsung and Shinnok. Shinnok makes an appearance in Mortal Kombat 11 in the opening cutscene of the story mode, so it's possible that the villain of MKX will make a return.
The next Mortal Kombat 11 Kombat Kast is set for Wednesday, March 6, with a spotlight on Kano.
Mortal Kombat 11 is set to release April 23 on PS4, Xbox One, PC and Nintendo Switch.
What do you think of this rumored leak? Who do you want to see make the Mortal Kombat 11 r oster? Let us know in the comments section below.