Mortal Kombat 11 is finally happening! In a surprise reveal from NetherRealm head honcho Ed Boon at the 2018 Game Awards, the violent fighting game is back. And, hopefully, better than ever.
The trailer didn't show off any gameplay, or offer many details, so fans must wait for the upcoming reveal in January. However, there are some deets released by Warner Bros. Interactive that fans will want to know, including some story beats as well as a new feature to the Mortal Kombat series.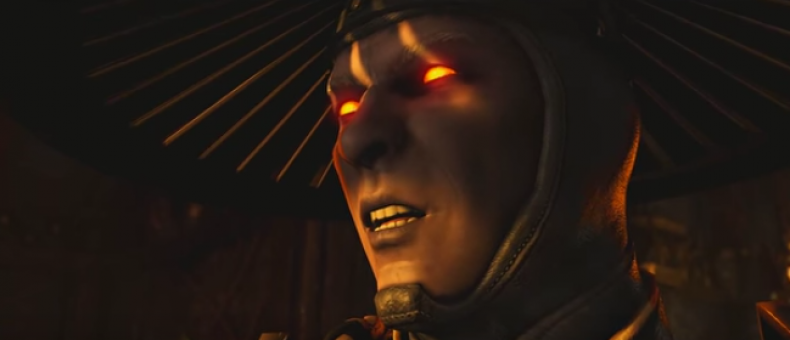 MORTAL KOMBAT 11 STORY
We mentioned it briefly when the MK 11 trailer dropped, but the story of this new game seems to take place after the events of Mortal Kombat X. The biggest nod to that is how Raiden looks.
His normally white eyes and lightning are now a blood red, signifying that he is evil. The official MK 11 press release describes the cinematic trailer that includes " two iconic characters, Dark Raiden and Scorpion.."
Dark Raiden, for those who don't remember MKX , appeared at the story's conclusion after he purified Shinnok's amulet in the Jinsei. The process corrupted the Lightning God as he now possesses Shinnok's amulet, and he is hateful toward Earthrealm.
The story of MK11 will pick up the story beats from the last title and perhaps even those from MK9 with the tease of a new character. This new character is a mystery, but she's seen next to a giant hourglass.
She will likely have to deal with time travel. MK9 dealt heavily with Raiden going back in time to change events. This new character may have a connection or powers regarding time in the Mortal Kombat universe, and may be showing up to tell Raiden to stop fucking with the timeline.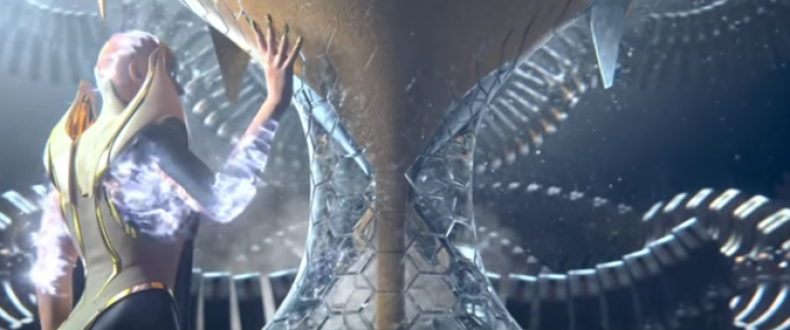 CUSTOM CHARACTER SYSTEM
NetherRealm Studios does the Mortal Kombat titles and also the Injustice series. The sequel to Injustice introduced the Gear system, which allowed players to pick up suit upgrades to augment power and abilities of the DC Comics heroes and villains.
For Mortal Kombat 11 , the Customer Character Variation System will be introduced, the official press release states that it will "deepen and personalize the player experience by giving them creative control of building customized versions of the character roster."
While it appears to be a vague, general statement it sounds like NetherRealm is incorporating its Gear system from Injustice 2 into MK11 . Of course, it won't be exactly like Injustice, but the reveal trailer showed two versions of Scorpion fighting Dark Raiden.
"It's exciting to finally announce Mortal Kombat 11 and showcase what the team has been working on," Ed Boon, Creative Director, NetherRealm Studios said in the press release. "Our Custom Character Variation System opens up an infinite amount of options for players to personalize their favorite fighters. We can't wait until January when we'll be showing more of the game."
Mortal Kombat 11 is set to release on PS4, Xbox One, Nintendo Switch and PC April 23.
What do you think of the upcoming MK11? What do you hope you can do with the custom character system? Let us know in the comments section below.