Moscow Accuses Ukraine of Working With ISIS Fighters and Far-Right to Plot Terror Attacks in Russia
Moscow's Federal Security Service (FSB) has accused Ukraine's intelligence services of collaborating with fighters from the Islamic State to plot terror attacks in Russia.
The FSB also told Russian state media that Ukrainian intelligence and ISIS fighters were working together with the nationalist far-right group Pravy Sektor, or Right Sector, to target pro-Russian separatist leaders in Eastern Ukraine. The Russian security forces claim they received intelligence from a Russian citizen named Medzhid Magomedov who was allegedly recruited by ISIS. Magomedov was arrested in Russia on Sunday, according to reports.
"According to information provided by the detained person, in Ukraine, the country's intelligence agencies have been actively assisting members of the Islamic State international terror group by ensuring their safety, providing them with funds, weapons and explosives for carrying out terrorist attacks in Russia," the FSB press service said. "Ukrainian intelligence agencies have also been recruiting Islamic State members to eliminate militia leaders in the self-proclaimed Lugansk and Donetsk People's Republics."
The FSB's accusations were made shortly after Alexander Zakharchenko, the Prime Minister of the Donetsk People's Republic, a pro-Russian separatist region in Eastern Ukraine, was killed in an explosion at a café. Experts say that the FSB's claims are meant to provide an excuse for Zakharchenko's death, but also to create a narrative that paints Russia as a country in need of defending.
"At the micro level, I think this is largely related to the killing of the so-called separatist leader in Eastern Ukraine, which was most likely the result of competition between the separatists, probably related to the criminal enterprises that exist in separatist, Russian-controlled eastern Ukraine now and who is in charge of cash flows. There is an unbelievable amount of instability in that part of Ukraine that is supposed to be under the control of Russia. So it's a justification of the killing," Daniel Vajdich, a non-resident senior fellow at the Washington-based Atlantic Council focusing on Russia and Ukraine, told Newsweek.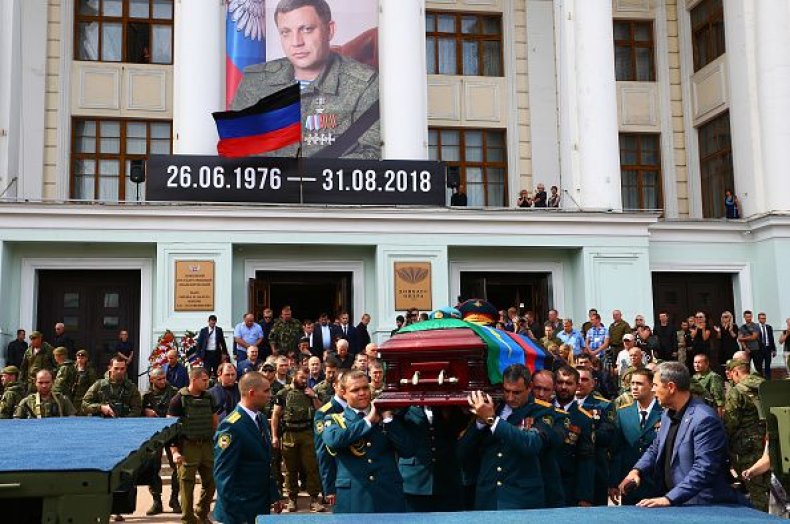 "On the macro level, the Kremlin always have an interest in creating this besieged fortress atmosphere in Russia and providing proof to Russian citizens that Russia is under attack. The message there is that the only thing that stands between these actors and the Russian citizens is Putin's regime. It's common for the Kremlin to do these sorts of things. They want to say there is a concerted effort by Russia's enemies working together. You have Russia on one side, and on the other side you have Ukraine, ISIS, the United States, the rest of the world," Vajdich continued, adding that the statement may also be aimed at drawing attention away from protests against proposed pension reform in Russia.
Kiev's intelligence agents said that the news was another conspiracy theory from Russia, and told Ukrainian media that it was too laughable to comment on such accusations. Ever since a pro-Western uprising in Ukraine toppled the government in 2014, Russia has repeatedly accused the Right Sector of interfering in Ukrainian politics, and accused Ukraine's pro-Western demonstrators of being controlled by nationalists.
"Thus far there has been no indication that Ukraine has undertaken operations in Russia like the kind the FSB and GRU [Russian military intelligence] have done in Kiev, like assassinations. The mentioning of Pravy Sektor working with the intelligence forces calls into question this whole theory," John Herbst, former U.S. ambassador to Ukraine from 2003 to 2006, told Newsweek from Ukraine.
"Pravy Sektor was a real force years ago, but even then a limited force that Russia exaggerated, so that's an old Kremlin propaganda piece that undercuts the whole thing. Ukrainians do undertake operations in [the region of] Donbas, but the idea that they would work with someone from ISIS is far-fetched...Anyone who chose to work with ISIS would be suspect," Herbst continued.