Moscow's Demolition Plans: Why Thousands Rallied Against the Government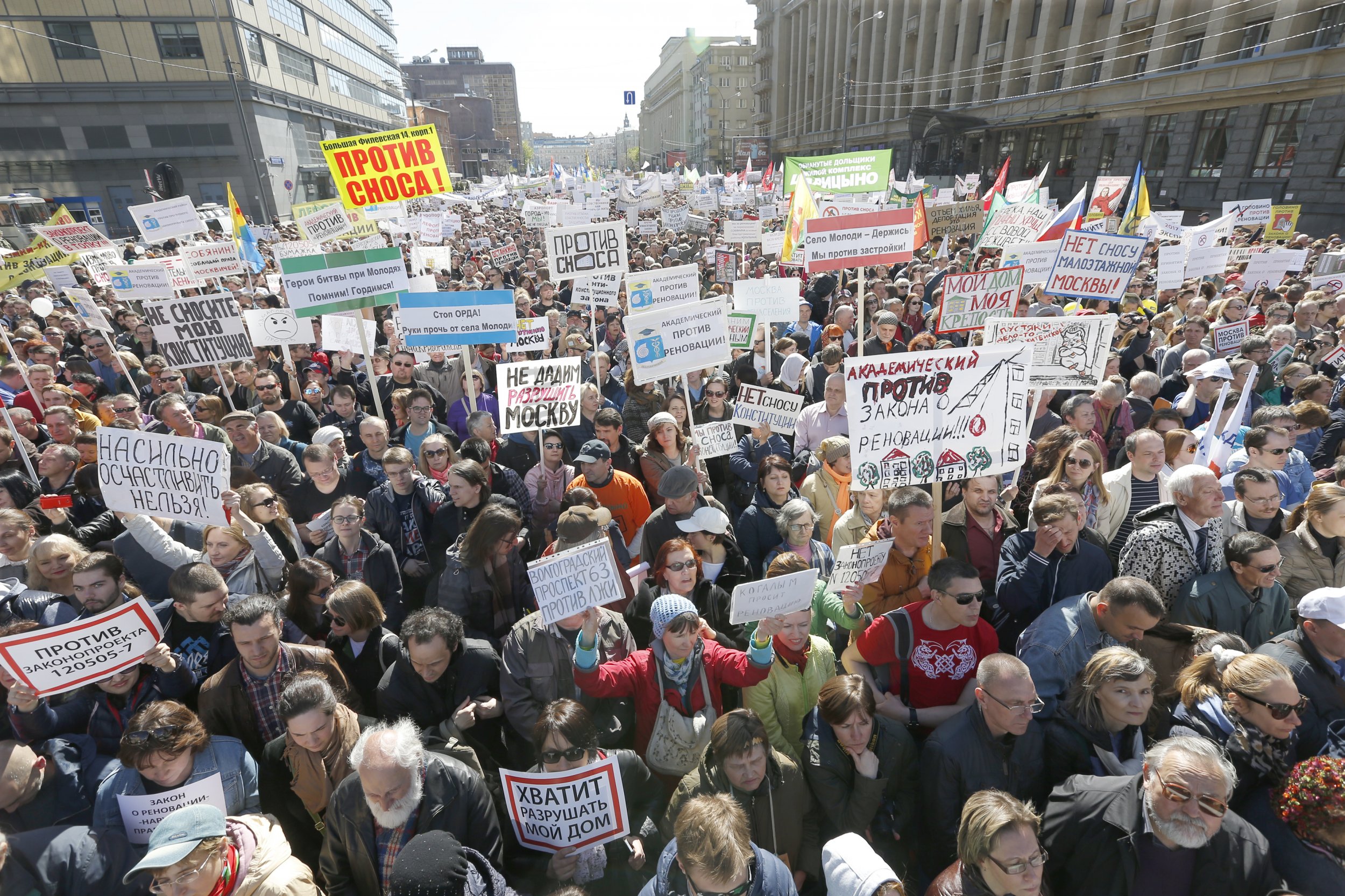 Thousands of Russians gathered in Moscow on Sunday, many chanting for their mayor's resignation over a mass demolition law that the government has refused to acknowledge is unpopular.
Moscow Mayor Sergey Sobyanin plans to demolish 4,500 residential buildings, largely of five storeys and fewer, erected en masse during the 1950s and 60s in response to a housing crisis. The 3.5 trillion-ruble ($62.1 billion) project will build new, taller housing in their place as of September, though many Muscovites have complained, some saying they are being deprived of their property and others preferring the old buildings.
Read more: If you're watching Fargo in Russia, you might have missed some unflattering lines about Vladimir Putin
Over 20,000 of them descended to square on Sunday to vent their anger at the plan, independent news channel RBC reported, citing independent accounts of the rally. The group was not spearheaded by a prominent public figure, in itself a rare occurrence.
Pro-Kremlin outlets took a different approach, with state news agency RIA Novosti reporting that only 8,000 protesters had assembled in a rally "dedicated to the renovation program," and suggesting the event was apolitical. A public vote on the issue is also being conducted with the endorsement of the authorities, though critics of the program suspect it will not be a fair one. By Monday morning, the vote's organizers said in 60 out of Moscow's 85 affected regions no one had voted against the project, state news agency Itar-Tass reported.
Several Moscow newspapers carried a different report of the rally, saying that 35,000 people had rallied across Moscow in favor of having their homes demolished. Moskovsky Komsomolets, one of the papers, reported that this figure was a total of 475 different pickets that had apparently happened over the span of 10 days.
Popular liberal blogger Ilya Varlamov mocked the effort to offset opposition to the bill by reporting that hundreds of protests were happening across Moscow in favor of the move. Protest regulation in the city and across Russia is stringent, as the government has complicated the procedure of public assembly, increased fines and introduced the possibility of criminal punishments in recent years. Even one-person pickets sometimes end in detention and arrest.
"There are no reports about the number of detainees at these unsanctioned protests," Varlamov wrote. "Perhaps today all the special prisons are overflowing since we all know that you are not supposed to go to unsanctioned protests."
The concerns of the thousands against tearing down the so-called khrushchevki buildings, built mostly under Soviet leader Nikita Khrushchev, center around the fact they have no guarantee they will not be relocated to a cheaper apartment in another area.
The bill, which is yet to fully pass a second reading in parliament, offers no guarantee that residents will receive property of the same value, in the same area as before. It merely offers them the promise of a new apartment of the same size as the one demolished.
Sobyanin's predecessor, Yury Luzhkov refused to directly criticize the mayor but told journalists that the reasons he did not face such protests when he had to redevelop parts of the city were simple. He said the way to avoid outrage was to offer the new apartments "without any additional payments" and in the area where the old ones once stood.
"Nobody had any objections," Luzhkov told independent news channel Dozhd. "There were requests, for example, a family moving from a two bedroom apartment wanting to move into a three bedroom one. I say, there is no issue. You pay for the additional room—everything else is free. All of these norms were written up and there were no objections to receiving an apartment in a new building with a different ambiance."
"We can call that a dream," Luzhkov said. "Now it is scandalous."
Lauren Goodrich, Eurasia analyst for private intelligence firm Stratfor says the "surprising" way in which Sobyanin announced the plan on television in February prompted people to serve him a surprise as well.
"I expected maybe a thousand to be on the streets," she says. "I don't think either the Kremlin or the mayor expected it would be such a big protest in the end."
"There was virtually no forewarning this was coming," she says. "The law for it, which still has not passed, was draft hastily and poorly. People did not realise that by September they could lose their homes for a few years."
The issue was cross-generational, which politics in Russia rarely is. Goodrich says the fact that a personal and fairly universal issue such as property is at stake, made many feel compelled to protest, but it was also through the help of social media that such high numbers quickly rallied.