Most Americans Don't Trust Trump on When to End Coronavirus Social Distancing, Poll Shows
As the number of confirmed coronavirus cases and deaths in the United States continues to grow, a majority of Americans say they do not trust the nation's leader on when social distancing measures should be relaxed, according to a new poll.
Thirty-seven percent of voters trust President Donald Trump on when the guidelines that have shuttered businesses, schools and restaurants nationwide should be loosened, a Morning Consult/Politico poll showed Wednesday. Thirteen percent of Democrats trust the president, compared with 70 percent of Republicans.
Initially hoping to relax guidelines in certain states by Easter, Trump has since extended the national social distancing regulations through April 30 as health officials warn the worst is yet to come.
As of Wednesday morning, more than 188,000 people across the country have been infected, and nearly 4,000 people have died. The White House's top health advisers projected on Tuesday that 100,000 to 240,000 people in the U.S. could die from the pandemic, even with mitigation efforts.
"As sobering a number as that is, we should be prepared for it," Dr. Anthony Fauci, director of the National Institute of Allergy and Infectious Diseases, told reporters Tuesday at the daily White House coronavirus briefing.
"This is going to be a very painful—very, very painful—two weeks," Trump said at the briefing.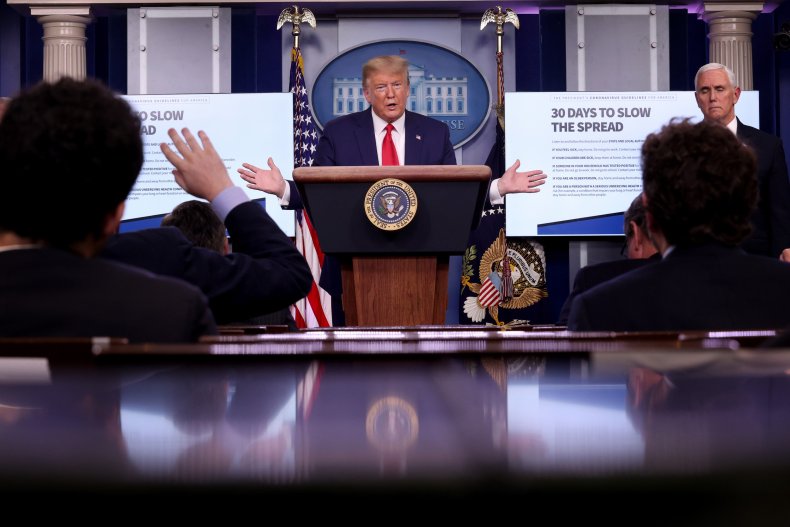 The survey showed that nearly four in five voters thought ending social distancing guidelines around Easter would be a bad idea, and three in five said the same about stopping them at the end of the month.
The U.S. Centers for Disease Control and Prevention and the World Health Organization were the most trusted in the poll, by 74 percent and 68 percent of respondents, respectively. Governors came in third at 53 percent.
Other players—Vice President Mike Pence, Congress, congressional Democrats and congressional Republicans—were distrusted by the majority of voters on when to relax social distancing.
The results mirrored an NPR/PBS NewsHour/Marist poll in mid-March, which showed that 37 percent of Americans trust Trump on information about the coronavirus crisis, while 60 percent did not.
Over the past few months, the president has offered inaccurate and conflicting statements about the health crisis and has been criticized for the insufficient number of virus testing kits and medical supplies. He also downplayed the severity of the illness as it began to spread in the U.S., despite intelligence reports that showed a pandemic was coming.
"View this the same as the flu.... You treat this like a flu," Trump told reporters during a coronavirus briefing on February 26. "We'll essentially have a flu shot for this in a fairly quick manner."
On Tuesday, the president's words flew in the face of his previous claims.
"A lot of people thought about it: 'Ride it out, don't do anything, just ride it out and think of it as the flu,'" Trump said. "But it's not the flu."
The Morning Consult/Politico poll was conducted among 1,997 registered voters from March 27 to 29 and has a margin of error of plus or minus 2 percent.
The Statista chart below shows the number of confirmed coronavirus cases in the U.S. as of Wednesday at 3 a.m. EST.